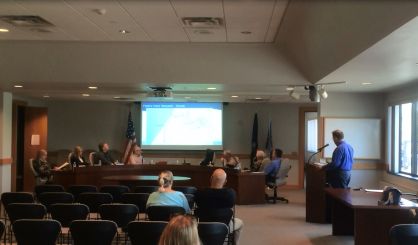 St. Joseph City Commissioners have approved a broad plan to help reduce downtown congestion and ease quality of life problems for residents that arise during the summer. The plan proposed by Public Safety Director Brian Uridge came about following several community meetings, and involves more parking at Lions Park Beach, less parking on some streets, a drop-off area in front of Silver Beach, and and one-way-traffic on Lake Street in front of Silver Beach. City Manager John Hodgson tells WSJM News everyone needs to understand that last part.
"The most important thing I would like folks to understand is that if you're going to park in the Silver Beach parking lot, if you're going to Silver Beach Pizza, the Silver Beach Center, the residences north of Broad Street, you'll need to go down the State Street hill," Hodgson said. "You won't be able to get there by going down the Broad Street hill because of the one-way traffic flow between the Whirlpool Compass Fountain and Silver Beach.
Mayor Mike Garey tells us a great deal of input was sought for the plan throughout a series of community meetings.
"The best aspect of the plan is that it came from residents working with staff, and it's a fluid process," Garey said.
Garey says the plan can change if it starts to create unforeseen problems.
"This is not the Ten Commandments. This is a fluid process, and it's a creative process."
It's hoped most elements of the plan can be implemented by Memorial Day. One thing not yet known — whether the county will work with the city to set up signs that can let folks know when Silver Beach is full.