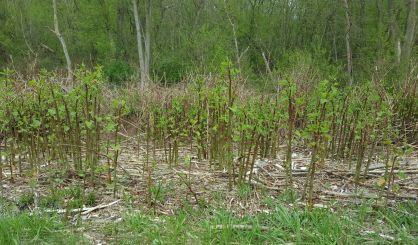 The Van Buren Conservation District is working to get the word out about how to spot the invasive Japanese knotweed. With summer approaching, the district's Eleanor Serocki tells WSJM News the damaging plant is already becoming apparent.
"When it very first starts coming up, which it already would have started coming up about a month ago, it's almost asparagus-like chutes coming out of the ground, and then it can grow up three feet in a couple of weeks and it starts putting out large heart-shaped leaves on stems that look kind of like bamboo," Serocki said.
Serocki tells us Japanese knotweed is a problem because the hardy plant can grow right through pipes and concrete. It's very hard to kill, as even a small piece is enough to start a fresh plant. If you spot the Japanese knotweed on your property, call the Van Buren Conservation District. You can find out more at MISIN.MSU.edu.