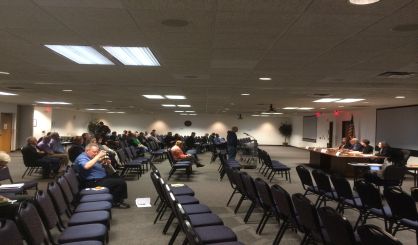 The Michigan Public Service Commission has heard the public's thoughts on the planned closure of the Palisades nuclear power plant. It held two hearings Monday in Lawrence on Consumers Energy's request to end a contract with Palisades owner Entergy to buy power from the plant four years early. MPSC Chair Sally Talberg told WSJM News they're looking at two things.
"Whether there's cost savings for customers overall, and whether, even with the contract ending early and Palisades shutting down, whether electrical reliability will be maintained," Talberg said. "Will we have adequate supplies?"
Talberg said the economic impact and other issues are not something the MPSC is charged to address. Entergy spokesperson Val Gent told us the closure of Palisades may sting employees, but the company is working to help them.
"Any Entergy that wants to stay with the company, we'll give them a position within the company," Gent said. "We've spoken with Consumers Energy, and they have said they will offer up to 180 employees positions over time."
Entergy and Consumers Energy, which buys power from Palisades, have pledged $10 million for economic development in Van Buren County. At Monday night's hearing, many of the public comments were from those glad to hear the plant is closing. That includes Beyond Nuclear's Kevin Kamps.
"There worst embritteled reactor pressure vessel in the country is a recipe for catastrophe, and so is the fact that the lid has been due to be replaced for ten years and it hasn't been, and the steam generators also need replacement," Kamps said.
Kamps calls that "three major pathways to meltdown," and his concern now is safe decommissioning. Entergy says it has enough set aside in a fund for that, and the Nuclear Regulatory Commission will oversee the process. The information the MPSC got Monday will be brought back to Lansing and used to craft future policies. Palisades is set to close October 1, 2018.