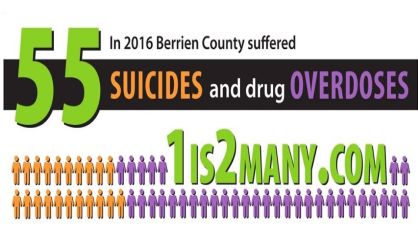 The Berrien County Health Department is making a new push to fight drug overdoses and suicides. Prevention Specialist Kerri Teachout tells WSJM News the department wants to get people talking about the problems, and to know there are places to turn for help.
"Berrien County has seen an uptick in suicides and overdoses, and what we're trying to do is let the public know there's issues out there that can be prevented, and both of those can be prevented," Teachout said.
Teachout tells us the health department is putting up public displays in Niles, Coloma, and Benton Harbor to educate people about all of the suicides and overdoses Berrien County has had in the past year. In total, there's been 55 of them. The department is also planning the first ever "1 is 2 Many Life Fest" for Sunday, May 21. It'll be held at Riverview Park in Niles from 2 to 4 p.m. and feature guest speakers sharing their personal stories of survival. You can find out more, and get resources for help, at 1is2many.com.