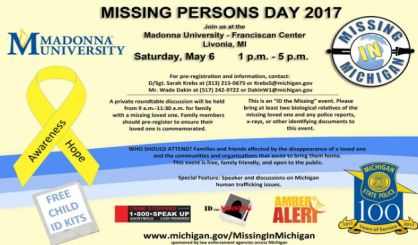 Police and the public will gather Saturday near Detroit to talk about missing persons cases. This is the seventh annual "Missing in Michigan" gathering, and on hand will be representatives of the National Missing and Unidentified Persons System. Michigan State Police Detective Sergeant Sarah Krebs tells WSJM News the day is all about spreading awareness and honoring those how have been lost.
"We have a coupe of speakers coming in talking about search and rescue, talking about human trafficking, usually we talk about the Amber Alert and all of the other alerts we put out for missing persons," Krebs said. "We also have a lot of local law enforcement present that help us with missing persons cases."
Krebs tells us police in Michigan take about 1,000 missing person cases per week. Although most are solved within 48 hours, there are still 4,500 open cases. Missing in Michigan takes place Saturday at Madonna University in Livonia. You can find a registry of missing person cases in the United States right here.