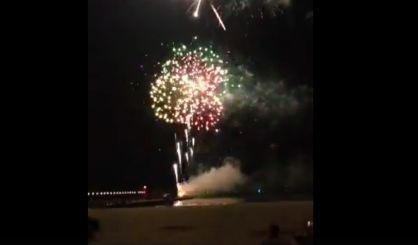 The fireworks will go on in South Haven. The city council voted 5-1 last night to bring back the Light Up The Lake fireworks event on July 3, despite some concerns from the public. Mayor Bob Burr says there were problems with a big brawl last year, but those have been addressed.
"Our problem involved teenagers who were from Battle Creek and Kalamazoo who were consuming alcohol, and this year there will be a much greater enforcement, and really a zero tolerance," says Burr, who reminds people there is no alcohol allowed on city beaches. Those beaches had to be completely cleared last Fourth of July weekend before the fireworks were lit due to the fights. Burr says they normally have about 85 officers working the fireworks show, including traffic control and on the beach.
"The officers will be spread along the beach at the different flagpole points," says Burr, adding it will be "a much different type of operation this year."
Van Buren County Sheriff Daniel Abbot told the South Haven City Council he'd strongly recommend holding them on the 4th to keep people from out of town from crashing the party like last year. The city council appears open to moving it to the 4th next year, if there is a next year for the event.