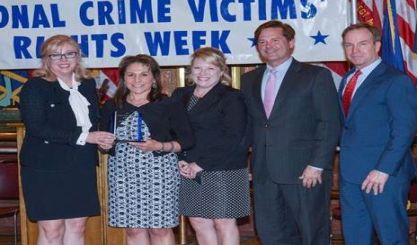 State Senator Tonya Schuitmaker this week saluted crime victims at an event at the state Capitol. On Tuesday, she took part in the 29th annual Michigan Crime Victims Vigil, organized by the Crime Victim Foundation. Schuitmaker tells WSJM News it's only right to show support to those hurt by criminals.
"It's to get together to kind of wrap our arms with love around the families that have been victims of crime," Schuitmaker said. "Each year, we have thousands of new reported crimes. We've done a lot in Michigan to reduce those crimes, but we still have far too many victims."
On hand for the vigil was Tiana Carruthers, who was shot while protecting some children during the Kalamazoo shooting spree last year. Schuitmaker tells us the vigil also honored Stella Chivikas, a Kalamazoo County victim's advocate who worked with other victims in that case. This week, the Senate unanimously approved a resolution recognizing Victims' Rights Week.