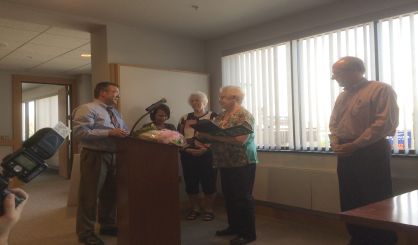 A staple of downtown St. Joseph is stepping down soon. On Monday night, city commissioners saluted Gloria Mance, who has worked at G&M Variety for 60 years. They declared May 1, 2017 Gloria Mance Day, and thanked her for all of her service on various city boards. Mance told WSJM News she plans to stay in St. Joe after retirement.
"I started out growing up down at Silver Beach," Mance said. "My folks would go down there all of the time, and we spent a lot of time down there. My brothers worked down there, and my folks even worked down there part time. It's just the area. W?hat more can you ask for?"
Mance also said the people make St. Joseph special. She's lived in St. Joe her whole life, and tells us she's seen things change quite a bit downtown, noting in the 90s, there's was a struggle to keep storefronts full, and now the area is bustling. She'll be an honorary grand marshal in this year's Blossomtime Parade.