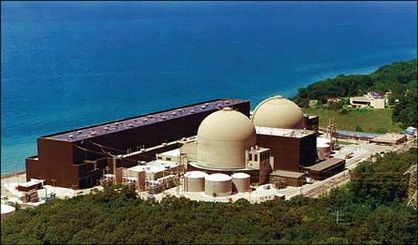 There is a lot of debate in the state over Nestle wanting to increase the amount of groundwater it's pulling for its Ice Mountain bottled water plant in Mecosta County, which has prompted a "Detroit Free Press" report into the top water users in the state. The entity which uses the most water in Michigan is the DC Cook Nuclear Plant in Bridgman at over 765-billion gallons in 2015. Plant spokesman Bill Schalk says the plant "absolutely" is the largest water user on the Great Lakes.
"It's a fact. It's also a fact that greater than 99% of the water we take out of Lake Michigan, we put back in," says Schalk. "We're comfortable that we're good stewards of Lake Michigan. So, yeah, we use a lot of water, but we make a lot of power."
He adds there's a little evaporation with that less than 1% they don't put back into the lake, which likely comes back into the watershed as rain or snow. The fact that nearly all of what the Cook plant uses goes back into Lake Michigan is a bit buried in the "Free Press" article. Nestle's Ice Mountain water plant isn't even the highest groundwater user in the state – that goes to drugmaker Pfizer in Kalamazoo County at nearly 7-billion gallons.
Schalk cites an MLive story reporting Lake Michigan's water level has risen over 3″ in the past two weeks, with 2.5 trillion gallons of water being added to Lake Michigan and Huron. As for the other lakes, Superior is up nearly an inch, or 550-billion gallons, Lake Erie has risen 3.7″, and Lane Ontario is 10″ higher than two weeks ago.