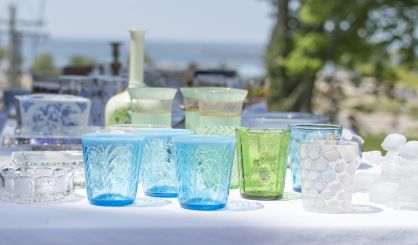 St. Joseph Today is preparing for another summer of Antiques on the Bluff, and it needs a few more vendors. Executive Director Amy Zapal tells WSJM News they'll hold Antiques on the Bluff on the first Sunday of each month May through October. They always attract a large crowd looking for deals.
"There are hundreds, if not thousands, of people who come to see all of these really cool vendors that our staff works closely with," Zapal said. "So, when you go to Antiques on the Bluff, you get these high quality, beautiful pieces that are very unique that you can't find anywhere else."
Zapal says Antiques on the Bluff hosts dozens of sellers from across the region each year, and they need about ten more for this year. She notes it's a good program for dealers, as many of the Antique on the Bluff dates this summer fall on holiday weekends. Anyone who wants to sell can contact St. Joseph Today. Antiques on the Bluff returns for the year on May 7.