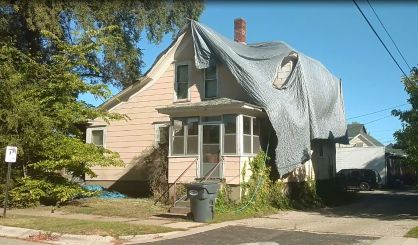 The city of St. Joseph continues efforts to have a dilapidated house on Niles Avenue torn down. Last week, the city's Property Maintenance Board of Appeals granted the owner of the home near the AT&T store a five week delay as part of his appeal of the demolition order. That was only because one of the board's members wasn't present, which St. Joe City Commissioner Jeff Richards tells WSJM will be fixed soon with more alternate appointees. He says the property's owner has run out of time to do needed repairs.
"This city is only as strong as its weakest property, and this particular individual has many properties and they are not kept up," Richards said. "They need love and attention."
The home's had a tarp on its roof since last spring, and inspectors found a variety of issues inside, as well. Richards says the home in question drags down the values of surrounding properties.