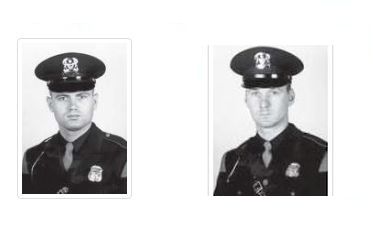 A section of Red Arrow Highway in Berrien County is being renamed in honor of two Michigan State Police troopers who were killed in the line of duty in 1971. Troopers Gary Rampy and Charles Stark were shot and killed during a traffic stop along the road in New Buffalo Township on December 31 of that year. Recently-elected Berrien County Commissioner Ezra Scott, of New Buffalo Township, tells WSJM News he was about 14 years old when it happened. He remembers Trooper Rampy.
"I would see Trooper Gary Rampy, and he would see us driving our vehicle, and he wouldn't say a word," Scott said. "He wouldn't pull us over, he would just point. That meant for us to go home, and so we did."
Scott always wondered why Red Arrow from Union Pier to US-12 had never been renamed for Troopers Rampy and Stark. So, when he became a commissioner, he asked the Berrien County Road Commission about it. A few meetings later, and they were having a couple of signs made up to mark the road. The county commission will dedicate the memorial roadway on July 13 at 6 p.m. during one of their night meetings. On hand will be Michigan State Police troopers, and family members of Rampy and Stark
Pictured: Gary Rampy (left) and Charles Stark (right).