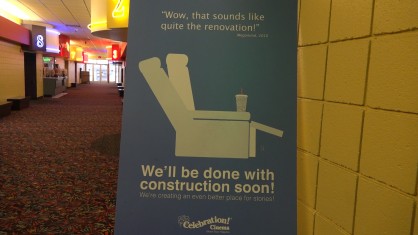 The renovation project underway at Celebration Cinema in Benton Harbor is on track to be finished in early June. The theater is installing new luxury power recliners in all auditoriums, replacing the old seats. Spokesperson Steve VanWagoner tells WSJM News they're now in three auditoriums — 6, 7, and 8. Although the new bigger seats will reduce the overall number of seats in the building and result in more sold out shows, he says the enhanced theater experience will make up for it.
"What we found in our other markets — we have reclining seats in other cities in our theaters — people enjoy them so much, we'll see attendance start to rise even during the week," VanWagoner said.
VanWagoner says the project involves other changes in each auditorium to accommodate the luxury seats. They'll keep on working through June, although there will be a pause for spring break. No, ticket and concession prices are not going up.