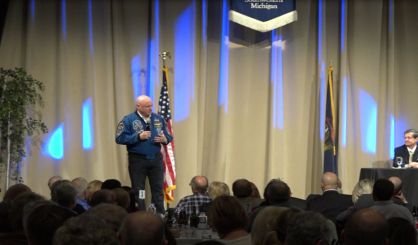 Captain Scott Kelly is the latest guest to appear before the Economic Club of Southwestern Michigan. The retired NASA astronaut addressed the crowd at the Mendel Center Wednesday night, reflecting on what he learned during his more than one year in space and throughout his military career. He said that he's marveled at the International Space Station, reflecting on all the work some 15 nations put into constructing it in seemingly-impossible conditions.
"If we can do this, the hardest thing, I think, that we've ever done, we can do anything," Kelly said. "If we decide we want to go to Mars, we can go to Mars. If we want to cure cancer and put the resources behind it, we can do that."
Kelly said he's found over the years that the key to big accomplishments lies in setting smaller goals and staying the course.
"After spending a year in space, I'm now a true believer that if you can dream it, you can do it if you have a goal and a plan, if you're willing to take risks and make mistakes," Kelly said.
Kelly told the crowd he started out life as a lackluster student, but learned how to reach goals by watching his mother train to become one of New Jersey's first female police officers. He also noted the thing which inspired him to wind up on the career path he took was Tom Wolfe's The Right Stuff. Kelly got plenty of laughs, as well, when he joked about his twin brother, former astronaut Mark Kelly, and remembered being trolled on Twitter by Buzz Aldrin. Scott Kelly has become a worldwide celebrity since traveling an estimated 143 million miles in the International Space Station, spending a consecutive 340 days in space.