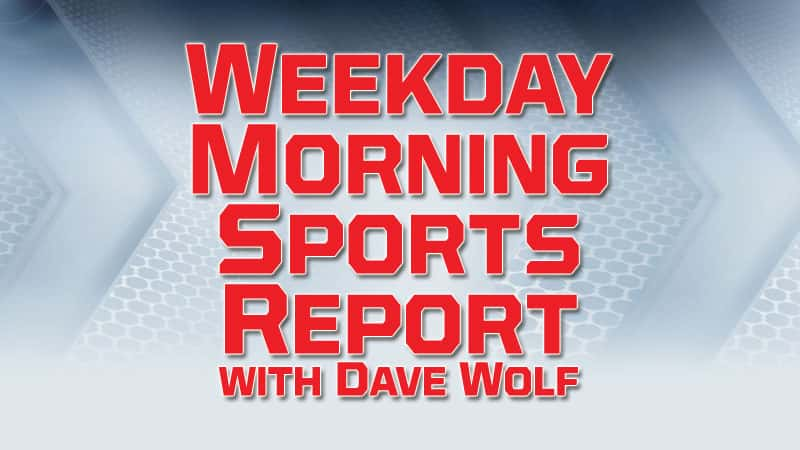 95.7 & 1400 WSJM Sports     @wsjmsports     wsjmsports.com     Wednesday, December 14, 2016
NCAAMBB – Men's College Basketball
Last Night
Michigan 97, Central Arkansas 53
Michigan 97, Central Arkansas 53 – Michigan makes 19 3-pointers in 97-53 rout of Cent. Arkansas
Moe Wagner had 18 points and seven rebounds, and Michigan made a school-record 19 3-pointers in a 97-53 rout of Central Arkansas on Tuesday night. The Wolverines (8-3) also set a school record with 45 attempts from 3-point range, easily handling Central Arkansas' zone defense. Michigan even made its first 11 field goal attempts from inside the arc _ its first miss from there didn't come until early in the second half. Jordan Howard scored 14 points for Central Arkansas (1-9). The Bears have played only one home game all season. Zak Irvin scored 16 points for Michigan, Muhammad-Ali Abdur-Rahkman had 14 and Duncan Robinson added 12. Those three made four 3-pointers each.  The Wolverines broke the school record of 17 3-pointers in a game when Ibi Watson connected from the left wing with 3:58 to play. By then, Michigan had gone deep into its bench.
NHL – National Hockey League
Last Night
Chicago Blackhawks 2, New York Rangers 1
Arizona Coyotes 4, Detroit Red Wings 1
Blackhawks 2, Rangers 1 – Anisimov scores late in 2nd, Blackhawks beat Rangers 2-1
Artem Anisimov scored the tiebreaking goal late in the second period to lead the Chicago Blackhawks over the New York Rangers 2-1 on Tuesday night. Trevor van Riemsdyk also scored as the Central Division leaders improved to 3-0-1 in their last four games. Scott Darling stopped 33 shots, upping his record to 7-2-2. Artemi Panarin had two assists and Anisimov had one as Chicago got even with New York following a 1-0 overtime loss at home to the Rangers last Friday. Jesper Fast scored for the Rangers and Antti Raanta, starting for the fourth straight game, made 24 saves. Raanta had won three consecutive starts, including shutouts in the last two. New York had won four of its last five.
Coyotes 4, Red Wings 1 – McGinn scores twice, Coyotes beat Red Wings 4-1
Jamie McGinn scored twice and the Arizona Coyotes beat the Detroit Red Wings 4-1 on Tuesday night. Lawson Crouse and defenseman Anthony DeAngelo also scored for Arizona. Peter Holland had two assists in his Coyotes debut, and Mike Smith made 37 saves. Andreas Athanasiou scored for Detroit, and Jimmy Howard stopped 15 shots. DeAngelo's power-play goal opened the scoring 2:01 into the game. His shot from the left faceoff dot beat Howard on the short side. It was DeAngelo's third goal. Athanasiou tied it with 3:48 left in the first period. The rebound of Gustav Nyquist's shot off the rush went in off Athanasiou's skate for his fifth goal. Crouse gave Arizona a 2-1 lead with 16 seconds remaining in the first. He headed toward the net while battling Red Wings defenseman Mike Green, and Crouse's backhand shot trickled through Howard for his second goal.
MLB – Laird named manager in Detroit's minor league system
Former major league catcher Gerald Laird is now a minor league manager. The Detroit Tigers announced Tuesday that Laird will manage at Class A Connecticut this coming season. The 37-year-old Laird last played in the major leagues in 2015, when he appeared in one game for the Arizona Diamondbacks. He played for the Tigers from 2009-10 and again in 2012. Mike Rojas will manage at Triple-A Toledo for the Tigers, and Lance Parrish will again manage Double-A Erie.
MLB – Source: Owners OK new deal
Baseball has one hurdle remaining as it seeks the official ratification of a new collective bargaining agreement. A person with knowledge of the meeting says baseball owners approved the deal by a 29-1 vote, with Rays managing general partner Stuart Sternberg casting the lone dissenting vote. Players also had been scheduled to hold a ratification vote, the last measure before labor peace is certain. The agreement raises the luxury tax thresholds, increases some of the tax rates, imposes a hard cap on signing bonuses for international amateurs and bans smokeless tobacco for players who do not already have major league service. It also eliminates the provision that gave World Series home-field advantage to the All-Star winner and bans rookie hazing that includes costumes as women.
NBA – National Basketball Association
Last Night
Minnesota Timberwolves 110, Chicago Bulls 94
Timberwolves 110, Bulls 94 – Timberwolves beat Bulls 99-94 in Thibodeau's Chicago return
Zach LaVine scored 24 points, Andrew Wiggins added 23 and the Timberwolves rallied to beat the Bulls 99-94 in Minnesota coach Tom Thibodeau's return to Chicago on Tuesday night. The Timberwolves wiped out a 21-point deficit and got Thibodeau a victory in his first game in Chicago since the Bulls fired him in an acrimonious split in 2015. Gorgui Dieng and Karl-Anthony Towns each scored 16 points, and the Timberwolves snapped a four-game losing streak. Jimmy Butler led Chicago with 27 points, and Robin Lopez added 14. But the Bulls continued a pattern of letdowns against losing teams, this time falling to one that came in tied for the NBA's worst record.
Tonight
Indiana Pacers at Miami Heat, 7:00 p.m.
Detroit Pistons at Dallas Mavericks, 8:30 p.m.
NBA – Bulls Rondo sidelined by sprained right ankle
Bulls guard Rajon Rondo sat out a game Tuesday night against the Minnesota Timberwolves because of a sprained right ankle. Coach Fred Hoiberg says Rondo landed awkwardly near the end of practice on Monday. The Bulls hope to have him back Thursday at Milwaukee or when they host the Bucks on Friday. The 30-year-old Rondo was suspended for one game last week for conduct detrimental to the team. He signed a $30 million, two-year deal with Chicago after averaging 11.9 points and an NBA-best 11.7 assists in 72 games with Sacramento last season. Hoiberg also said guard Michael Carter-Williams has a "pretty important" doctor's appointment on Friday that could determine if he returns from left wrist and left knee injuries next week. He has been sidelined since Oct. 31.
NBA – Facelift for Cavs' arena
The Cavaliers have announced plans for a $140 million renovation project for Quicken Loans Arena, with half the cost being picked up by Cuyahoga County. The Cavs and county officials believe the arena needs an exterior face-lift and massive interior upgrades to better accommodate fans and attract future events. The arena will remain open during construction, which is slated to begin in 2017 and take approximately two years to complete.
NCAAWBB – Women's College Basketball
Last Night
Michigan 69, Ohio 46
Michigan 69, Ohio 46 – Michigan downs Ohio 69-46
Katelyn Flaherty had a game high 25 points to lead Michigan to a 69-46 win over Ohio.  Benton Harbor's Kysre Gondrezick scored 6 points for Michigan
NCAAFB – Ohio court revives claims in Notre Dame concussion suit
A state appeals court in Cleveland has ruled that the widow of a former Notre Dame football player can proceed with lawsuit claims that he was disabled by concussions suffered during his college career in the 1970s. Steve and Yvette Schmitz sued the NCAA and university in October 2014 alleging the institutions had shown "reckless disregard" for player safety and failed to protect them from concussions. Steve Schmitz died in February 2015. The lawsuit says he was diagnosed by the Cleveland Clinic with a brain disease related to numerous concussions and that suffered from severe memory loss and early onset Alzheimer's. A judge dismissed the lawsuit in September 2015. The appellate court last week overruled the judge's dismissal of some claims. An attorney for Notre Dame declined to comment.
ECHL – East Coast Hockey League
Tonight
Toledo Walleye at Utah Grizzlies, 9:00 p.m.
WNBA – Chicago Sky hire Stocks as new head coach/GM
The Chicago Sky hired Los Angeles Sparks assistant Amber Stocks as its new head coach Tuesday. Stocks replaces Pokey Chatman, who the Sky let go after she guided Chicago to an 18-16 record and an appearance in the WNBA semifinals. She won 106 games in Chicago and led the team to its first-ever playoff appearance in 2013 and a trip to the WNBA Finals in 2014. Before coming to Los Angeles, Stocks served as an assistant coach at Xavier from 2002-09. She played at Cincinnati, helping the team win a Conference USA championship before graduating in 1999. She also worked briefly at Notre Dame and Tennessee. Sky owner Michael Alter says a dozen candidates were interviewed before the team settled on Stocks, who inherits a team rich in talent with former MVP Elena Delle Donne leading the way. The Sky also have Cappie Pondexter, Allie Quigley and Courtney Vandersloot. Stocks will also serve as the team's general manager.
MHSAA – High School Sports
Last Night
Boys Basketball
SMAC
Kalamazoo Central 74, St. Joseph 49
Kalamazoo Central posted a 74-49 win over St. Joe.  The Maroon Giants ran out to a nine point lead at the end of the first quarter and steadily pulled away from there.  Mason Scramlin scored 15 points in the loss for the Bears on 5 three pointers.  Central got a game high 20 points from Rog Stein.
Battle Creek Central 59, Lakeshore 40
Niles 54, Kalamazoo Loy Norrix 42
Portage Central 52, Mattawan 49
Battle Creek Lakeview 58, Portage Northern 48
Wolverine
Three Rivers 61, South Haven 54
South Haven got off to a slow start and Three Rivers' took advantage, posting a 39-28 half-time lead and winning it, 61-54.  Three Rivers' brother combination of Gavin and Carson Charvaht netted 20 and 10 points respectively for the Wildcats.  The Rams' DaShawn Palmer led the South Haven effort with 12.  The Rams fall to 1 & 2 on the season, heading to Otsego Friday night.
Sturgis 57, Allegan 24
Vicksburg 62, Otsego 60
Paw Paw 65, Edwardsburg 53
Plainwell 61, Dowagiac 49
BCS
Lake Michigan Catholic 63, White Pigeon 36
Buchanan 52, New Buffalo 34
Howardsville Christian 57, Mendon 44
SAC
Fennville 63, Gobles 60
Coloma 49, Watervliet 27
Kalamazoo Hackett 74, Hartford 43
Schoolcraft 62, Lawton 18
Saugatuck 69, Bangor 59
Kalamazoo Christian 75, Galesburg-Augusta 36
Independent/Non Conference
Eau Claire 64, Covert 20
Jomel Armstead scored 17 points to lead Eau Claire to a 64-20 win over Covert
Bloomingdale 67, Countryside 57
Decatur 64, River Valley 22
Boys Swimming & Diving
St. Joseph 121, South Haven 59
Girls Basketball
SMAC
St. Joseph 63, Kalamazoo Central 60
Anna Fischer was 4 for 4 from the free throw line in the final minute to help St. Joe hold off Kalamazoo Central 63-60.   St. Joe had three girls in double figures, led by 21 points from Katie Algyre, Audrey Filippo had 13 points and Anna Fischer had 12.  St. Joe improves to 4-1 and hosts Michigan Lutheran on Friday.
Lakeshore 70, Battle Creek Central 23
Three Lakeshore players scored in double figures with Gloria Hawkins and Taylor Wagner earning team high honors with 16 points each as the Lady Lancers beat Battle Creek Central 70-23.  Sarah Dubbert added 12 for Lakeshore
Kalamazoo Loy Norrix 55, Niles 43
Portage Central 33, Mattawan 26
Battle Creek Lakeview 62, Portage Northern 41
Wolverine
Three Rivers 47, South Haven 17
Allegan 51, Sturgis 46
Otsego 62, Vicksburg 31
Edwardsburg 55, Paw Paw 38
BCS
Michigan Lutheran 64, Bridgman 35
Emily Witkowski scored a game high 27 points as Michigan Lutheran coach Ron Briney picked up his 400th career win with a 64-35 win over Bridgman,  Sarah Jackamayer scored 11.   Bridgman was led by Brooke Jones, who scored 14.
SAC
Gobles at Fennville, 7:00 p.m.
Watervliet 41, Coloma 25
Kalamazoo Hackett 55, Hartford 32
Schoolcraft 43, Lawton 28
Bangor 31, Saugatuck 17
Galesburg-Augusta 50, Kalamazoo Christian 30
Non Conference/Independent
New Buffalo 60, Eau Claire 17
Decatur 35, River Valley 28
Tonight
Girls Basketball
Plainwell at Dowagiac, 7:15 p.m.
Boys Wrestling
Portage Northern at St. Joseph, 6:00 p.m.
Lakeshore at Gull Lake Quad, 6:00 p.m.