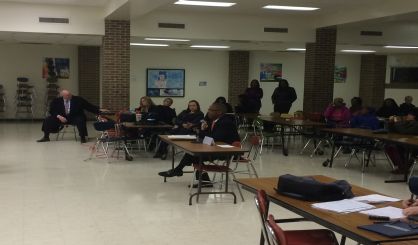 Former Benton Harbor High School Principal Rodger Tripplett has been fired. At a Tuesday meeting, the board of education heard from district attorney Eric DeLaporte that Tripplett's teaching and administrator certificates have been suspended by the Michigan Department of Education. He said they had no choice but to terminate him.
"The board itself and individual board members can suffer both criminal and financial penalties," DeLaporte said.
Tripplett, speaking in his own defense, revealed his certifications were suspended over traffic tickets going back to 1984 that he failed to report when renewing them. He called the whole thing a witch hunt stemming from his June suspension boiling down to state consultants wanting him out.
"My teaching certificate has been taken away from me for nothing," Tripplett said.
The vote to fire was 4 to 1, with Trustee Lisa Gulley, the lone no vote, calling the whole situation "wicked."
"It's just sad that somebody can destroy someone's life, their career, their dedication to the school for driving while license suspended," Gulley said.
The board was told the district could be fined more than $400,000 if it kept Tripplett on. School board leaders had no comment after the meeting. Tripplett said he was appealing the state education department decision.