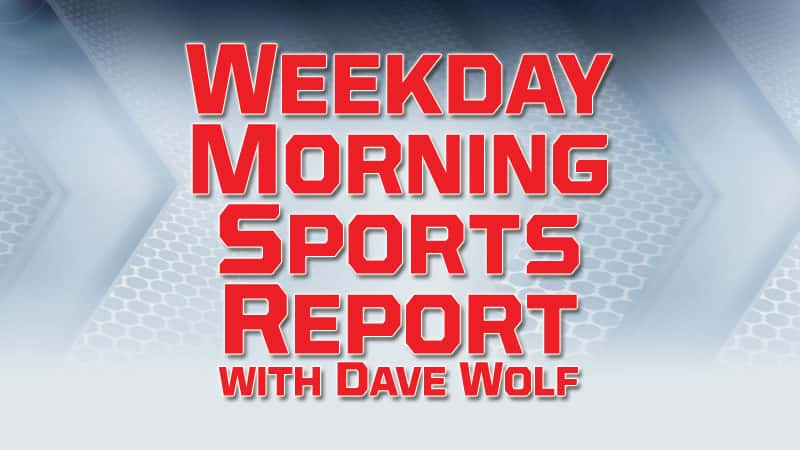 95.7 & 1400 WSJM Sports     @wsjmsports     wsjmsports.com     Friday, December 02, 2016
NFL – National Football League – Week 13
Last Night
Dallas Cowboys (11-1) 17, Minnesota Vikings (6-6) 15
Cowboys 17, Vikings 15 – Cowboys win 11th in a row
The Dallas Cowboys ran their winning streak to 11 by holding off the Minnesota Vikings 17-15. Dez Bryant caught four passes for 84 yards and the go-ahead touchdown in the fourth quarter. Vikings coach Mike Zimmer missed the game following emergency surgery to repair a detached retina. Special teams coordinator Mike Priefer was the Vikes interim head coach.
Sunday
Detroit Lions (7-4) at New Orleans Saints (5-6), 1:00 p.m.         95.7 & 1400 WSJM Sports 11:00
San Francisco 49ers (1-10) at Chicago Bears (2-9), 1:00 p.m.
Carolina Panthers (4-7) at Seattle Seahawks (7-3-1), 8:30 p.m.  95.7 & 1400 WSJM Sports 7:45
Monday
Indianapolis Colts (5-6) at New York Jets (3-8), 8:30 p.m.          95.7 & 1400 WSJM Sports 8:00
NFL – Bears QB Jay Cutler to have season-ending shoulder surgery
Chicago quarterback Jay Cutler will miss the rest of the season for the 2-9 Bears and will probably be replaced by Matt Barkley Sunday against 1-10 San Francisco. Cutler will have season-ending surgery on his right shoulder to repair a torn labrum.
NFL – Pats lose Gronk
New England Patriots tight end Rob Gronkowski is scheduled for surgery for a herniated disk in his back and his season could be over. He's likely to be out for eight weeks or more. The Super Bowl is scheduled for Houston on Feb. 5, should the Patriots get that far.
NFL – NFL rethinking Thursday Night scheduling
The NFL is re-evaluating its scheduling process in a bid to avoid the short turnaround of having teams playing on Sunday night and then travel to play on Thursday. That's what NFL vice president for football operations Troy Vincent tells The Associated Press.
NHL – National Hockey League
Tonight
Florida Panthers 2, Detroit Red Wings 1 – OT
Chicago Blackhawks 4, New Jersey Devils 3 – OT
Panthers 2, Red Wings 1 – OT – Barkov's breakaway gives Panthers 2-1 OT win over Red Wings
Aleksander Barkov scored on a breakaway 2:04 into overtime, lifting Florida to a 2-1 win over the Detroit Red Wings on Thursday night and giving interim coach Tom Rowe his first victory with the Panthers. Florida, playing its second game with Rowe, had lost its last two games. Detroit was 3-0-1 after losing four straight and nine of 11. The Red Wings went ahead 1:23 into the game when Henrik Zetterberg scored on their first shot, ending a six-game drought. But they struggled on offense the rest of the night.
Blackhawks 4, Devils 3 – OT – Hossa's 12th goal gives Blackhawks 4-3 OT win over Devils
Marian Hossa scored his team-leading 12th goal through a screen at 1:31 of overtime to lift the Blackhawks to a 4-3 victory over the New Jersey Devils on Thursday night. Hossa's shot through traffic from high in the slot beat Cory Schneider on the glove side, moments after New Jersey's Mike Cammalleri hit the post on a prime chance against Chicago's Corey Crawford.  The Western Conference-leading Blackhawks won their second straight as they played beyond regulation for the third consecutive time. Chicago is 3-0-1 in its last four.  Hossa's heroics allowed the Blackhawks to overcome a hat trick by New Jersey's Travis Zajac in a high-tempo game with few stoppages. Zajac's third goal of the game at 8:49 of the third tied it 3-all after scores by Chicago's Artem Anisimov and Niklas Hjalmarsson late in the second period had put the Blackhawks ahead. Marcus Kruger also connected for Chicago to end a 22-game drought.
NBA – National Basketball Association
Tonight
Detroit Pistons at Atlanta Hawks, 8:00 p.m.
Cleveland Cavaliers at Chicago Bulls, 8:00 p.m.
NBA – Pistons center Andre Drummond fined $15,000 by NBA
Detroit Pistons center Andre Drummond was fined $15,000 by the NBA on Thursday for striking Charlotte Hornets center Roy Hibbert in the back of the head with an elbow. Drummond was assessed a Flagrant Foul 2 and ejected with in the second quarter of the Pistons' 112-89 victory over the Hornets on Tuesday night.
NCAAFB – Championship Weekend
Tonight
Mid-American Conference Championship – Ford Field, Detroit
(13) Western Michigan vs. Ohio, 7:00 p.m.               95.7 & 1400 WSJM Sports 6:45
Pac-12 Conference Championship – Levi Stadium, Santa Clara, CA
(8) Colorado vs. (4) Washington, 9:00 p.m.
Saturday
Southeastern Conference Championship – Georgia Dome, Atlanta
(1) Alabama vs. (15) Florida, 4:00 p.m.                    95.7 & 1400 WSJM Sports 6:45
Atlantic Coast Conference Championship – Camping World Stadium, Orlando
(3) Clemson vs. (23) Virginia Tech, 8:00 p.m.
Big Ten Conference Championship – Lucas Oil Stadium, Indianapolis
(6) Wisconsin vs. (8) Penn State, 8:00 p.m.
NCAAFB – Division II Quarterfinals
Saturday
Ferris State (11-2) at Grand Valley State (12-0), 1:00 p.m.
NCAAMBB – Men's College Basketball
Saturday
Kennesaw State at Michigan, 1:00 p.m.                    95.7 & 1400 WSJM Sports 12:30
Oral Roberts at Michigan State, 4:30 p.m.               Superhits 103.7 Cosy-FM 3:30
Arkansas-Pine Bluff at Central Michigan, 4:30 p.m.
Sunday
North Carolina A&T at Notre Dame, 7:00 p.m.
NCAAMBB – Michigan State's Bridges out 2-plus weeks with ankle injury
Michigan State freshman Miles Bridges is expected to be out at least a couple of weeks with a sprained left ankle.  Spartans coach Tom Izzo made the announcement Thursday night after practice. Bridges is leading the team with 16.6 points, 8.8 rebounds and 32.5 minutes per game.  Michigan State (4-4) hosts Oral Roberts (1-6) on Saturday. The Spartans were depleted by departures and injuries entering the season, leading to them leaning on Bridges and other freshmen in their highly-touted recruiting class. The 6-foot-7 Bridges showed he was capable of being a go-to player, scoring 21 points or more in four games. Michigan State has lost to four ranked teams: No. 1 Kentucky, No. 5 Duke, No. 9 Baylor and No. 16 Arizona.
NCAAWBB – Women's College Basketball
Last Night
Michigan 92, Georgia Tech 52    – Katelyn Flaherty (Mich) 25 points       Kysre Gondrezick (15 points)
Central Michigan 95, Loyola Chicago 57
Today
Oakland at Michigan State, 7:00 p.m.
Woman says she twice ran from Cleaves during sexual assault
A woman who says she was sexually assaulted by former Michigan State basketball star Mateen Cleaves says she twice ran out of a motel room to try to get away from him. The woman is testifying Thursday in a Flint-area courtroom. A judge must decide whether there's enough evidence to send Cleaves to trial. He's pleaded not guilty.
AHL – American Hockey League
Tonight
Iowa Wild at Grand Rapids Griffins, 7:00 p.m.
Chicago Wolves at Rockford IceHogs, 8:00 p.m.
ECHL – East Coast Hockey League
Tonight
Kalamazoo Wings at Elmira Jackals, 7:05 p.m.
NBADL – National Basketball Association Developmental League
Tonight
Windy City Bulls at Grand Rapids Drive, 7:00 p.m.
MHSAA – High School Sports
Last Night
Girls Basketball
Mendon 43, New Buffalo 33
Tonight
Girls Basketball
SMAC
Portage Northern at St. Joseph, 7:00 p.m.
Lakeshore at Portage Central, 7:00 p.m.
Mattawan at Gull Lake, 7:00 p.m.
Battle Creek Central at Battle Creek Lakeview, 7:00 p.m.
Independent/Non-Conference
Benton Harbor vs. Bloomfield Hills, 6:00 p.m.                   at Caledonia Tournament
Battle Creek Calhoun Christian at Howardsville Christian, 6:00 p.m.
Wolverine
Plainwell at South Haven, 7:15 p.m.
Allegan at Otsego, 7:15 p.m.
Dowagiac at Paw Paw, 7:15 p.m.
Edwardsburg at Sturgis, 7:15 p.m.
Vicksburg at Three Rivers, 7:15 p.m.
SAC
Bangor at Coloma, 7:30 p.m.
Schoolcraft at Constantine, 7:30 p.m.
Bloomingdale at Decatur, 7:30 p.m.
Watervliet at Delton-Kellogg, 7:30 p.m.
Lawrence at Eau Claire, 7:30 p.m.
Kalamazoo Hackett at Galesburg-Augusta, 7:30 p.m.
Hartford at Gobles, 7:30 p.m.
Lawton at Kalamazoo Christian, 7:30 p.m.
Martin at Marcellus, 7:30 p.m.
Fennville at Saugatuck, 7:30 p.m.
BCS
Bridgman at Berrien Springs, 7:30 p.m.
Cassopolis at Bronson, 7:30 p.m.
Brandywine at Comstock, 7:30 p.m.
Centreville at White Pigeon, 7:30 p.m.