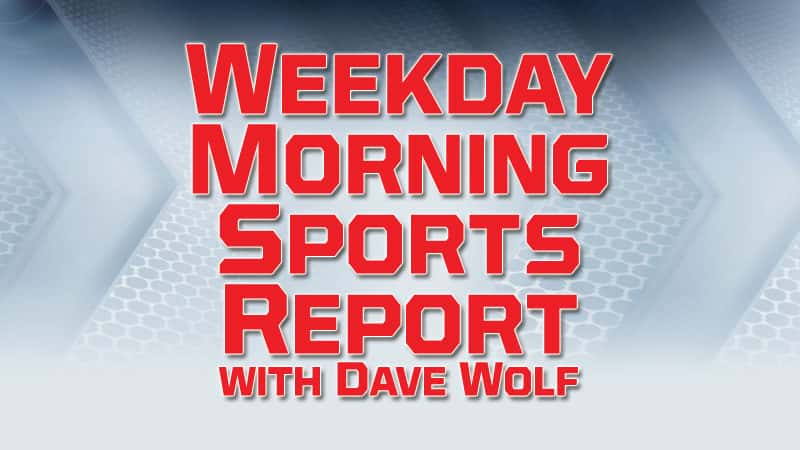 95.7 & 1400 WSJM Sports     @wsjmsports     wsjmsports.com     Tuesday, November 22, 2016
NFL – National Football League – Week 11
Yesterday
Oakland Raiders 27, Houston Texans 20
Raiders 27, Texans 20 – Raiders top Texans
Derek Carr fired two scoring passes in the fourth quarter as the Raiders rallied to beat Houston, 27-20. The Texans led 20-13 until Carr hit Jamize Olwawale for a 75-yard TD and found Amari Cooper on a 35-yard touchdown. The Raiders managed just 120 yards of offense through three quarters before improving to 8-2.
NFL – Shoulder injury could end Jay Cutler's season
Jay Cutler has suffered a shoulder injury that could potentially end his season, according to a report from Brad Biggs of the Chicago Tribune. Cutler finished the Bears' 22-16 loss to the Giants on Sunday, and threw an interception on the game's final play. The extent of the injury is not known at this time. Cutler missed five games earlier this season with a thumb injury, and Brian Hoyer may have kept the starting job permanently had he not suffered a broken arm in a Week 7 loss to the Packers. If Cutler is forced to miss time, Matt Barkley would be the starting quarterback for the Bears next Sunday when they host the Titans.
NFL – Bears linebacker Jerrell Freeman suspended for PED violation
Linebacker Jerrell Freeman on Monday became the second Chicago Bears player suspended for violating the league's performance-enhancing drug policy in two weeks. Freeman was suspended for four weeks and is eligible to return to practice Dec. 19 to prepare for the Dec. 24 home game against the Washington Redskins. Freeman, in his first year in Chicago after signing as a free agent, leads the Bears with 69 tackles and with 22 assists. Last week, wide receiver Alshon Jeffery was suspended four games for the same violation and will be eligible to return for the Dec. 18 game against Green Bay.
NBA – National Basketball Association
Last Night
Houston Rockets 99, Detroit Pistons 96
Golden State Warriors 120, Indiana Pacers 83
Rockets 99, Pistons 96 – Harden scores 28 for Rockets in 99-96 win over Pistons
James Harden had 28 points, 11 assists and eight rebounds, lifting the Houston Rockets to a 99-96 victory over the Detroit Pistons on Monday night.  Clint Capela added 15 points and 12 rebounds for the Rockets, who won their third straight game.  Kentavious Caldwell-Pope scored 26 points and Andre Drummond had 13 points and 16 rebounds for Detroit, which has lost four in a row. With the Rockets clinging to a one-point lead and less than 10 seconds left, Harden made a free throw and missed the second, leaving Houston up 98-96. Drummond rebounded the miss and was immediately fouled by Capela with 4.6 seconds to go. Drummond missed both free throws, and the Pistons fouled Harden, who made one of two. Caldwell-Pope then missed a halfcourt heave at the buzzer.
Warriors 120, Pacers 83 – Thompson's splashy scoring leads Warriors past Pacers 120-83
Klay Thompson dropped in 25 points and two-time MVP Stephen Curry added 22 before the Warriors' starters could sit out the fourth quarter of a 120-83 pounding of the Pacers at Indiana. Golden State carried a 29-point lead into the final period and continued to pull away after head coach Steve Kerr emptied his bench. The Warriors won their eighth in a row and improved to 12-2 despite a quiet night from Kevin Durant, who shot just 3-for-9 from the floor in scoring 14 points.
Tonight
Chicago Bulls at Denver Nuggets, 9:00 p.m.
NBA – AP Source: Detroit Pistons nearing downtown move
A person with knowledge of the negotiations says the Detroit Pistons have reached an agreement in principle with the city of Detroit and Olympia Entertainment for the team to move downtown. The person spoke on condition of anonymity Monday because there had been no formal announcement. Pistons owner Tom Gores is set to appear at a news conference Tuesday with Detroit Mayor Mike Duggan and Christopher Ilitch, president and CEO of Ilitch Holdings. Gores acknowledged last month that the team was close to a deal to leave The Palace of Auburn Hills and start playing downtown next season. The Pistons have been in talks about playing at the new arena that is being built for the Detroit Red Wings, who are owned by Mike and Marian Ilitch. The arena is about 30 miles from Auburn Hills.   The Pistons have played in Auburn Hills since 1988.
NHL – National Hockey League
Last Night
Edmonton Oilers 5, Chicago Blackhawks 0
Oilers 5, Blackhawks 0 – Draisaitl, Talbot help Oilers thump Blackhawks 5-0
Leon Draisaitl scored twice and Cam Talbot made 31 saves for his third shutout of the season, helping the Edmonton Oilers beat the Western Conference-leading Chicago Blackhawks 5-0 on Monday night.  Oscar Klefbom, Andrej Sekera and Anton Slepyshev also scored for the Oilers.  Corey Crawford made 22 saves in the loss as the Blackhawks had a two-game winning streak snapped.  Teenage captain Connor McDavid had two assists for Edmonton. The 19-year-old set up a goal 2:39 in by skating the length of the ice before centering the puck for Klefbom, who blasted a shot past Crawford. McDavid also assisted late in the first when Draisaitl tipped in Klefbom's shot from the point on a power play for a 2-0 lead.
NCAAMBB – Officiating error acknowledged at end of Michigan State game
Big Ten Associate Commissioner Rick Boyages says an officiating error was made at the end of Michigan State's disputed win over Florida Gulf Coast on Sunday night. Boyages says Monday an official started the clock improperly. After the mistake, Boyages says officials followed rules properly.  He is the coordinator executive director of the Men's Basketball Collegiate Officiating Consortium, which oversees officiating in the Big Ten and five other conferences. The Spartans, who fell from No. 13 to 24 in the Top 25 poll , held off the Eagles 78-77. Florida Gulf Coast threw a long inbounds pass from underneath its own basket with 1.6 seconds left and the clock started when the pass was thrown instead of when it was caught.
NCAAMBB – Men's College Basketball
Last Night
Notre Dame 89, Colorado 83
Central Michigan vs Pepperdine, 8:30 p.m.               at Cedar Park, TX
Notre Dame 89, Colorado 83 – Notre Dame holds off Colorado 89-83
Bonzie Colson had 22 points and 12 rebounds for his fifth career double-double and Notre Dame held off Colorado 89-83 on Monday night in the semifinals of the Legends Classic at Barclays Center. The Fighting Irish (4-0) will play the winner of No. 22 Texas-Northwestern for the title on Tuesday. The Buffaloes (3-1) trailed by 15 points at halftime and were able to get as close as four points twice in the final minute but Notre Dame went 14 for 14 from the free throw line over the final 1:33 to keep Colorado at bay. Matt Farrell had 20 points and V.J. Beacham and Steve Vasturia added 17 each for Notre Dame which went 27 for 29 from the free throw line. Colson, a 6-foot-5 junior, matched his career high with the 12 rebounds. Xavier Johnson scored 23 points, Derrick White had 20 points and nine assists and George King added 17 points and 13 points for Colorado.
CMU 88, Pepperdine 77 – d 
Marcus Keene scored a career-high 36 points to lead Central Michigan past Pepperdine at the Lone Star Showcase. Keene came into the game 4th in the nation in scoring, averaging 28.3 points a game.
Tonight
Notre Dame vs. Northwestern, 6:00 p.m.                           at Brooklyn, NY
Central Michigan vs St. Bonaventure, 6:00 p.m.                 at Cedar Park, TX
NCAAMBB – Kentucky takes over No. 1 spot in men's poll
Kentucky moves into the No. 1 spot in The Associated Press college basketball poll, replacing Duke, which dropped to sixth following its final-seconds loss to Kansas in the Champions Classic. The Wildcats (4-0), who also beat then-No. 13 Michigan State in the Champions Classic, received 42 first-place votes from the 65-member national media panel in the poll released Monday. Kentucky was ranked No. 1 for two weeks last season. Defending national champion Villanova (5-0) moved up one spot to second with 21 No. 1 votes following a four-win week that included one at then-No. 15 Purdue.  Indiana (3-0), which moved up three places to third, received the other two first-place votes. This is the Hoosiers' highest ranking since they were third in the next-to-last poll of 2012-13. North Carolina moved up one place to fourth and was followed by Kansas, Duke, Virginia, Arizona, Xavier and Louisville. Purdue is No. 17.
 
NCAAWBB – Irish and Huskies top two teams in AP women's poll
Notre Dame and UConn sit first and second in The Associated Press women's college basketball poll. The two perennial basketball powers each received 16 first place votes from the 33-member national media panel Monday. The Irish remain the No. 1 team in the poll while the Huskies moved up one spot after beating then-No. 2 Baylor last Thursday. South Carolina garnered the other first place vote and is third in the Top 25. Louisville and Baylor are next in the poll. Maryland, Mississippi State, Ohio State, UCLA and Florida State round out the top 10 teams. Michigan State and Gonzaga entered the Top 25 in the bottom two spots this week while Indiana and Missouri fell out. The Zags knocked off No. 11 Stanford on Friday night. They were one of five unranked teams to beat Top 25 opponents last week.
NCAAWBB – Women's College Basketball
Last Night
Michigan 66, Western Michigan 40
-Benton Harbor's Kysre Gondrezick had 5 points for Michigan
Tonight
Oakland at Central Michigan, 7:00 p.m.
UL – Lafayette vs (1) Notre Dame, 8:00 p.m.   at Houston
(24) Michigan State at Oregon, 11:00 p.m.
NCAAFB – College Football
Tonight
Central Michigan at Eastern Michigan, 7:00 p.m.
Ball State at Miami (OH), 7:00 p.m.
Akron at Ohio, 7:00 p.m.
NCAAFB – No sign of impairment when Sadler crashed with Foltz
The toxicology report on former Michigan State punter Mike Sadler does not indicate he was impaired at the time he and Nebraska punter Sam Foltz were killed in a single-vehicle crash in July.  Sadler was driving his 2014 Mercedes when it struck a tree on a winding road in Merton, about 25 miles west of Milwaukee, on July 23. The vehicle burst into flames, and Sadler and Foltz died at the scene. Another passenger, LSU kicker Colby Delahoussaye, was treated for second-degree burns. The three were in Wisconsin to work at a kicking camp. The toxicology report, obtained by The Associated Press, showed Sadler had a blood-alcohol content of 0.03. The legal limit for driving is .08. The report also showed a low level of amphetamines in his blood. Waukesha County District Attorney Susan Opper said Monday there was "nothing remarkable" about Sadler's toxicology report. She said it is not uncommon for amphetamines at a low level to be found in the blood. Opper said wet pavement and Sadler's unfamiliarity of the area were factors in the crash. She said authorities were not able to determine if speed was a contributing factor.
NCAAFB – Jackson, Mayfield, Peppers up for 2 awards
Lamar Jackson of Louisville and Oklahoma's Baker Mayfield were named finalists for the both the Maxwell player of the year award and the Davey O'Brien Award that goes to the best quarterback in college football. Michigan star Jabrill Peppers is the third Maxwell finalist, while Clemson's Deshaun Watson is the third quarterback in the running for the O'Brien award. Peppers, Alabama defensive lineman Jonathan Allen and Texas A&M defensive end Myles Garrett are finalists for the Bednarik Award for top defensive player.
USA Soccer – Jurgen Klinsmann out as coach of US soccer team
Jurgen Klinsmann is out as coach of the U.S. soccer team. U.S. Soccer Federation President Sunil Gulati announced Monday that Klinsmann has been "relieved of his duties" as coach and technical director for U.S. Soccer. Gulati will conduct a media teleconference call Tuesday. Klinsmann replaced Bob Bradley in July 2011 and led the team to the 2013 CONCACAF Gold Cup title and the second round of the 2014 World Cup, where the Americans lost to Belgium in extra time. But the U.S. was knocked out in last year's Gold Cup semifinals, lost to Mexico in a playoff for a Confederations Cup berth and started 0-2 this month in the final round of World Cup qualifying.
MLB – Ramirez, Rodriguez on Hall of Fame ballot
The latest Baseball Hall of Fame ballot includes outfielder Vladimir Guerrero and steroids-tainted stars Manny Ramirez and Ivan Rodriguez.  Guerrero was selected to nine All-Star games and was named the 2004 AL MVP before finishing his career with a .318 average, 449 homers and 1,496 RBIs in 16 big league seasons.  Jeff Bagwell is the top holdover after falling 15 votes short of the required 75 percent in 2016 voting.
Golf – PGA – Hughes makes clutch putt for first win
Mackenzie Hughes holed an 18-foot par putt from off the green to win the RSM Classic and become the first rookie in 20 years to go wire-to-wire for his first PGA Tour victory. The Canadian was the only player of the four remaining in the playoff who was never on the green at the par-3 17th hole until his ball was in the cup. He then watched Blayne Barber, Henrik Norlander and Camilo Villegas each miss par putts from 10 feet or closer. All four had to return Monday morning for the third extra hole in 42 degree temperatures.
Rodman charged with hit-and-run
Former NBA star Dennis Rodman has been charged with hit-and-run for a wrong-way-related crash on a Southern California freeway. If convicted, he could get two years in a county jail. Orange County prosecutors filed misdemeanor charges against Rodman on Monday for a July 20 accident on Interstate 5 in Santa Ana.
Former USA Gymnastics doc charged
A former USA Gymnastics team doctor has been charged with first-degree criminal sexual conduct in Michigan involving a child under 13. Dr. Larry Nassar is charged with three counts, although online court records don't indicate whether they involve more than one victim. Nassar has been under scrutiny this year after two gymnasts, including a member of the 2000 U.S. women's Olympic team, accused him of sexual abuse. A lawsuit by one is pending in California.
NJCAA – Junior College Basketball – Men's
Last Night
Don Bosco Prep 85, Lake Michigan College 73