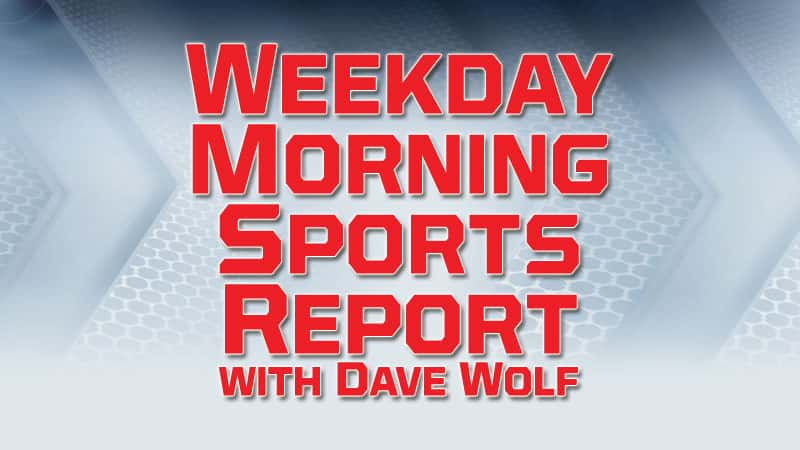 95.7 & 1400 WSJM Sports     @wsjmsports     wsjmsports.com     Friday, November 18, 2016
NCAAMBB – Men's College Basketball
Last Night
Michigan 79, Marquette 61
(3) Villanova 76, Western Michigan 65
Central Michigan 107, Marygrove College 58
Michigan 79, Marquette 61 – Irvin leads Michigan to double-digit win over Marquette
Zak Irvin led five players in double figures with 16 points and Michigan pulled away late in the first half for a 79-61 victory over Marquette in the second semifinal of the 2K Classic at Madison Square Garden Thursday night. Muhammad-Ali Abdur-Rahkman and reserve Mark Donnal added 15 points apiece for Michigan (3-0), which led for the final 33-plus minutes and beat Marquette for the 14th time in 20 meetings. Michigan will face SMU in the championship game Friday. Marquette will face Pittsburgh in the consolation game.  The Wolverines shot 59 percent in the first half and 51 percent overall. Luke Fischer led the Golden Eagles (2-1) with 19 points, but it was not nearly enough as Marquette shot 41 percent and committed 15 turnovers.
 (3) Villanova 76, WMU 65 – No. 3 Villanova tops Western Michigan 76-65
Eric Paschall had 17 points, including a 3-pointer with 2:50 to go, to help rally No. 3 Villanova past Western Michigan 76-65 at the Charleston Classic on Thursday. The defending champion Wildcats opened 3-0 for the fourth straight season. Not that it was easy after Western Michigan cut a 14-point second-half lead to 569-56 with six minutes left. That's when Villanova took off on a 13-4 run to secure the game, helped by 3-pointers by Kris Jenkins, Paschall and Josh Hart for a 72-60 lead. Western Michigan never got closer than seven points the rest of the way.  The Broncos (1-2) fell to 0-4 at the eight-team Charleston tournament. They lost all three games when they last visited in the 2008-09 season. Thomas Wilder led Western Michigan with 19 points.
CMS 107, Marygrove 58 – Central Michigan defeats Marygrove 107-58 with big 2nd half
Marcus Keene scored 23 points, Braylon Rayson had 22 and Central Michigan rolled to a 107-58 win over Marygrove last night. Kevin McKay added 16 points and 11 rebounds for the Chippewas (3-0). Central Michigan had a 59-41 rebounding advantage and forced the Mustangs (1-8), an NAIA school in Detroit, into 25 turnovers.
Today
Gardner-Webb vs. Eastern Michigan, 12:00 p.m.      at Indianapolis
Western Michigan vs. UTEP, 3:30 p.m.                     at Charleston, SC
Mississippi Valley State at (13) Michigan State, 7:00 p.m.                       Superhits 103.7 Cosy-FM 6:00
Michigan vs. SMU, 7:00 p.m.                                    at MSG, New York          95.7 & 1400 WSJM Sports 6:30
Loyola (MD) at Notre Dame, 7:00 p.m.
NBA – National Basketball Association
Last Night
Chicago Bulls 85, Utah Jazz 77
Bulls 85, Jazz 77 – Butler scores 20 as Bulls beat Jazz 85-77 on the road
Jimmy Butler scored 20 points and grabbed 12 rebounds as the Chicago Bulls defeated the Utah Jazz 85-77 on Thursday night.  The Bulls have won four straight, including three on the road. Chicago used 9-0 runs to start the third and fourth quarters that Utah never recovered from. Nikola Mirotic had a dunk, a steal and an assist during the fourth-quarter run that put the Bulls up 75-58. The Jazz cut the lead to 80-75 late, but Dwyane Wade and Butler hit jumpers to put the game away. Wade scored 18 points for the Bulls and Robin Lopez posted his second double-double of the season with 10 points and 12 rebounds. The Jazz have lost two straight at home after going 4-1 during the preceding road trip. Rudy Gobert finished with 16 points, 13 rebounds and three blocks for the Jazz as Gordon Hayward added eight points and 12 rebounds.
Tonight
Phoenix Suns at Indiana Pacers, 7:00 p.m.
Detroit Pistons at Cleveland Cavaliers, 7:30 p.m.
NHL – National Hockey League
Tonight
Detroit Red Wings at Washington Capitals, 7:00 p.m.
Chicago Blackhawks at Calgary Flames, 9:00 p.m.
NHL – Red Wings' Helm out at least 6 weeks, replaced by Bertuzzi
The Detroit Red Wings have lost forward Darren Helm for at least six weeks because of a dislocated shoulder. Detroit recalled winger Tyler Bertuzzi from the AHL's Grand Rapids Griffins on Thursday and put Helm on long-term injured reserve. Helm had seven points in 17 games for the Red Wings this season.  He was hurt in the third period of Tuesday night's loss to the Tampa Bay Lightning, leaving the game after getting hit by Nikita Nesterov. The Red Wings called up Bertuzzi last week when they put winger Thomas Vanek on long-term injured reserve with a lower-body injury, and he made his NHL debut. They sent the nephew of former NHL player Todd Bertuzzi back to the Griffins on Tuesday. Detroit plays at Washington on Friday night.
NFL – National Football League – Week 11
Last Night
Carolina Panthers 23, New Orleans Saints 20
Panthers 23, Saints 20 – Panthers beat Saints
Cam Newton threw a 40-yard touchdown pass to Ted Ginn Jr. and the Carolina Panthers carried a 23-3 lead into the fourth quarter before holding off the visiting New Orleans Saints, 23-20. The Panthers finished the game without former NFL Defensive Player of the Year Luke Kuechly because of an injury.  Saints quarterback Drew Brees threw for two TDs in the final 11 ½ minutes and finished with 285 passing yards.
Sunday
Jacksonville Jaguars at Detroit Lions, 1:00 p.m.                         WSJM Sports/WCSY-FM 11:00
Chicago Bears at New York Giants, 1:00 p.m.
Tennessee Titans at Indianapolis Colts, 1:00 p.m.
NCAAFB – College Football
Last Night
Houston 36, (5) Louisville 10
Houston 36, (5) Louisville 10 – Cougars pound Cardinals
Fifth-ranked Louisville's national championship hopes took a big hit with a 36-10 loss at Houston. Duke Catolon scored three touchdowns and the Cougars raced out to a 31-0 halftime lead before dropping the Cardinals to 9-2. Louisville quarterback Lamar Jackson was sacked a season-high 11 times and ran for a season-worst 33 yards after racking up 338 yards rushing over the previous two games.
Saturday
(2) Ohio State at Michigan State, 12:00 p.m.                              Superhits 103.7 Cosy-FM 10:30
Buffalo at (21) Western Michigan, 3:30 p.m.
Indiana at (3) Michigan, 3:30 p.m.                                              News/Talk 94.9 WSJM 2:30
Virginia Tech at Notre Dame, 3:30 p.m.
NCAAWBB – Women's College Basketball
Last Night
(1) Notre Dame 71, Green Bay 67
Tonight
Michigan State at Western Michigan, 7:00 p.m.
Howard at Michigan, 7:00 p.m.
Furman at Central Michigan, 7:00 p.m.
MLB – Kris Bryant, Mike Trout win baseball's MVP awards
Chicago Cubs slugger Kris Bryant has been voted NL MVP, and Los Angeles Angels center fielder Mike Trout is the AL winner for the second time in three years. Bryant hit .292 with 39 homers and 102 RBIs in just his second year in the majors, helping the Cubs to their first World Series title since 1908. He becomes just the sixth player to win rookie of the year and MVP in one or consecutive seasons. Bryant received 29 first-place votes, and Washington second baseman Daniel Murphy was the runner-up. While the Angels finished fourth in the AL West, Trout was his usual brilliant self. He batted .315 with 29 homers, 100 RBIs and 30 steals. He scored 17 percent of Los Angeles' runs, the highest percentage for an AL player since Rickey Henderson with the 1985 New York Yankees. Trout received 19 of 30 first-place votes. Boston right fielder Mookie Betts was second. The results of the voting by the Baseball Writers' Association of America were announced Thursday night. Voting was completed by the start of the playoffs.
Golf – LPGA – Final event of the year for the women
Shanshan Feng is the leader through one round of the CME Group Tour Championship in Florida as she seeks her third consecutive LPGA win and a lot of bonus cash. Feng opened with a 6-under 66 that leaves her one stroke in front of So Yeon Ryu and Charley Hull. Feng is coming off victories in Malaysia and Japan and entered the season finale with a chance to win the Race to the CME Globe season title and $1 million bonus. Top-ranked Lydia Ko had a 70. She needs a win this week to secure player of the year honors.
Golf – PGA – Last PGA event in 2016
Mackenzie Hughes is the leader through 18 holes of the RSM Classic in Georgia, the final PGA event of the year. Hughes fired a 9-under 61 that puts him one stroke ahead of Stewart Cink and Jonathan Byrd.
NCAAMKY – Men's College Hockey
Tonight
Air Force at Western Michigan, 7:00 p.m.
Lake Superior State at Ferris State, 7:00 p.m.
UMass – Lowell at Notre Dame, 7:35 p.m.
Northern Michigan at Bemidji State, 8:00 p.m.
Michigan Tech at Alaska-Anchorage, 11:00 p.m.
AHL – American Hockey League
Tonight
Texas Stars at Grand Rapids Griffins, 7:00 p.m.
Chicago Wolves at Iowa Wild, 8:00 p.m.
ECHL – East Coast Hockey League
Tonight
Kalamazoo Wings at Toledo Walleye, 7:15 p.m.
MHSAA – High School Volleyball Semifinals – Kellogg Arena, Battle Creek
Last Night
North Branch 3, Buchanan 2
Buchanan 25, North Branch 12
North Branch 25, Buchanan 17
Buchanan 25, North Branch 22
North Branch 25, Buchanan 19
North Branch 15, Buchanan 12
MHSAA – High School Football Semifinals
Saturday
Division 3
Edwardsburg (12-0) vs. Muskegon (11-1), 1:00 p.m.          at East Kentwood
Division 6
Detroit Loyola (10-2) vs. Cassopolis (11-1), 1:00 p.m.      at Jackson