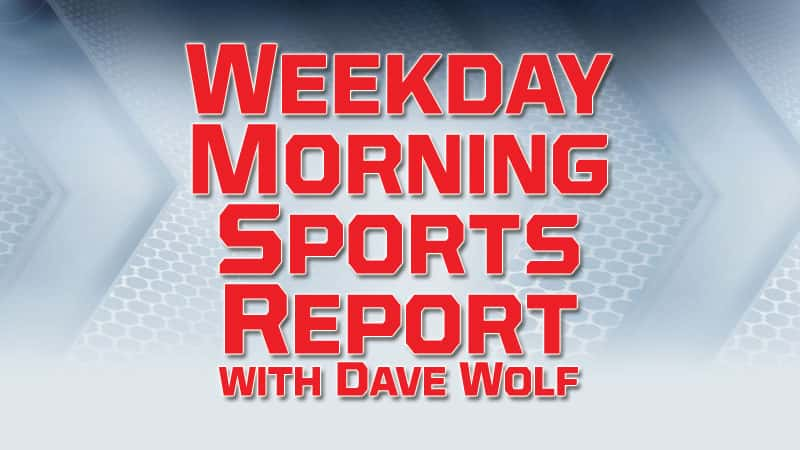 95.7 & 1400 WSJM Sports     @wsjmsports     wsjmsports.com     Thursday, November 17, 2016
NBA – National Basketball Association
Last Night
New York Knicks 105, Detroit Pistons 102
Indiana Pacers 103, Cleveland Cavaliers 93
Knicks 105, Pistons 102 – Porzingis scores career-high 35, Knicks top Pistons 105-102
Kristaps Porzingis scored a career-high 35 points and the New York Knicks held on for a 105-102 victory over the Detroit Pistons on Wednesday night.  The 7-foot-3 forward from Latvia hit three 3-pointers and converted a dazzling three-point play in the first half after dunking a lob pass on the fast break in the first 30-point performance of his two-year career. Carmelo Anthony added 22 points to help the Knicks win their second straight. Joakim Noah bounced back nicely with seven points and 15 rebounds after he was benched in the second half of the Knicks' victory over Dallas on Monday night while Porzingis moved to center in a smaller lineup. It almost wasn't enough, as Detroit pulled within two in the final minute and had a chance to tie but Kentavious Caldwell-Pope missed a 3-pointer on the last possession. He finished with 21 points and Tobias Harris added 19 points and 10 rebounds for the Pistons, who had won two straight.
Pacers 103, Cavaliers 93 – Cavs lose to Pacers
Paul George scored 21 points and Jeff Teague added 20 and eight assists in the Pacers' 103-93 triumph over Cleveland at Indiana. The Cavaliers dropped to 9-2 and played without LeBron James, who was given the night off following Tuesday's win over Toronto. Kevin Love delivered 27 points and 16 rebounds, while Kyrie Irving finished with 24 points and seven assists for the Cavs.
Tonight
Chicago Bulls at Utah Jazz, 10:30 p.m.
NCAAMBB – Men's College Basketball
Last Night
Notre Dame 92, Seattle 48
Notre Dame 92, Seattle 48 – Beachem, Colson lead Irish romp over Seattle 92-49
V.J. Beachem and Bonzie Colson each scored 16 points to lead Notre Dame to a 92-49 win over Seattle University in the second round of the Legends Classic.  Junior point guard Matt Farrell chipped in a career-high 13 points for the Irish (2-0), who took control early with a 15-2 run and led by 31 at halftime.  Steve Vasturia also finished with 13 points as six Irish players scored in double digits, and they finished with 23 assists.
Today
Western Michigan vs. (3) Villanova, 11:30 a.m.       at Charlotte, NC
Marygrove College at Central Michigan, 7:00 p.m.
Michigan vs. Marquette, 9:00 p.m.                           at MSG, New York          News/Talk 94.9 WSJM 9:00
MLB – Nationals' Scherzer, Boston's Porcello win Cy Young Awards
Rick Porcello of the Boston Red Sox has won the AL Cy Young Award by a narrow margin and Max Scherzer of the Washington Nationals has taken the NL prize. Porcello led the majors with 22 wins, and beat out Detroit's Justin Verlander and Cleveland's Corey Kluber in results announced Wednesday. Porcello got just eight first-place votes from members of the Baseball Writers' Association of America while Verlander drew 14. But Porcello drew more support across the board and was listed by all 30 voters _ Verlander was left off two ballots. Scherzer become the sixth pitcher to win the Cy Young in both leagues, earning the NL honor by a wide margin. He led the majors with 284 strikeouts and topped the league with 20 wins, and beat out Chicago Cubs teammates Jon Lester and Kyle Hendricks. Scherzer won the AL honor in 2013 while pitching in a Detroit rotation with Porcello and Verlander, and has now joined Roger Clemens, Randy Johnson, Pedro Martinez, Gaylord Perry and Roy Halladay as winners in both leagues.
NCAAFB – College Football
Last Night
Northern Illinois 31, Eastern Michigan 24 – OT
Toledo 37, Ball State 19
NIU 31, EMU 24 – OT – Huff's TD run in OT sends Northern Illinois to victory
Jordan Huff scored on a 2-yard run in overtime for his third touchdown of the game and Northern Illinois then stopped Eastern Michigan on downs for a 31-24 victory Wednesday night.   The Eagles (6-5, 3-4 Mid-American), hoping to solidify their chances at ending a 29-year bowl-game drought, drove to NIU's 7 in the final minute of regulation but had to settle for Paul Fricano's 24-yard field goal. The Huskies (4-7, 4-3) took six plays to score in overtime then held the Eagles to 9 yards on their possession.  Trailing 21-0 at halftime, the Huskies took a 24-21 lead on Huff's 27-yard run with 13:45 left in the final quarter. Huff, who entered with just one TD on the season, had a 60-yard score in the third and finished with a career-high 173 yards on 23 carries.  Ian Eriksen rushed for a career-best 171 yards and two TDs for Eastern Michigan. Northern Illinois has won 15 of the last 16 meetings between the MAC West schools — with the Eagles' last win in the series coming in 2007.
NFL – National Football League – Week 11
Tonight
New Orleans Saints at Carolina Panthers, 8:25 p.m.          WSJM Sports 8:00
NFL – Levy practicing for Lions as Detroit prepares for Jaguars
Detroit Lions linebacker DeAndre Levy was able to practice Wednesday, and the team later listed him as limited. The 29-year-old Levy has been dealing with knee issues and hasn't played since Detroit's season opener at Indianapolis on Sept. 11. He was limited to one game last season because of injuries. Coach Jim Caldwell spoke to reporters before practice Wednesday and did not offer a timetable on how long it would take Levy to return to game shape once he could practice fully.      Detroit hosts Jacksonville on Sunday. The Lions also confirmed that defensive back Don Carey has agreed to a one-year contract extension through the 2017 season.
NFL – Bears LB McPhee has choice words for Manning, Giants
Chicago Bears outside linebacker Pernell McPhee had some choice words for Eli Manning and the New York Giants. He says the Bears are "gonna tear" them up and sack Manning when they visit the Giants this week. McPhee's comment was in response to a question about New York's pass protection. The Giants have allowed just 13 sacks, including 12 on Manning, while Chicago has given up 18. The Bears' defense ranks 11th overall and is tied for eighth in sacks with 24. McPhee has two sacks in three games after starting the season on the physically unable to perform list following offseason knee surgery.
NCAAWBB – Women's College Basketball
Last Night
Eastern Michigan 68, Ferris State 50
Today
Green Bay at (1) Notre Dame, 7:00 p.m.
AHL – American Hockey League
Last Night
Grand Rapids Griffins 6, Texas Stars 3
ECHL – East Coast Hockey League
Last Night
Toledo Walleye 6, Atlanta Gladiators 2
MHSAA – High School Volleyball Semifinals – Kellogg Arena, Battle Creek
Tonight
Buchanan vs. North Branch, 5:30 p.m.  (Class B)