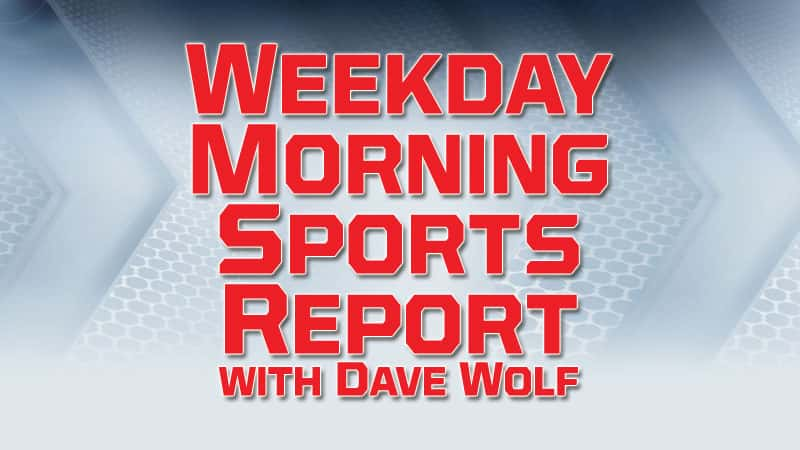 95.7 & 1400 WSJM Sports     @wsjmsports     wsjmsports.com     Tuesday, November 15, 2016
NFL – National Football League – Week 10
Yesterday
New York Giants 21, Cincinnati Bengals 20
Giants 21, Bengals 20 – Giants beat Bengals for fourth straight victory
Eli Manning threw for three touchdowns and the Giants' defense clamped down in the second half of a 21-20 win over Cincinnati. The Bengals led 20-14 in the fourth quarter until Manning hit Sterling Shepard for a three-yard TD on fourth-and-goal. Odell Beckham Jr. had 10 receptions for 97 yards, and Rasheed Jennings had 87 yards rushing to help the 6-3 Giants pick up their fourth consecutive victory.
Week 11 – Sunday
Jacksonville Jaguars at Detroit Lions, 1:00 p.m.
Chicago Bears at New York Giants, 1:00 p.m.
Tennessee Titans at Indianapolis Colts, 1:00 p.m.
NFL – Bears' WR Jeffery suspended 4 games for PED violation
The NFL has suspended Chicago Bears receiver Alshon Jeffery four games without pay for violating the league's policy on performance-enhancing substances, another big blow for a struggling team. The suspension announced Monday takes effect immediately. It comes on the heels of a brutal 36-10 loss at Tampa Bay that left the Bears with a 2-7 record going into Sunday's game against the New York Giants. Jeffery will be eligible to return on Dec. 12 and play against Green Bay six days later. He leads the team with 630 yards receiving and is second with 40 catches. Jeffery is playing for the $14.6 million franchise tag after he and the team were unable to agree to a long-term contract in the offseason.
NBA – National Basketball Association
Last Night
Detroit Pistons 104, Oklahoma City Thunder 88
Indiana Pacers 88, Orlando Magic 69
Pistons 104, Thunder 88 – Harris leads Pistons past Thunder 104-88
Tobias Harris scored 22 points, Aron Baynes added 20 points and eight rebounds and the short-handed Detroit Pistons beat the Oklahoma City Thunder 104-88 on Monday night. The Pistons (6-5) improved to 5-0 at home despite being without their two best players. Reggie Jackson hasn't played this season due to knee tendinitis, and Andre Drummond was sidelined with a sprained ankle.  Russell Westbrook had 33 points, 15 rebounds and eight assists for Oklahoma City (6-5), which has dropped four in a row. Victor Oladipo finished with nine points, but he was the only other starter to score more than four.
Pacers 88, Magic 69 – Pacers top Vogel, Magic 88-69
C.J. Miles made four 3-pointers and scored 16 points, and the Pacers spoiled Frank Vogel's return to Indiana with an 88-69 victory over the Orlando Magic on Monday night. Vogel coached the Pacers for more than five seasons before he was let go in May. He was quickly scooped up by Orlando, and it looks as if he has plenty of work to do with the Magic. Paul George had 13 points, six rebounds and five assists for Indiana, which pulled away in the second half. Monta Ellis also scored 13 points, and Jeff Teague finished with 11. The Magic shot 32 percent from the field.
Tonight
Chicago Bulls at Portland Trailblazers, 10:00 p.m.
NHL – National Hockey League
Tonight
Tampa Bay Lightning at Detroit Red Wings, 7:00 p.m.
Chicago Blackhawks at Winnipeg Jets, 8:00 p.m.
NBA/NHL – Russell Wilson joining Seattle Arena investment group
Seahawks quarterback Russell Wilson is joining the investment group looking to build a new NBA/NHL arena in Seattle's stadium district. Lead investor Chris Hansen said Monday that Wilson is "a young, smart and passionate entrepreneur," and is joining the group as a business partner. Hansen's been the primary investor in the project, with members of the Nordstrom family and former Seattle SuperSonics team president and minority owner Wally Walker also part of the investment group.  Hansen last month announced his intention to privately finance the proposed project in exchange for tax breaks.  The city has acknowledged Hansen's intent while also opening a request for proposals for a possible renovation of KeyArena, the former home of the SuperSonics. The proposals are due in early 2017.
NCAAMBB – Men's College Basketball
Last Night
Western Michigan at Oakland, 7:00 p.m.
Central Michigan at Tennessee Tech, 8:30 p.m.
OU 77, WMU 60 – Walker leads Oakland to 77-60 win over W. Michigan
Martez Walker had 21 points and Jalen Hayes added 18, grabbing seven rebounds and five steals as Oakland dominated the second half to secure a 77-60 win over Western Michigan on Monday night.     The win stopped a four-game losing skid to the Broncos. Walker has started the season by scoring 20 or more in both games. The Texas transfer had 22 in the 78-70 win over Bowling Green on Friday night. Stevie Clark added 15 points for the Golden Grizzlies. Oakland (2-0) held a slim 30-26 lead at the half, but started hitting 3s in the second half to dominate that period 47-34.  The Golden Grizzles started the second half on a 17-4 run to lead 52-32 with 12:19 left in the game. Thomas Wilder led Western Michigan (1-1) with 13 points. Tucker Haymond and Brandon Johnson had 12 apiece and Seth Dugan had nine points while pulling down 15 rebounds.
CMU 86, TTech 74 – Keene's 30 paces Central Michigan past Tennessee Tech
Marcus Keene scored 30 points, his second straight 30-plus point game to open the season, and Central Michigan handed Tennessee Tech a rare home loss 86-74 on Monday night. The loss was just the second over the last 40 home games for the Golden Eagles. Braylon Rayson added 18 points and David DiLeo finished with 17 points and 11 rebounds for the Chippewas (2-0). Aleksa Jugovic finished with 25 points and Kajon Mack added 18 to lead Tennessee Tech (0-2), which was held to just 37.7 shooting from the field and 7 of 29 from 3-point range. The Golden Eagles rallied from a 6-point halftime deficit to take a 54-50 lead with 13:41 left via consecutive 3-pointers by Mack and Jugovic. But Central Michigan immediately rallied. Rayson drilled a 3 and Keene hit a free throw to spark a 9-0 run which gave the Chippewas the lead for good.
Today
Rochester College at Eastern Michigan, 11:00 a.m.
(2) Kentucky vs. (13) Michigan State, 7:00 p.m. at MSG         WCSY-FM 6:00
NCAAMBB – Duke stays solid No. 1 in men's basketball
Duke held onto its comfortable lead in The Associated Press college basketball poll while Cincinnati and California are newcomers in the first regular-season poll.  The Blue Devils (2-0) received 58 first-place votes from the 65-member national media panel Monday, keeping their large lead over Kentucky, which was No. 1 on one ballot. Defending champion Villanova received five first-place votes and moved up one place to third, replacing Kansas, one of three ranked teams that lost last week. Oregon and North Carolina both moved up one spot to fourth and fifth, while Indiana, which beat Kansas 103-99 in overtime, jumped from 11th to sixth. The Hoosiers were No. 1 on one ballot. Kansas was seventh followed by Virginia, Wisconsin and Arizona, which beat then-No. 12 Michigan State. The Spartans fell one spot to No. 13.
MEN'S AP POLL

1

Duke (58)
2-0

2

Kentucky (1)
2-0

3

Villanova (5)
1-0

4

Oregon
1-0

5

North Carolina
2-0

6

Indiana (1)
1-0

7

Kansas
0-1

8

Virginia
1-0

9

Wisconsin
1-0

10

Arizona
1-0

11

Xavier
1-0

12

Louisville
1-0

13

Michigan State
0-1

14

Gonzaga
1-0

15

Purdue
1-0

16

UCLA
2-0

17

Saint Mary's
1-0

18

Syracuse
1-0

19

West Virginia
1-0

20

Iowa State
1-0

21

Rhode Island
1-0

22

Creighton
1-0

23

Texas
1-0

24

Cincinnati
1-0

25

California
1-0
NCAAWBB – Women's College Basketball
Last Night
(1) Notre Dame 67, Fordham 36
Notre Dame 67, Fordham 36 – Ogunbowale leads top-ranked Irish to 67-36 win over Fordham
Arike Ogunbowale scored 13 points to help top-ranked Notre Dame beat Fordham 67-36 on Monday night in a Preseason WNIT quarterfinal game. Ogunbowale, who earned ACC player of the week honors earlier in the day, had a steal and layup to put the Irish up by 20 points early in the fourth quarter, just four minutes after Fordham had cut the lead to eight. Lindsay Allen finished with 13 points, six rebounds and five assists for the Irish (2-0). G'mrice Davis led Fordham (1-1) with nine points and 15 rebounds. After shooting over 52 percent in a 60-point win over Central Michigan to open the season, Notre Dame shot 42 percent against Fordham, including making just one of eight 3-pointers. The Rams weren't any better, shooting just 23 percent.
NCAAWBB – ND, Baylor, UConn lead way
Notre Dame and Baylor held onto the top two spots in The Associated Press women's college basketball poll on Monday, the first of the regular season. There wasn't much change with the Top 25 going 28-1 this past weekend as the season got underway. The loss came when then-No. 19 Kentucky beat 14th-ranked Miami. The Wildcats moved up to 15 while the Hurricanes fell to 22. The top-ranked Irish and No. 2 Baylor both cruised to easy victories, winning by 60 and 75 points. The Lady Bears' have a tough week ahead as they host No. 9 UCLA on Monday night before visiting third-ranked UConn on Thursday. The Huskies, who have won 75 consecutive games, open their season at No. 12 Florida State on Monday night. Those are two of four contests between top 12 teams on Monday. Fourth-ranked South Carolina visits No. 7 Ohio State and eighth-ranked Texas travels to No. 11 Stanford.
WOMEN'S AP POLL

1

Notre Dame (14)
1-0

2

Baylor (12)
1-0

3

Connecticut (6)
0-0

4

South Carolina (1)
0-0

5

Louisville
2-0

6

Maryland
1-0

7

Ohio State
1-0

8

Texas
0-0

9

UCLA
1-0

10

Mississippi State
2-0

11

Stanford
1-0

12

Florida State
1-0

13

Tennessee
2-0

14

Syracuse
1-0

15

Kentucky
2-0

16

Oklahoma
1-0

17

Washington
1-0

18

Arizona State
2-0

19

Florida
1-0

20

DePaul
2-0

21

West Virginia
1-0

22

Miami
1-1

23

Indiana
2-0

24

Oregon State
1-0

25

Missouri
1-0
NCAAWBB –Gondrezick named Big Ten freshman of the week
University of Michigan's Kysre Gondrezick was named the Big Ten Conference freshman of the week.  During the week, she averaged 15.5 points and 4.5 assists per game last week as Michigan started its season with wins over Oakland and Niagara.  She made 5-of-8 three-pointers and scored 19 points in college debut vs. Oakland, adding seven rebounds, scoring 12 points, six assists and three steals in Sunday's matinee against Niagara.
MLB – Seager, Fulmer take Rookie of the Year honors
Los Angeles Dodgers shortstop Corey Seager is the unanimous winner of the NL Rookie of the Year award, and Detroit right-hander Michael Fulmer beat out New York Yankees catcher Gary Sanchez for the AL honor. Seager is the 17th Dodgers player to earn Rookie of the Year honors, easily the most of any team, but the franchise hadn't had a winner since Todd Hollandsworth in 1996. Seager hit .308 with 26 home runs and 72 RBIs this year. Fulmer went 11-7 with a 3.06 ERA, establishing himself as a Rookie of the Year candidate early on and holding off a late challenge from Sanchez. Fulmer received 26 of 30 first-place votes from the Baseball Writers' Association of America. The votes were announced Monday night on MLB Network.
MLB – Goodman's family sold `Go Cubs Go' just before song took off
It turns out that the family of singer Steve Goodman sold off his music publishing rights to the tune "Go Cubs Go" weeks before the song took off during the Cubs' World Series title season — costing Goodman's estate a sizeable chunk of change. The Chicago Sun-Times reports the family still owns the late songwriter's royalty rights. It has gone to No. 21 in digital sales.
MHSAA – High School Volleyball Quarterfinals
Tonight
Buchanan vs. Grant, 7:00 p.m.             (Class B at Hudsonville Unity Christian)