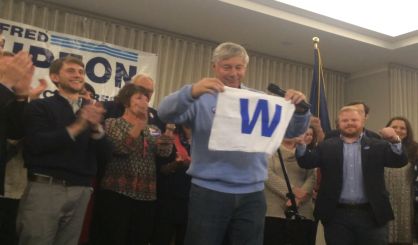 Congressman Fred Upton says now is the time for healing. He easily coasted to victory in the Sixth District over Democratic rival Paul Clements Tuesday. Holding a Chicago Cubs Win flag during his victory speech, Upton promised supporters he will do all he can to ensure the nation's problems are addressed and politics takes the back seat.
"70% of the people today think that we're on the wrong track because they're tired of the divisiveness, they're tired of the squabbling, they're tired of the shutdowns, and they want people to go to Washington to try to fix the problem," Upton said. "With this team, we can do it."
Upton told WSJM News that anyone who knows him knows what he's all about in Washington.
"They know that I'm not a bomb thrower, that I'm not going to take a partisan cheap shot," Upton said. "They know that I'm going to take the positive…I think that's what the rest of the country really wants, and if we can do it here, why can't we do it elsewhere around the country?"
Upton had a wide margin of victory in Berrien, Van Buren, and Cass counties and overcame a Democratic surge in Kalamazoo County to win there, also. Hillary Clinton won the presidential race in Kalamazoo County, but enough voters split their tickets there to also give Upton an edge.