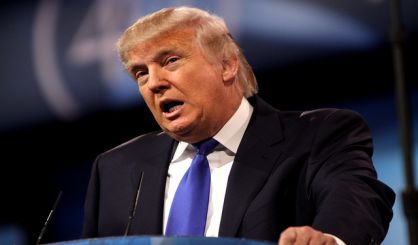 America is about to elect its 45th president today. Democrat Hillary Clinton and Republican Donald Trump plan to cast their votes later this morning. Clinton will head to a polling place near her home in Chappaqua, New York, while Donald Trump will vote in Manhattan. At a finally rally this morning in Grand Rapids, Trump told the crowd, "If we don't win, this will be the single greatest waste of time, energy and money in my life." He joked about the timing of the speech, which started after midnight today.
"Did you ever think you'd be hearing a major speech at around 1 in the morning?" Trump asked with a chuckle. "Are we crazy?" He was delayed by an hour leaving a previous speech in New Hampshire, which he thought was going to be his last campaign event. "I developed a great relationship with the people of Michigan," he explained. "I thought New Hampshire was going to be my last speech, and I heard crooked Hillary Clinton was coming to Michigan and I said 'let's follow it up!'" Clinton spoke at Grand Valley State University yesterday afternoon.
Trump closed out his address by urging people to get some sleep and then get out to vote later today. He was joined by vice presidential nominee Mike Pence, and rocker Ted Nugent warmed up the crowd while they were awaiting the candidates.