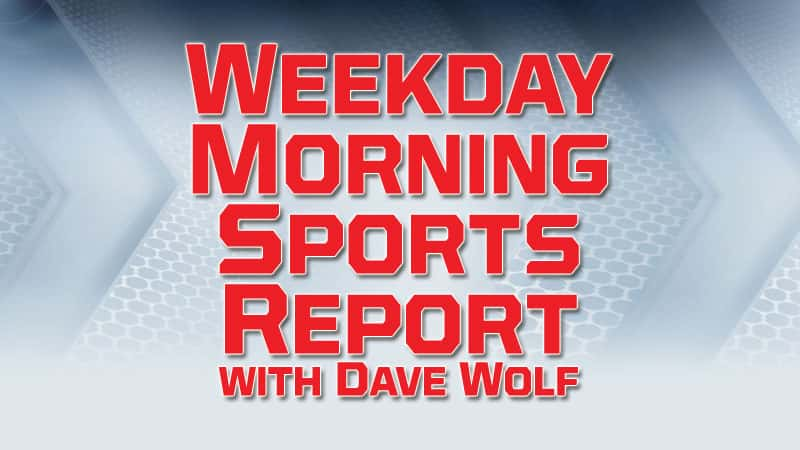 95.7 & 1400 WSJM Sports     @wsjmsports     wsjmsports.com     Wednesday, November 02, 2016
MLB – 2016 World Series (best of 7)
Last Night
Chicago Cubs 9, Cleveland Indians 3                                                             (Series tied 3-3)
Cubs 9, Indians 3 – Cubs rout Indians 9-3, send World Series to deciding Game 7
Addison Russell hit a grand slam and drove in a record-tying six runs, leading the Chicago Cubs over the Cleveland Indians 9-3 Tuesday night and forcing the World Series to a deciding Game 7. Indians ace Corey Kluber, dominant while winning Games 1 and 4, starts again on short rest Wednesday night at home against big league ERA leader Kyle Hendricks. The Cubs are trying to overcome a 3-1 Series deficit for their first championship since 1908. The Indians haven't won it all since 1948. Kris Bryant had four hits for Chicago and homered for the second straight game. Anthony Rizzo also homered. The Cubs got two gift runs in the first inning when Russell's pop fly dropped between two outfielders. Jake Arrieta cruised to the win, adding to his victory in Game 2. Closer Aroldis Chapman got four outs before exiting in the ninth. Russell's slam in the third made it 7-0. He tied Albert Pujols, Hideki Matsui and Bobby Richardson for most RBIs in a Series game.
Tonight
Chicago Cubs (Kyle Hendricks, 16-8) at Cleveland (Corey Kluber, 18-9), 8:08 p.m.              (Game 7)
MLB – Maddon recalls last 3-1 rally in World Series
Chicago Cubs manager Joe Maddon looks back fondly on the last team to rally from a 3-1 deficit in the World Series to win Games 6 and 7 on the road. Maddon grew up in eastern Pennsylvania but was captivated by the 1979 Pittsburgh Pirates, who stormed back to top the Baltimore Orioles in seven games to win it all. The Pirates rallied around the disco song "We Are Family" and rode the play of stars Dave Parker and Willie Stargell. They did it in style, too, wearing bright yellow jerseys and striped caps that the Pirates even used as their throwbacks during Sunday home games this season. Maddon said he was never really a Pirates fan, but he loved the uniform. He also remembers the team being tight knit, not unlike this group of Cubs who have reached the Fall Classic for the first time since 1945.
NBA – National Basketball Association
Last Night
Detroit Pistons 102, New York Knicks 89
Indiana Pacers 115, Los Angeles Lakers 108
Pistons 102, Knicks 89 – Pistons beat Knicks 102-89 for 3rd straight victory
Tobias Harris scored 25 points and Marcus Morris added 22 to lift the Detroit Pistons to a 102-89 victory over the New York Knicks on Tuesday night. The Pistons have won three in a row _ all by double digits _ since dropping their season opener. They closed out this game with an impressive defensive stretch, holding New York to 10 points in the fourth quarter. Carmelo Anthony scored 24 points for the Knicks, and Derrick Rose added 19. Kentavious Caldwell-Pope scored 19 points for Detroit, and Andre Drummond had nine points and 13 rebounds.
Pacers 115, Lakers 108 – George scores 30, including Pacers' last 12 to beat Lakers
Paul George scored 30 points, including Indiana's final 12 of the game to rally the Pacers to a 115-108 victory over the Los Angeles Lakers on Tuesday night. The Lakers trailed by as many as 16 points, but rallied and had their final lead at 108-107 before George put it away. He made consecutive 18-foot jumpers for a 111-108 lead, then followed through on the opposite end of the floor with the biggest defensive rebound of the game. The Lakers' Jordan Clarkson missed an almost uncontested layup, and it was George who came down with the rebound, sending him to the free throw line to close out the contest. Lou Williams scored 19 points for the Lakers.
Tonight
Detroit Pistons at Brooklyn Nets, 7:30 p.m.
Chicago Bulls at Boston Celtics, 8:00 p.m.
NHL – National Hockey League
Last Night
Chicago Blackhawks 5, Calgary Flames 1
Blackhawks 5, Flames 1 – Kane helps Blackhawks beat Flames 5-1 for 3rd straight win
Patrick Kane had a goal and two assists, and the Chicago Blackhawks beat the Calgary Flames 5-1 on Tuesday night for their third straight win. Kane scored his third of the season on a dazzling play in the first, and then set up Artem Anismov's tiebreaking power-play goal at 7:44 of the third. Anisimov extended his career-best point streak to eight games with his team-best seventh goal of the season. With Sam Bennett in the penalty box for tripping, Kane made a perfect pass to Anisimov in front for the redirect. Tyler Motte added his third of the season on a nice rush, making it 3-1 at 12:44, and Kane assisted on Artemi Panarin's sliding empty-netter with 3:01 left. Corey Crawford finished with 33 saves after posting his first shutout of the season in a 3-0 victory over the Los Angeles Kings on Sunday.
Tonight
Detroit Red Wings at Philadelphia Flyers, 8:00 p.m.
NCAAFB – College Football
Last Night
(17) Western Michigan 52, Ball State 20
Northern Illinois 45, Bowling Green 20
(17) WMU 52, Ball State 20 – Davis' big night sends No. 17 Broncos past Ball State, 52-20
Corey Davis caught 12 passes for a conference-record 272 yards with three touchdowns Tuesday night to help No. 17 Western Michigan rout Ball State 52-20. The Broncos (9-0, 5-0 Mid-American Conference, No. 23 CFP) won their 11th straight game, the longest streak in school history. The previous record of 10 had stood since 1941. Broncos quarterback Zach Terrell went 23 of 34 for 367 yards, with Davis getting open all night and made the big plays look routine. Ball State (4-5, 1-4) never had a chance. The Cardinals played without injured starting quarterback Riley Neal. His replacement, Jack Milas, went 20 of 38 for 197 yards with one touchdown. But he also threw two interceptions in the first half, one of which was returned by Darius Phillips 75 yards for his third score off an interception this season. Ball State's James Gilbert had 29 carries for 155 yards, his fifth straight 100-yard game.
NCAAFB – CFP Rankings: Texas A&M 4th behind `Bama, Clemson, Michigan
Texas A&M was ranked fourth behind Alabama, Clemson and Michigan in the season's first College Football Playoff rankings. The Aggies (7-1) were surprisingly a spot ahead of unbeaten Washington on Tuesday in the first of six selection committee rankings. The Crimson Tide (8-0), Tigers (8-0), Wolverines (8-0) and Huskies (8-0) are the only remaining undefeated teams from Power Five conferences and hold the top four spots in the latest Associated Press poll. The 12-person committee, however, gave a nod to Texas A&M's strength of schedule.  Ohio State was sixth and Louisville was seventh.  Unbeaten Western Michigan at No. 23 is the highest ranked team from the Group of Five, just ahead of Boise State at 24. The Broncos probably can't afford even one loss, but if they can make a perfect run to a MAC title, a Cotton Bowl bid likely awaits.
NFL – Lions DE Bryant suspended 3 games; team cites 2015 incident
Detroit Lions defensive end Armonty Bryant has been suspended three games for violating the NFL's policy on substances of abuse. Detroit signed Bryant last month. He was cut by Cleveland at the end of a four-game suspension for violating the league's policy on performance-enhancing drugs.  The Lions say that when they signed him, they knew he might face additional discipline because of an incident that occurred last year. The team says Bryant has met expectations on and off the field since joining the Lions. Also announced Tuesday, the Tampa Bay Buccaneers have traded cornerback Johnthan Banks to the Detroit Lions for a conditional seventh round pick in the 2018 NFL draft. The team confirmed the move Tuesday, when it also announced the signing of running back Mike James, who was released from the Lions' practice squad on Oct. 25. Banks was a second-round draft pick in 2013. He had seven interceptions while starting 37 of 50 games over the past four seasons. He was inactive the past two games after seeing action on special teams the first five weeks of the season.
NCAAWBB – Irish smiling: Notre Dame No. 1 in preseason AP women's poll
Muffet McGraw and Notre Dame are ranked No. 1 in The Associated Press women's basketball poll for the first time in 15 years. The Irish garnered 14 first place votes on Tuesday from a 33-member national media panel to earn the top ranking in the preseason poll. Notre Dame last held the No. 1 ranking on March 5, 2001. McGraw returns most of the core back from a team that went 33-2 last season. Indiana is also No. 23 in the poll. Baylor was a close second, four points behind the Irish. The Lady Bears had 12 first place votes. UConn, which has won 75 consecutive games and four straight national championships, was third. South Carolina and Louisville round out the top five teams. National runner-up Syracuse was 14th while Final Four participants Washington and Oregon State were 17th and 25th.
MHSAA – Troy Athens wins replay of regional soccer final
The Troy Athens boys soccer team has advanced to the state semifinals after winning a shootout that was played again due to an official's error last week. Athens scored twice Tuesday on penalty kicks and defeated Macomb Dakota. In an extraordinary step, the Michigan High School Athletic Association had ordered both teams back to the field, four days after the regional final. Athens was declared the winner last Friday, but that result was overturned. The MHSAA said officials had wrongly penalized Dakota for the order of its shooters. The Troy school district said the "re-do" was an "injustice."
MHSAA – High School Sports
Last Night
Girls Volleyball Districts
Class A at Mattawan
Niles 3, Kalamazoo Central 1
Portage Central 3, Portage Northern 0
Class B at Otsego
Allegan 3, Fennville 0
Plainwell 3, Wayland 0
Tonight
Girls Volleyball Districts
Class B at Lakeshore
Coloma vs. South Haven, 5:30 p.m.
Buchanan vs. Lakeshore, 7:00 p.m.
Class B at Vicksburg
Edwardsburg vs. Three Rivers, 6:00 p.m.
Vicksburg vs. Paw Paw, 7:30 p.m.
Class C at Watervliet
Watervliet vs. Brandywine, 5:30 p.m.
Bridgman vs. Cassopolis, 7:00 p.m.
Class C at Bloomingdale
Bangor vs. Kalamazoo Hackett, 5:00 p.m.
Gobles vs. Kalamazoo Christian, 7:00 p.m.
Class C at White Pigeon
Centreville vs. Schoolcraft, 6:00 p.m.
Constantine vs. Decatur, 7:30 p.m.
Class D at Michigan Lutheran
Michigan Lutheran vs. Watervliet Grace Christian, 6:00 p.m.
River Valley vs. Lake Michigan Catholic, 7:30 p.m.