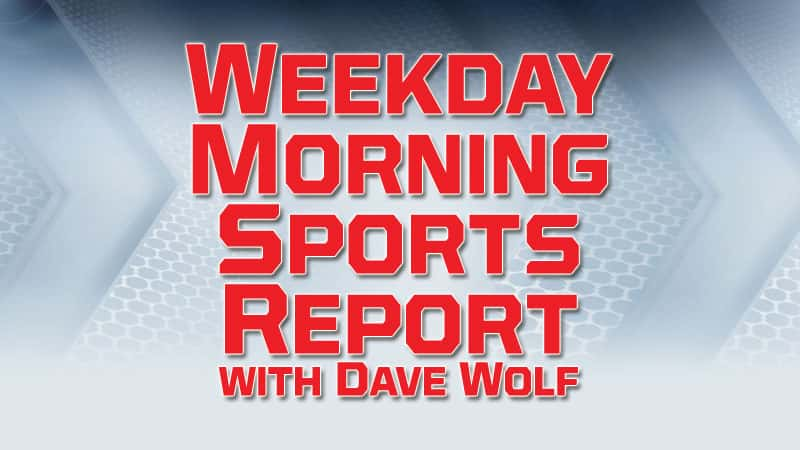 95.7 & 1400 WSJM Sports     @wsjmsports     wsjmsports.com     Tuesday, October 25, 2016
MLB – 2016 World Series (best of 7)
Tonight
Chicago (Lester 19-5) at Cleveland (Kluber 18-9), 8:08 p.m.
MLB – Indians, Cubs set for World Series
The Chicago Cubs and Cleveland Indians play Game 1 of the World Series, each with hopes of ending a long championship drought. Chicago hasn't been to the Series since 1945 and hasn't won since 1908, and Cleveland earned its most recent title in 1948. How long has it been for Chicago? Dexter Fowler will become the first black player to suit up for the Cubs in a World Series when he likely bats leadoff at Progressive Field. Jon Lester gets the ball for Chicago, and at 32 years old, he's already one of the best World Series pitchers ever. He's won all three of his starts and has a 0.43 ERA, third-best among pitchers with at least 20 World Series innings, behind Madison Bumgarner and Jack Billingham. Lester is matched up against 2014 AL Cy Young Award winner Corey Kluber, a contender for the prize again this season. Both teams worked out under cloudy skies Monday as the new 59-by-221-foot scoreboard behind the left-field seats _ the largest in the major leagues _
trumpeted the Sisyphean matchup. While the Cubs play in Wrigley Field, the 102-year-old brick-and-ivy jewel on Chicago's North Side, the Indians are in a 22-year-old throwback-style ballpark originally called Jacobs Field.  No player is alive from the last championship Cubs or even the last to make a Series appearance _ Tuesday marks the 25,948th day since the Cubs' Game 7 loss to Detroit in 1945. One player remains from the 1948 Indians, 95-year-old Eddie Robinson. Robinson, commenting from his home in Fort Worth, Texas, says it seems like it's "just forever." He recalls that when the team got home from Boston there was a monumental parade with seemingly the entire city along Euclid Avenue.
MLB – Cubs not closing the door on Schwarber's return
Chicago Cubs slugger Kyle Schwarber is traveling to Cleveland ahead of Game 1 of the World Series. A person with direct knowledge of the situation told The Associated Press that Schwarber would join the team in Ohio, but the person did not know yet if the slugger would be on the active roster. The person spoke on condition of anonymity because the roster won't be announced until Tuesday. Schwarber is coming back from major left knee surgery in April. He went 1 for 3 with a double and a walk in Mesa's 7-2 victory over Surprise in the Arizona Fall League on Monday.   World Series rosters are due at 10 a.m. Tuesday morning.
MLB – Former Indians players to handle World Series first pitches
Two of Cleveland's stars from the 1990s, Kenny Lofton and Carlos Baerga, will throw out ceremonial first pitches at the World Series. Lofton, the fleet-footed center fielder, will have the honor before Game 1 as the Indians host the Chicago Cubs. Baerga, a three-time All-Star second baseman, will handle the duties before Game 2. Indians fans had pushed on social media to have actor Charlie Sheen, who played Ricky "Wild Thing" Vaughn, a hard-throwing pitcher in the iconic movie "Major League," throw out the first pitch. However, the Indians had already decided on Lofton and Baerga, who played together on Cleveland's 1995 World Series team.
MLB – Paying the price at Wrigley
There could be more Cubs fans in limousines than on the Red Line as they make their way toward Wrigley Field this week. Fans hoping to see the Cubs play in the World Series for the first time since 1945 are finding a seat at The Friendly Confines could cost them more than what their grandparents paid for their houses. Box seats on ticket-selling sites such as StubHub were $50,000 and up, with one seller asking $100,000 for a seat and another asking for just under $1 million.  But there are lots of box seat tickets in the $5,000 to $10,000 range.  Standing room tickets were going for more than $2,200 each. List prices for World Series tickets at Wrigley range from $85 to $565, according to Major League Baseball figures.
NHL – National Hockey League
Last Night
Calgary Flames 3, Chicago Blackhawks 2 – Shootout
Flames 3, Blackhawks 2 – SO – Versteeg connects in shootout to lift Flames over Blackhawks
Kris Versteeg got a big shootout goal against his old team. Brian Elliott finally got his first win with his new one. Versteeg scored the lone goal in the tiebreaker in the seventh round to give the Calgary Flames a 3-2 win over the Chicago Blackhawks on Monday night and just their second victory this season.  Versteeg, who won Stanley Cups with the Blackhawks in 2010 and 2015, faked Corey Crawford, pulled to a stop while dragging the puck and then fired a wrist shot into a wide-open net.  Elliott made 31 saves through overtime and blocked all seven in the shootout to win for the first time with Calgary after three losses. Acquired from St. Louis in June, Elliott had allowed 14 goals in his first three starts for the Flames.  Sam Bennett and Sean Monahan scored in regulation for Calgary, which snapped a two-game losing streak. Patrick Kane and Brian Campbell connected in regulation for Chicago.
Tonight
Carolina Hurricanes at Detroit Red Wings, 7:30 p.m.
NFL – National Football League – Week 7
Last Night
Denver Broncos 27, Houston Texans 9
Broncos 27, Texans 9 – Broncos beat an old teammate
C.J. Anderson and Devontae Booker each ran for touchdowns and combined for 190 yards on the ground as the Denver Broncos hammered the Houston Texans, 27-0. Trevor Siemian threw for 157 yards and a TD to help the Broncos end a two-game losing streak and move into a first-place tie with Oakland in the AFC West at 5-2. Denver also spent the night hounding former teammate Brock
Osweiler, who threw for just 131 yards and committed a key fumble in the fourth quarter.
NFL – QB Jay Cutler receives medical clearance to play for Bears
Bears quarterback Jay Cutler will return from a thumb injury to play against the Minnesota Vikings on Oct. 31. Cutler has been out since he suffered a thumb sprain in a Sept. 19 loss to the Philadelphia Eagles. Coach John Fox said Monday that Cutler has been cleared to play in the game next Monday night. His backup, Brian Hoyer, suffered a broken left arm against Green Bay in the Bears' 26-10 defeat last Thursday. Fox says Hoyer has had surgery. Fox says it's possible the team could pick up one more quarterback behind backup Matt Barkley, who played against the Packers after Hoyer's injury. Chicago (1-6) is at the bottom of the NFC North division.
NFL – WR Andre Roberts comes up big for Lions
Andre Roberts believes in second chances. Fortunately for the Detroit Lions' receiver, quarterback Matthew Stafford is willing to dish them out. Roberts, who signed a one-year contract with Detroit in June after being cut by the Redskins, made a crucial 20-yard reception late in Sunday's game to set up the go-ahead touchdown in a 20-17 win over Washington. Roberts had to make an adjustment on the fourth-quarter reception when Stafford's throw sailed a little high. Lions coach Jim Caldwell praised the catch in talking to reporters yesterday. Roberts only had four receptions for 29 yards entering Sunday's game against his former team. Caldwell says Roberts is still learning and developing but is an integral part of what the Lions do. Getting targets from Stafford can prove difficult with so many playmakers on the Lions' offense. Receiver Marvin Jones leads with 33 receptions, followed by Boldin (32), Golden Tate (31), Theo Riddick (26) and Eric Ebron (18). Riddick missed the last two games with an ankle injury and Ebron missed three games with ankle and knee issues.
NCAAFB – Jim Harbaugh learned several things from botched-punt loss
Jim Harbaugh prides himself on preparing his teams for every possible scenario. Michigan's coach acknowledged Monday he learned "several things," in the aftermath of last year's infamous loss to Michigan State in which a botched punt with 10 seconds left led to one of the most dramatic finishes in college football history. Namely, not to be in a spread put in the situation and to have his punter at the right depth. Michigan State's 27-23 victory was its third straight in the series and seventh win in eight games since Michigan's last win at Spartan Stadium in 2007. When the bitter rivals meet again Saturday, many believe it would take something short of a miracle for the Spartans to extend their streak. No. 2 Michigan (7-0, 4-0 Big Ten) has lost only one game since losing to Michigan State on Oct. 17, 2015, at the Big House. The Spartans (2-5, 0-4) have lost five straight and are underdogs by more than three touchdowns at home.
NBA – National Basketball Association – Opening Night
Tonight
New York Knicks at Cleveland Cavaliers, 7:30 p.m.
Utah Jazz at Portland Trailblazers, 10:00 p.m.
San Antonio Spurs at Golden State Warriors, 10:30 p.m.
NBA – Pistons claim Beno Udrih off waivers, release Ray McCallum
The NBA opens a new season tonight and the Detroit Pistons have gotten their roster down to its final form ahead of Wednesday's opener at Toronto. The Pistons claimed guard Beno Udrih off waivers from Miami and released guard Ray McCallum.
NBA – Tributes planned for TNT's Sager
The Golden State Warriors and TNT will begin the season with a tribute to Craig Sager as the sideline reporter continues to battle leukemia. TNT will unveil a T-shirt during its Tuesday night studio show that was inspired by the suit Sager wore while receiving the Jimmy Valvano Award at this year's ESPY Awards. The Warriors will then give their fans at their season opener against San Antonio a Sager Strong T-shirt. The team also will play a message in the arena supporting his fight.  Sager won't be able to work the game as he continues treatment for the disease.
MHSAA – High School Sports
Last Night
Girls Volleyball
Michigan Lutheran 3, New Buffalo 0
Berrien Springs 3, Lake Michigan Catholic 2
Watervliet Grace Christian 3, Howardsville Christian 2
Tonight
Girls Swimming
Portage Central at St. Joseph, 6:00 p.m.
Battle Creek Lakeview at Bridgman/Lakeshore, 6:00 p.m.
Girls Volleyball
Countryside Academy at Watervliet Grace Christian, 6:00 p.m.
Watervliet at Bangor, 5:00 p.m.
Schoolcraft at Gobles, 5:00 p.m.
Fennville at Hartford, 5:00 p.m.
Coloma at Saugatuck, 5:00 p.m.
Kalamazoo Heritage Christian at Marcellus, 5:00 p.m.
Kalamazoo Christian at Lawton, 5:00 p.m.
Boys Soccer – Regionals
Division 2 at Vicksburg
Mattawan vs. Marshall, 5:30 p.m.
Plainwell vs. Holland, 7:00 p.m.
Division 4 at Lawton
New Buffalo vs. Lansing Christian, 5:00 p.m.
Lawton vs. Kalamazoo Hackett, 7:00 p.m.
Division 3 at Hudsonville Unity Christian
Paw Paw vs. Muskegon Orchard View, 5:00 p.m.
Hudsonville Unity Christian vs. GR Catholic Central, 7:00 p.m.
MHSAA – AP Football Poll
Division 1
School (First-place votes) (Record) Total Points
1. Detroit Cass Tech (5) (9-0) 50
2. Detroit Catholic Central (9-0) 45
3. Utica Eisenhower (9-0) 40
4. Saline (9-0) 35
5. Davison (9-0) 27
6. Grandville (8-1) 24
7. Dearborn (8-1) 22
8. Dearborn Fordson (8-1) 17
T-9. Bloomfield Hills (9-0) 5
T-9. Hudsonville (8-1) 5
Others receiving 12 or more votes: None.
Division 2
School (First-place votes) (Record) Total Points
1. Lowell (4) (9-0) 48
2. Walled Lake Western (1) (8-1) 45
3. Detroit Martin Luther King (8-1) 42
4. Portage Central (8-1) 31
5. Birmingham Groves (8-1) 29
6. Midland Dow (8-1) 22
7. Temperance Bedford (8-1) 19
8. Warren Cousino (8-1) 15
9. Traverse City Central (8-1) 11
T-10. Southfield Academy for the Arts and Technology (6-3) 4
T-10. Bloomfield Hills Brother Rice (6-3) 4
Others receiving 12 or more votes: None.
Division 3
School (First-place votes) (Record) Total Points
1. Muskegon (5) (8-1) 50
2. Edwardsburg (9-0) 45
3. Allen Park (9-0) 38
4. Chelsea (9-0) 35
5. Byron Center (8-1) 32
6. DeWitt (8-1) 25
7. Fenton (8-1) 20
8. Zeeland West (7-2) 13
9. Grand Rapids Christian (8-1) 9
10. Orchard Lake St. Mary's (5-4) 5
Others receiving 12 or more votes: None.
Division 4
School (First-place votes) (Record) Total Points
1. Detroit Country Day (4) (9-0) 48
2. River Rouge (1) (8-1) 45
3. Benton Harbor (9-0) 42
4. Marysville (9-0) 35
5. Grand Rapids Catholic Central (8-1) 30
6. Alma (8-1) 25
7. Milan (8-1) 17
8. Hudsonville Unity Christian (7-2) 11
9. Grosse Ile (8-1) 10
10. Wyoming Kelloggsville (8-1) 6
Others receiving 12 or more votes: None.
Division 5
School (First-place votes) (Record) Total Points
1. Portland (2) (9-0) 47
2. Ithaca (3) (9-0) 42
3. Freeland (9-0) 41
4. Lansing Catholic (8-1) 32
5. Menominee (8-1) 30
6. Grand Rapids West Catholic (7-2) 25
7. Frankenmuth (8-1) 21
8. Reed City (9-0) 20
9. Muskegon Oakridge (8-1) 12
10. Clare (8-1) 5
Others receiving votes: None.
Division 6
School (First-place votes) (Record) Total Points
1. Negaunee (5) (9-0) 50
2. Schoolcraft (9-0) 45
3. Millington (8-1) 39
4. Calumet (8-1) 34
5. Jackson Lumen Christi (7-2) 30
6. Maple City Glen Lake (7-2) 20
7. Grass Lake (8-1) 17
8. Roscommon (8-1) 14
9. Ravenna (7-2) 12
10. Laingsburg (8-1) 11
Others receiving 12 or more votes: None.
Division 7
School (First-place votes) (Record) Total Points
1. Traverse City St. Francis (5) (9-0) 50
2. Pewamo-Westphalia (9-0) 44
3. Saugatuck (9-0) 39
4. Ubly (9-0) 34
5. Detroit Loyola (7-2) 25
T-6. Hudson (8-1) 22
T-6. New Lothrop (8-1) 22
8. Unionville-Sebewaing (8-1) 21
9. Grosse Pointe Woods University Liggett (9-0) 10
10. Sand Creek (8-1) 4
Others receiving 12 or more votes: None.
Division 8
School (First-place votes) (Record) Total Points
1. Muskegon Catholic Central (5) (9-0) 50
2. Climax-Scotts (9-0) 38
3. St. Ignace (8-1) 36
4. Lake Linden-Hubbell (9-0) 35
5. Ottawa Lake-Whiteford (9-0) 34
6. Frankfort (9-0) 30
7. Breckenridge (9-0) 22
8. Lincoln Alcona (8-1) 9
9. Norway (7-2) 7
10. Saginaw Nouvel (6-3) 5
Others receiving 12 or more votes: None.
Division 8 Player
School (First-place votes) (Record) Total Points
1. Powers North Central (9) (9-0) 90
2. Deckerville (8-0) 80
3. Engadine (9-0) 68
4. Crystal Falls Forest Park (8-1) 53
5. Wyoming Tri-unity Christian (9-0) 30
Others receiving 12 or more votes: 6, Portland St Patrick (9-0) 14. 7, Merritt Academy (9-0) 12.