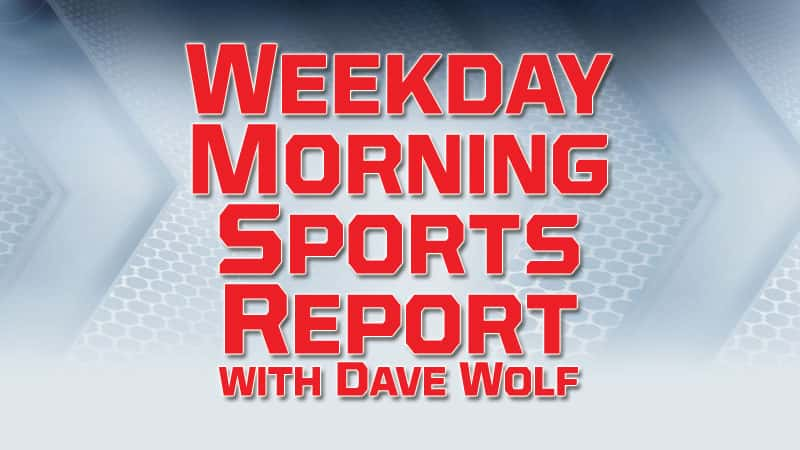 95.7 & 1400 WSJM Sports     @wsjmsports     wsjmsports.com     Friday, October 21, 2016
MLB Playoffs – League Championship Series (Best of 7)
Last Night
NL: Chicago Cubs 8, Los Angeles Dodgers 4                                                             (CHI leads 3-2)
NLCS: Cubs 8, Dodgers 4 – Cubs beat Dodgers 8-4, head home with 3-2 lead in NLCS
Jon Lester pitched seven sharp innings, Addison Russell hit a tiebreaking homer and the Chicago Cubs moved one win from their first World Series trip in 71 years by beating the Los Angeles Dodgers 8-4 on Thursday.  The Cubs grabbed a 3-2 lead in the NL Championship Series and will have two chances to wrap up that elusive pennant back home at Wrigley Field. The first comes Saturday night in Game 6. Emerging star Javier Baez was in the middle of everything for the Cubs, a common theme this October. The second baseman made a sensational defensive play when the game was still close in the seventh inning, and his three-run double capped a five-run eighth that made it 8-1.
NFL – National Football League – Week 7
Last Night
Green Bay Packers 26, Chicago Bears 10
Packers 26, Bears 10 – Rodgers throws 3 TD passes, Packers beat Bears 26-10
Aaron Rodgers set a record. The Chicago Bears lost another quarterback. After a slow start in the red zone, the Green Bay Packers picked up the pace in the second half to overpower their offensively-challenged NFC North rivals. Rodgers threw for 326 yards and three touchdowns, Davante Adams and Ty Montgomery emerged as playmakers in the second half and Packers beat the Bears 26-10 on Thursday night. Rodgers was 39 of 56, setting a franchise mark for completions in a game. It was the Packers' first contest without injured running back Eddie Lacy. "A lot of moving parts, a very satisfying victory at home," coach Mike McCarthy said. The Packers (4-2) moved effectively on short gains most of the night, but couldn't break into the end zone until Adams caught the first of his two touchdown receptions with 9:11 left in the third quarter for a 13-10 lead. Rodgers and Adams combined again for a 4-yard score on the first play of fourth quarter for a 10-point lead.
Sunday
Washington Redskins (4-2) at Detroit Lions (3-3), 1:00 p.m.       WSJM Sports/Cosy-FM 11:00 a.m.
Indianapolis Colts (2-4) at Tennessee Titans (3-3), 1:00 p.m.
Seattle Seahawks (4-1) at Arizona Cardinals (3-3), 8:30 p.m.     WSJM Sports 7:30 p.m.
NFL – Bears QB Brian Hoyer knocked out with broken left arm
Chicago Bears quarterback Brian Hoyer broke his left arm in the second quarter Thursday night against the Green Bay Packers. Hoyer left the game after getting hit by Clay Matthews and Julius Peppers on an incompletion on third-and-6 from the 50 with 10:21 left in the quarter. The right-handed Hoyer looked as if he landed on his left arm. He was attended to by trainers on the field for a couple minutes before going to the locker room. Hoyer was 4 of 11 for 49 yards. He started for Jay Cutler, who missed his fifth straight game with a right thumb injury. The only other quarterback on the Bears' active roster is Matt Barkley, who started Chicago's next series. The Bears also lost right guard Kyle Long in the second quarter to an arm injury.
NFL – Redskins, Lions meet with combined 6-game winning streak
The Detroit Lions looked like they were headed down a familiar, disappointing path. Detroit dropped to 1-3 this month, playing poorly enough to allow weak Chicago to beat it. The Lions lost seven of their first eight games last year, leading to a front-office shake-up and the offensive coordinator losing his job, and some were wondering whether coach Jim Caldwell on his way out. Detroit then knocked off unbeaten Philadelphia and ended Los Angeles' three-game winning streak this October. That has gotten the attention of the Washington Redskins.  Lions quarterback Matt Stafford , who will be playing in his 100th game Sunday, is just 45-54 since being drafted No. 1 overall in 2009. In Detroit's last two wins, he moved the team down the field to set up winning kicks late in each game.
NHL – National Hockey League
Tonight
Chicago Blackhawks at Columbus Blue Jackets, 7:00 p.m.
Nashville Predators at Detroit Red Wings, 7:30 p.m.
NCAAFB – College Football
Saturday – Big Ten
Illinois at #3 Michigan, 3:30 p.m.                                              News/Talk 94.9 WSJM 2:30
Michigan State at Maryland, 7:30 p.m.                                        Superhits 103.7 Cosy-FM 6:00
Saturday – MAC
Central Michigan at Toledo, 12:00 p.m.
Eastern Michigan at #20 Western Michigan, 3:30 p.m.
NBA – National Basketball Association Preseason
Last Night
Atlanta Hawks 97, Chicago Bulls 81
Hawks 97, Bulls 81 – Hawks beat bulls in preseason finale
Dwight Howard had 16 points and 15 rebounds for the Hawks who defeated the Chicago Bulls 97-81. Kyle Korver, who played at Creighton, also scored 16 points as Atlanta finished 5-2. Jimmy Butler scored 16 points as Chicago wrapped up exhibition play at 3-4.
NBA – Pistons exercise option on Stanley Johnson through 2017-18
The Detroit Pistons have exercised their team option on forward Stanley Johnson through the 2017-18 season. The move Thursday came as little surprise after Johnson averaged 8.1 points and 4.2 rebounds as a rookie in 2015-16. Detroit drafted him with the No. 8 pick in 2015. He made six starts last season. Johnson can provide extra athleticism on the wing for a Detroit team built around center Andre Drummond and point guard Reggie Jackson. The Pistons made the playoffs last season for the first time since 2009.
NCAAMBB – NCAA says coach didn't do his job
The NCAA is accusing Louisville of four violations stemming from its investigation of allegations that a former men's basketball staffer hired escorts and strippers for sex parties with Cardinals recruits and players.  The report does not mention a lack of institutional control, considered the most serious violation, but says coach Rick Pitino failed to monitor staffer Andre McGee.   Louisville has 90 days to respond.
WNBA – Women's National Basketball Association Finals (Best of 5)
Last Night
Los Angeles Sparks at Minnesota Lynx, 8:00 p.m.                         (Tied 2-2)
Sparks 77, Lynx 76 – LA Wins WNBA title
Candace Parker and the Los Angeles Sparks jumped with joy on the court, joined in celebration by a guy named Magic Johnson who once made basketball championships a habit in Los Angeles. Nneka Ogwumike's short jumper with 3.1 seconds left, off the rebound of her blocked shot, gave the Sparks a 77-76 victory over the defending champion Minnesota Lynx in the deciding Game 5 of the WNBA Finals on Thursday night for the franchise's first title in 14 years.  Parker had 28 points and 12 rebounds to earn MVP honors of the Finals and her first WNBA title.
AHL – American Hockey League
Tonight
Rockford IceHogs at Grand Rapids Griffins, 7:00 p.m.
ECHL – American Hockey League
Tonight
Fort Wayne Komets at Kalamazoo Wings, 7:00 p.m.
Toledo Walleye at Brampton Beast, 7:15 p.m.
MHSAA – High School Sports
Last Night
Boys Soccer Districts
Division 2 (at Mattawan) – District Semifinals
Niles 2, Three Rivers 0
Mattawan 4, Edwardsburg 1
Division 4 (Cassopolis) – District Finals
New Buffalo 3, Lake Michigan Catholic 1 – District Championship
Tonight
Football – All Games at 7:00
SMAC
Portage Central (7-1) at St. Joseph (6-2)                                  95.7 & 1400 WSJM Sports
Lakeshore (5-3) at Niles (3-5)                                                   97.5 Y-Country
Mattawan (2-6) at Kalamazoo Central (4-4)
Kalamazoo Loy Norrix (0-8) at Battle Creek Central (2-6)
Battle Creek Lakeview (5-2) at Gull Lake (2-6)
DeWitt (7-1) at Portage Northern (5-3)
Wolverine
Allegan (0-8) at South Haven (3-5)                                            Superhits 103.7 Cosy-FM
Dowagiac (5-3) at Paw Paw (4-4)
Edwardsburg (8-0) at Sturgis (3-5)
Vicksburg (7-1) at Three Rivers (6-2)
Plainwell (3-5) at Otsego (1-7)
Independent
Muskegon Heights (2-6) at Benton Harbor (8-0)                         News/Talk 94.9 WSJM
SAC
Watervliet (6-2) at Bangor (0-8)
Eau Claire (0-8) at Coloma (2-6)
Bloomingdale (2-6) at Gobles (6-2)
Hartford (2-6) at Constantine (5-3)
Lawton (7-1) at Decatur (4-4)
Galesburg-Augusta (5-3) at Marcellus (3-5)
Saugatuck (8-0) at Fennville (3-5)
Martin (4-4) at Kalamazoo Hackett (3-5)
Schoolcraft (8-0) at Delton-Kellogg (4-4)
BCS
Bronson (1-7) at Lake Michigan Catholic (7-1) at Bridgman
New Buffalo (3-5) at Climax-Scotts (8-0)
River Valley (0-7) at Bellevue (2-5)
Leroy Pine River (7-1) at Berrien Springs (5-2)
Brandywine (3-5) at Buchanan (4-3)
Comstock (2-6) at Cassopolis (7-1)
Bridgman (5-3) at Centreville (1-7)
White Pigeon (3-5) at Colon (5-3)
Parchment (5-3) at Stockbridge (4-4)
8-Man Football
Wyoming Tri-Unity Christian (8-0) at Covert (1-6)
Saturday
Michigan Lutheran (3-5) at Big Rapids Crossroads Academy (0-8), 1:00 p.m.
Mendon (6-2) at Manistique (0-8), 2:00 p.m.
Lawrence (7-1) at Battle Creek St. Philip (5-3), 7:00 p.m. at Battle Creek Central