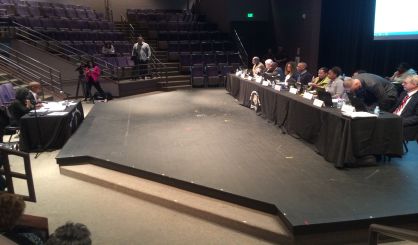 Suspended Benton Harbor High School Principal Rodger Tripplett remains employed with the district. After a more than seven hour hearing on Friday, the board of education voted 3-2 against a resolution that would have terminated Tripplett. He's been suspended since June, and Friday's hearing focused on a variety of accusations leveled against him. Among other things, he was accused of allowing dozens of students to graduate without meeting state requirements and possessing sexually abusive material involving children. However, a Michigan State Police investigation found he had committed no criminal wrongdoing. Tripplett's attorney refuted each accusation during Friday's hearing, and in the end, it was enough to convince a majority of the board's voting members that he shouldn't be let go. Tripplett gave a brief statement.
"I'd like to take this opportunity to thank the community of Benton Harbor for all of its love and all of its support, and I also would like to thank the board of education for this decision," Tripplett said.
Friday's hearing featured well over an hour of comments from the public, almost all of which were in support of Tripplett. He also spoke, saying he's always acted in the interest of Benton Harbor students. The school board needed less than ten minutes in a closed session to come back with the vote against firing him. Trustee Lisa Gulley was not present for the vote. Although Tripplett remains employed with Benton Harbor Area Schools, it's still not clear what happens next. The board will meet again next Thursday.