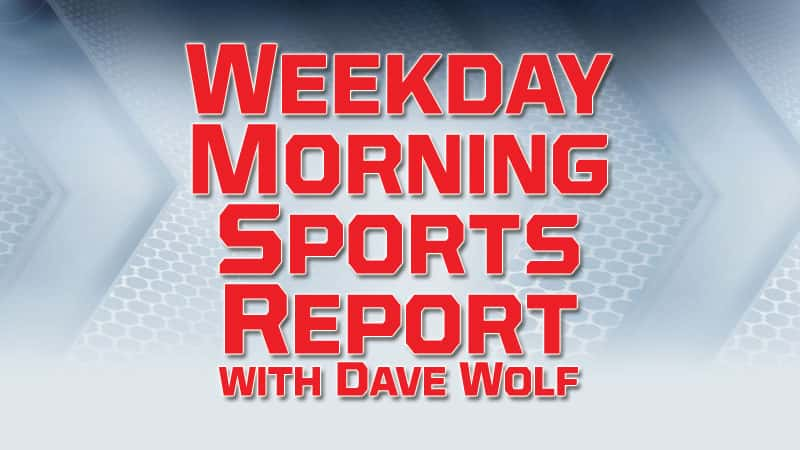 95.7 & 1400 WSJM Sports     @wsjmsports     wsjmsports.com     Thursday, October 13, 2016
NHL – National Hockey League – Opening Night
Last Night
St. Louis Blues 5, Chicago Blackhawks 2
Ottawa Senators 5, Toronto Maple Leafs 4 – OT
Edmonton Oilers 7, Calgary Flames 4
San Jose Sharks 2, Los Angeles Kings 1
Blues 5, Blackhawks 2 – Tarasenko helps Blues top Blackhawks 5-2 in opener
Vladimir Tarasenko had two goals and an assist, and the St. Louis Blues beat the Chicago Blackhawks 5-2 on Wednesday in an opening-night matchup of Central Division rivals. Kevin Shattenkirk and Paul Stastny each had a power-play goal and two assists for the Blues, who eliminated the Blackhawks in seven games in the first round of the playoffs in April. Jake Allen had 17 saves in his first game since he became St. Louis' clear No. 1 goaltender with Brian Elliott's June trade to Calgary. Richard Panik and Ryan Hartman scored for Chicago, which had six rookies in the starting lineup, including four playing their first NHL game. Corey Crawford finished with 29 saves.
Senators 5, Maple Leafs 4 – OT – Auston is awesome
Toronto Maple Leafs center Auston Matthews has become the first player to score four goals in his NHL debut, doing it in a 5-4 overtime loss at Ottawa. The first overall pick in this year's NHL draft completed a hat trick two minutes into the second period and added a fourth goal to put the Leafs ahead with three seconds left in the middle stanza. However, Kyle Turris scored the tying and winning goal as the Senators won the season opener for both teams.
Sharks 2, Kings 1 – Burns' goal helps Sharks open season with 2-1 win over Kings
Brent Burns notched the tiebreaking goal early in the third period and Logan Couture scored once and had an assist as San Jose topped Los Angeles 2-1.
Oilers 7, Flames 4 – McDavid scores twice, Oilers beat Flames 7-4 in new arena
Connor McDavid scored twice, including one goal on a penalty shot, and had an assist as Edmonton beat Calgary 7-4, the Oilers' first game in their new building, Rogers Centre.
Tonight
Detroit Red Wings at Tampa Bay Lightning, 7:30 p.m.
NHL – Contractors on arena face fines for lack of Detroit workers
Detroit officials say an estimated half-million dollars in fines have been levied on contractors working on the new Red Wings arena because the companies haven't hired enough Detroit residents.  Little Caesars Arena's developer, Olympia Development of Michigan, is required to ensure at least 51 percent of the workers live in Detroit. The Detroit News reports that goal hasn't been met during certain periods of construction. Olympia Development referred comment to Douglass Diggs, of Heritage Realty Services LLC. Diggs says Detroit and developers are working together on the issue, noting that a lack of skilled-trade workers who live in Detroit has been an ongoing issue for years. The 51 percent goal was part of an agreement to allow $250 million in taxpayer-backed bonds to help fund construction of the arena. The new arena is scheduled to open in September of 2017.  The Red Wings open their season on the road tonight, at Tampa Bay.
MLB Playoffs – Division Series (Best of 5)
Tonight
L.A. Dodgers (Rich Hill 12-5) at Washington (Max Scherzer 20-7), 8:08 p.m.              (Series Tied 2-2)
MLB – Cubs wait to see who they'll meet after reaching NLCS again
The Chicago Cubs are waiting to see who they'll face in the National League Championship Series, with Washington and the LA Dodgers playing a winner-advances Game Five in their series tonight. Manager Joe Maddon says the Cubs' win over San Francisco validates what the team has done this season. The NLCS starts at Wrigley Field on Saturday.
NFL – National Football League – Week 6
Tonight
Denver Broncos (4-1) at San Diego Chargers (1-4), 8:25 p.m.     95.7 & 1400 WSJM Sports, 8:00            
NFL – Lions' Quin stays away from alcohol to perhaps fuel streak
Glover Quin says he stays away from alcohol during the season, drinks more than 200 ounces of water daily and some weeks, he'll allow himself to splurge and have one dessert. The Detroit Lions safety lifts weights four times between games and participates in every practice, passing on the option of taking a day off here and there as eight-year veterans are able to do in the NFL.  Quin's regimen seems to be working very well. He has started 105 straight games, the longest active streak by an NFL safety and the longest among his teammates.  Detroit (2-3) will play the Los Angeles Rams (3-2) on Sunday. The 30-year-old Quin is in his fourth season with the Lions. He played for the Texans for four seasons, the last two at a new position. Houston drafted the Mississippi native out of New Mexico in the fourth round of the 2009 draft. After Quin made three interceptions in his second season at cornerback, he was moved to strong safety.
NFL – Bears continue shuffling injured defensive players
Chicago Bears second-year safety Adrian Amos played five positions in college, so all the lineup shuffling his current team is doing is nothing too traumatic. But Amos also says the situation — forced by a string of injuries this year — isn't ideal. He says communication is everything for the Bears because players know anybody could be on the field at any time. Going against the Jacksonville Jaguars on Sunday, the Bears could have even more lineup changes in the secondary.  It's possible Chris Prosinski could start at safety in place of Harold Jones-Quartey, although defensive coordinator Vic Fangio said this hasn't yet been decided. A hamstring injury could cause Bryce Callahan to sit out, leading to playing time for Jacoby Glenn, rookies Deiondre Hall and Cre'Von LeBlanc.  The secondary has used nine players in coverage so far this season. Yesterday, quarterback Jay Cutler threw a few passes prior to practice but did not participate in drills or scrimmage. He has been out with a thumb injury since the second game. Brian Hoyer continues to play first-team quarterback.
NCAAFB – W. Michigan's Fleck: Going turnover-free 6 games is no fluke
Western Michigan's rise under P.J. Fleck has been underscored by his popular "row the boat" mantra. Within the walls of his program, another saying carries as much or more gravitas: "The ball is the program." The Broncos are living it so far this season. They're the only Bowl Subdivision team that hasn't committed a turnover. As far as Fleck is concerned, that statistic best explains how his team has won six straight games for its best start since 1941 and entered the Top 25 for the first time, at No. 24. The 2016 Broncos are the first team in at least 20 years to commit no turnovers through its first six games, according to WMU and ESPN research. The record for fewest turnovers in a season is eight, shared by four teams.
NBA – National Basketball Association Preseason
Last Night
Indiana Pacers 101, Milwaukee Bucks 83
Tonight
Detroit Pistons at Atlanta Hawks, 7:30 p.m.
NBA – Cop's death won't impede Derrick Rose rape probe
Los Angeles police say a detective's death won't impede a rape investigation of NBA player Derrick Rose.  The Los Angeles Police Department said Wednesday that Nadine Hernandez was one of several detectives investigating the allegations. Police say the 44-year-old died from a gunshot wound to the chest in a suspected suicide. The LAPD says there's no indication the death was related to any cases Hernandez was investigating. A woman who sued Rose and his friends is seeking $21.5 million in an ongoing civil trial. She claims the three raped her while she was incapacitated three years ago. Defense lawyers say Hernandez told them there was no rape case. The woman's lawyers say Hernandez told them a crime had been committed and she was preparing to present the case to prosecutors.
NBA – Silver: Collective bargaining talks to resume
NBA Commissioner Adam Silver says discussions on the collective bargaining agreement will resume next week, two months before a key deadline. Silver said Wednesday that he plans to hold meetings in an ongoing process that will include several team owners, NBA Players Association executive director Michele Roberts and Clippers guard Chris Paul, the union president. The current agreement between the league and players runs through June 2021, but both sides have until Dec. 15 to express intent to opt out next year.
NCAAWBB – Notre Dame picked to win ACC again
Three-time defending champion Notre Dame is the pick to win the Atlantic Coast Conference again.  The Irish have been selected by the coaches as the preseason favorite ever since the school joined the ACC before the 2013-14 season. Louisville and Florida State are second and third in the poll, which was released Wednesday. Syracuse, fresh off its appearance in the NCAA championship game, was picked fourth. Miami, Duke, North Carolina State, Georgia Tech, North Carolina and Virginia
round out the first 10. Wake Forest, Virginia Tech, Boston College, Pitt and Clemson finish out the voting. Louisville junior Myisha Hines-Allen was picked the preseason player of the year. She's joined on the preseason team by teammates Asia Durr and Mariya Moore; Rebecca Greenwell of Duke; Leticia Romero and Shakayla Thomas of Florida State; Adrienne Motley of Miami; Lindsay Allen and Brianna Turner of Notre Dame and Alexis Peterson of Syracuse.
MHSAA – High School Sports
Last Night
Boys Soccer
Sturgis 3, Edwardsburg 1
Plainwell 2, Otsego 0
Paw Paw 6, Dowagiac 3
Vicksburg 4, Three Rivers 1
Lake Michigan Catholic 3, Comstock 0
Bridgman 5, Cassopolis 1
Parchment 1, Michigan Lutheran 0
Hartford 1, Kalamazoo Christian 0
Girls Volleyball
Niles 3, St. Joseph 0
Portage Central 3, Portage Northern 0
Mattawan 3, Battle Creek Central 0
Tonight
Boys Soccer
Three Rivers at Kalamazoo Loy Norrix, 6:45 p.m.
Hartford at Gull Lake, 6:45 p.m.
Brandywine at Marcellus, 6:00 p.m.
Bellevue at Howardsville Christian, 5:00 p.m.
Kalamazoo Hackett at Coloma, 6:00 p.m.
Bangor at Covert, 6:00 p.m.
Girls Volleyball
Benton Harbor at Cassopolis, 7:30 p.m.
Paw Paw at Allegan, 5:00 p.m.
Three Rivers at Edwardsburg, 6:00 p.m.
Watervliet Grace Christian at Lawrence, 5:00 p.m.
Comstock at Bangor, 5:00 p.m.