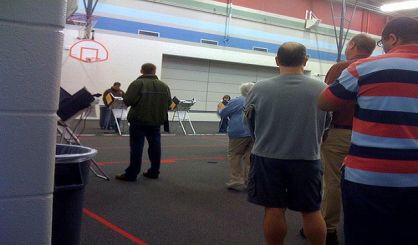 Voter turnout could play a decisive role in next month's election, and a new study warns some Americans may have a harder time casting ballots than others. Spencer Overton, with the Joint Center for Political and Economic Studies, says data from the last election points to shortcomings in how polling is managed in urban areas.
"African Americans, on average, waited up to twice as long as whites to vote. Long lines reduce turnout and also cost time and money," Overton said.
Overton says voters in some black communities waited in line up to seven hours in 2012. Nationwide, the study found white voters waited an average of 12 minutes to vote, compared with 19 minutes for Latinos and 23 minutes for African Americans. To reduce wait times, Overton suggests states, counties and cities should also adopt and enforce minimum wait-time standards, provide adequate funding for voting machines and workers, expand early vote days and add the option of voting by mail.