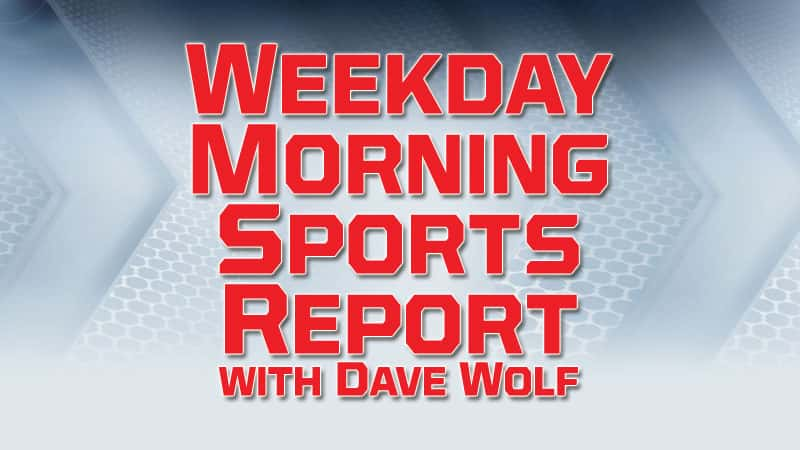 95.7 & 1400 WSJM Sports     @wsjmsports     wsjmsports.com     Wednesday, October 05, 2016
MLB Playoffs – Wild Card
Last Night
Toronto Blue Jays 5, Baltimore Orioles 2
Blue Jays 5, Orioles 2 – Blue Jays win AL wild card in a walk-off, head to Texas
Edwin Encarnacion hit a three-run homer in the 11th inning off Ubaldo Jimenez, and Toronto Blue Jays beat the Baltimore Orioles 5-2 in Tuesday night's AL wild card game to advance to a Division Series matchup against Texas. Jimenez relieved Brian Duensing with one out in the 11th, and Devon Travis singled in a 1-1 pitch. Reigning AL MVP Josh Donaldson singled on the next pitch, and Travis went all the way to third as left fielder Nolan Reimold bobbled the ball. With the infield in, Encarnacion sent the following pitch, a 91 mph fastball, soaring into the second deck in left. Encarnacion immediately knew it was gone and raised both arms in triumph, index fingers pointed skyward. "We were fortunate we had the last at-bat," Blue Jays manager John Gibbons said. Baltimore used seven of its 10 pitchers but closer Zach Britton, who was perfect in 47 save chances with a .0.54 ERA during the regular season, never got in the game.
Tonight
NLCS: San Francisco (Madison Bumgarner 15-9) at New York (Noah Syndergaard 14-9), 8:09 p.m.
MLB – Cubs set starting rotation
Jon Lester will start the Chicago Cubs' playoff opener.  Manager Joe Maddon announced Tuesday he was going with Lester over Kyle Hendricks and 2015 NL Cy Young Award winner Jake Arrieta in Game 1 of the NLDS against the New York Mets or San Francisco Giants. The series opens at Wrigley Field on Friday, with the Cubs' sights set on winning their first World Series since 1908 after leading the majors with 103 wins.  Lester (19-5) was second in the majors to Hendricks with a 2.44 ERA. Hendricks (16-8, 2.13) will start Game 2 at home on Saturday. Arrieta (18-8, 3.10) will pitch Game 3 on the road, with John Lackey (11-8, 3.35) starting Game 4 if necessary. Lester was 10-2 with a 1.74 ERA at Wrigley Field. Hendricks also dominated at home, going 9-2 with a 1.32 ERA. Arrieta was shaky down the stretch, going 3-3 with a 4.33 ERA in his last seven starts.
NHL – National Hockey League Preseason
Last Night
Chicago Blackhawks 6, Detroit Red Wings 1
Blackhawks 6, Red Wings 1 – Blackhawks cruise to 6-1 win over Red Wings in exhibition play
Ryan Hartman and Vinnie Hinostroza scored in the first period to lead the Blackhawks to a 6-1 victory over the Detroit Red Wings.  Alexandre Fortin had a goal and an assist, and Artem Anisimov, Richard Panik and Nick Schmatz also scored for Chicago. Corey Crawford started and stopped all eight shots he faced over the first 30 ½ minutes, and Scott Darling had nine saves the rest of the way.  Louis-Marc Aubry got the Red Wings on the scoreboard with just under 6 minutes left in the second, and Jimmy Howard finished with 26 saves.
Tonight
Detroit Red Wings at Pittsburgh Penguins, 7:00 p.m.
NHL – Red Wings Ott, Larkin photobomb little girl from penalty box
Detroit Red Wings forwards Steve Ott and Dylan Larkin made the best use of their time in the penalty box during a preseason game by smiling for a picture with a 4-year-old girl in the stands. A picture on the team's Instagram account shows the girl, Lylah Almas, smiling with Ott and Larkin grinning in the background. The caption says the girl was "hit with the classic Ott, Larkin penalty box photobomb."  The players were serving minor penalties in Sunday's game against the Chicago Blackhawks.  Lylah's mother, Shannon Almas, tells the team's website that she only noticed the players smiling when she reviewed the picture. The photo has received more than 26,000 likes on Instagram.
NBA – National Basketball Association Preseason
Last Night
Indiana Pacers 113, New Orleans Pelicans 96
NFL – Lions sign tight end Clay Harbor, release tight end Orson Charles
The Detroit Lions have signed tight end Clay Harbor and released tight end Orson Charles. The Lions also announced Tuesday that they've acquired defensive end Armonty Bryant off waivers and put defensive end Wallace Gilberry on injured reserve. Harbor began this season with the New England Patriots, appearing in three games. He's also spent three seasons with the Jacksonville Jaguars and three with the Philadelphia Eagles. Bryant played three years with the Cleveland Browns and made two starts last season.
NCAA Football – Spartans trying to cut down on mental errors after 2 losses
Michigan State coach Mark Dantonio took responsibility for the penalty that gave Indiana a second chance at the winning field goal last weekend. Cornerback Drake Martinez was called for leaping on a kick that the Hoosiers missed in overtime, and Indiana made the next attempt to end the game.  "That's a coaching thing," Dantonio said Tuesday. "If you're not coaching it, you're letting it happen. So there you go. That's on me." Michigan State's 24-21 loss Saturday was its second in a row after winning 40 of its previous 45 games. The Spartans struggled to score against the Hoosiers, and they made uncharacteristic mistakes throughout. Michigan State committed 11 penalties for 98 yards and looked unusually disorganized down the stretch. After scoring on fourth down to tie the game in the waning seconds of regulation, the Spartans had the ball first in overtime, but Tyler O'Connor was sacked twice on that possession, and Michael Geiger was forced to try a 49-yard field goal, which he missed.
NCAA Football – Maryland, OSU, U of M, and Nebraska are the last unbeaten Big Ten teams
It's not often Maryland can say it has something in common with Ohio State, Michigan and Nebraska. Like those standard bearers of college football, the Terrapins are still unbeaten this season. Since Maryland's 7-0 start in 2001, the Terrapins have taken a perfect record into their fifth game only in 2013 and this season. No one is pulling harder for first-year coach DJ Durkin _ at least until their teams meet Nov. 5 _ than Michigan coach Jim Harbaugh. Durkin was a Harbaugh assistant for three years at Stanford and was his defensive coordinator with the Wolverines last season. Harbaugh said Tuesday he's been following the Terps' progress and has watched three of their games. He said he's spoken with Durkin a couple times since the season started, usually on matters only coaches would find interesting. "He's busy doing his duties and I'm busy doing mine," Harbaugh said, "but we're watching with a lot of pride what he's doing and very proud of the job he's doing."  Maryland, which puts its 4-0 record on the line this week at Penn State, already has one more win than it had all of last season.
WNBA – WNBA Playoffs – Round 3 (Best of 5)
Last Night
Los Angeles Sparks 95, Chicago Sky 75                                       (LAS wins series 3-1)
Sparks 95, Sky 75 – Parker scores 29 points to lead Los Angeles to WNBA Finals
Candace Parker scored 29 points and the Los Angeles Sparks beat the Chicago Sky 95-75 on Tuesday night to advance to the WNBA Finals. Kristi Toliver added 21 points and league MVP Nneka Ogwumike had 17 points and nine rebounds for the Sparks, who led by as much as 28 and won the semifinal series 3-1. They will face the defending champion Minnesota Lynx in a best-of-5 series for the league title.
Keeping an eye on Matthew
Teams across the southeastern portion of the U.S. are keeping a close eye on Hurricane Matthew, which forecasters say could have a major impact on no fewer than four states this week. The Atlantic Coast Conference could have at least five Saturday football games affected if the storm strikes as forecasters believe it could. Also, the second game of the National League Division series between the Dodgers and Nationals is scheduled for Saturday in the nation's capital. The long-range forecast is for an 80 percent chance of rain Saturday in Washington.
MHSAA – High School Sports
Last Night
Boys Soccer
St. Joseph 4, Gull Lake 1
Lakeshore 5, Kalamazoo Loy Norrix 0
Mattawan 3, Niles 0
Bangor 2, Kalamazoo Christian 1
Girls Volleyball
Gull Lake Invitational
St. Joseph 2, Mattawan 0
Bronson 2, St. Joseph 0
Lakeshore 2, St. Joseph 1
Hudsonville 2, Lakeshore 0
Gull Lake 2, Lakeshore 0
Kalamazoo Christian 3, Coloma 2
Marcellus 3, Eau Claire 0
Watervliet 3, Fennville 1
Girls Swimming
Bridgman/Lakeshore 111, Mattawan 72
Portage Northern 104, St. Joseph 84
Tonight
Boys Soccer
Allegan at Otsego, 6:00 p.m.
Vicksburg at Paw Paw, 6:45 p.m.
Three River at South Haven, 6:45 p.m.
Dowagiac at Sturgis, 6:45 p.m.
Buchanan at Brandywine, 5:00 p.m.
Cassopolis at Michigan Lutheran, 5:00 p.m.
Marcellus at Bloomingdale, 7:00 p.m.
Schoolcraft at Coloma, 6:00 p.m.
Bangor at Delton-Kellogg, 6:00 p.m.
Gobles at Hartford, 6:00 p.m.
Fennville at Kalamazoo Christian, 5:00 p.m.
Girls Volleyball
Lakeshore at Portage Northern, 6:30 p.m.
Michigan Lutheran at Lake Michigan Catholic, 6:45 p.m.
Bridgman at Berrien Springs, 6:00 p.m.
Brandywine at Comstock, 5:00 p.m.
Howardsville Christian at River Valley, 6:00 p.m.
Centreville at White Pigeon, 7:00 p.m.
Cross Country
SMAC West at Lakeshore, 5:00 p.m.