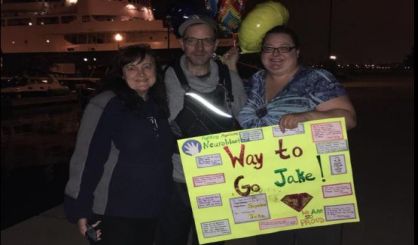 The man who rowed across Lake Michigan this week to raise money for the fight against childhood cancer is now back at home and safe, although a bit sore. Jacob Beckley tells WSJM News rowing in a self-made boat for 65 miles in the lake was one heck of a challenge.
"It was a lot more demanding than I thought it would be," Beckley said. "I think I underestimated the level of effort it would require, as well as how unforgiving the lake could be."
Beckley tells us the journey got harder once he was in view of Chicago, as that's when the waves became strong and he had to struggle to get to shore.
"It was way more intense than I anticipated, and then when I got off the boat, I could barely stand," Beckley said.
With a corporate match, Beckley has raised about $23,000 for Lurie's Children's Hospital in Chicago.
"One of the surgeons met me at the pier, which was very nice, and then I just spoke this morning with the fundraising coordinator over there, and they were super excited," Beckley said.
Beckley tells us he picked St. Joseph as his place to shove off after he and his wife checked out several coastal towns and liked it the best. As for whether he'd do it again — he has to think about it. You can still donate to the cause at GoFundMe.com/Row4ACure.