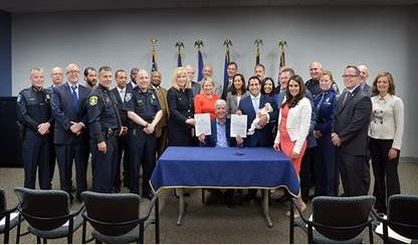 Governor Rick Snyder has signed legislation sponsored by state senator Tonya Schuitmaker designed to tighten the standards for police officers around Michigan. Schuitmaker tells WSJM News it gives the Michigan Commission on Law Enforcement Standards — or MCOLES — the ability to revoke a cop's certification under more conditions. That was in response to an incident involving a deputy in Van Buren County.
"Specifically in Paw Paw, where one of the deputies was selling drugs, and because he did not plead guilty and he pleaded no contest to the drug charge, he was allow to keep his MCOLES certification, and MCOLES could not revoke it," Schuitmaker said.
Schuitmaker says that officer then went on to be a cop in another town. The legislation also gives MCOLES jurisdiction over reserve officers. Previously, local departments could set their own standards for reserves.