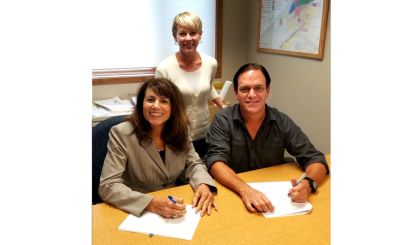 A grant of $1.6 million for the city of New Buffalo has been announced by the Pokagon Fund. Executive Director Janet Cocciarelli tells WSJM News the money will be used for the city's Downtown Revitalization Initiative.
"It's going to incorporate a whole host of infrastructure changes on the main street of New Buffalo," Cocciarelli said. "So, it will include sidewalks and pedestrian walks and a carriage walk and planters, landscaping, architectural, a whole host of things."
Cocciarelli tells us the Pokagon Fund is glad to invest in the downtown improvement project because revitalizing the downtown area of New Buffalo will get more people going there and lead to economic development. Construction for the initiative is set to begin in December and wrap up in May of 2018.
Pictured from left to right: Janet Cocciarelli, New Buffalo Treasurer Kate Vyskocil, and New Buffalo Mayor Lou O'Donnell.