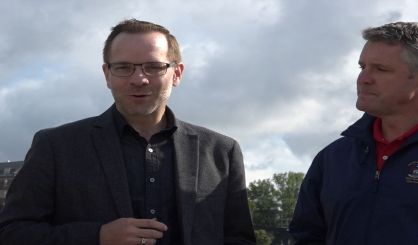 An Illinois man plans to leave from St. Joseph this Sunday to row across Lake Michigan raising funds for research into childhood cancer, and on Thursday, he was honored for his effort. Jacob Beckley Was at the St. Joe Junior Rowing School with state Senator John Proos, who presented him with a recent resolution proclaiming September as Michigan Childhood Cancer Awareness Month.
"I wanted to make sure that I recognized Jake in his endeavor, his brave endeavor, and I wanted to present him, in particular, with a tribute and a resolution that recognizes Michigan's dedication to this," Proos said.
Beckley has been training for a few months to make the row from St. Jose to Chicago, and says childhood cancer is an issue that has always pulled at his heart strings.
"Over the course of that 24 hours, I will be thinking of all of the kids who have died, and all the kids who are fighting," Beckley said.
Beckley told WSJM News he's going to being the state resolution with him on the boat, which he built himself. Donations he raises will go to Lurie Children's Hospital of Chicago. You can contribute at GoFundMe.com/Row4ACure.