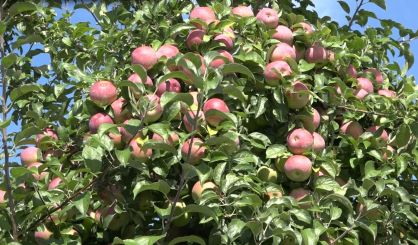 Apple growers around southwest Michigan say they're pleased with this year's crop. The Michigan Apple Committee announced this week 2016's harvest will be much larger than usual, and Sarah Jollay, with Jollay Orchards in Coloma, says that sounds right to her.
"With the rain we've recently gotten, everything is geared up and certainly ready to go," Jollay told WSJM News. "It's an exciting time for growers because we have nurtured these trees the entire year to get to this point. So, it's wonderful."
Jollay says the size of the harvest is up this year, adding one factor could be that the weather this summer has been relatively steady. Most of the 20 acres of apples at Jollay Orchards are picked by customers who are just now getting started for the year. They'll continue through about Halloween. The Michigan Apple Committee says this year's harvest will be 31 million bushels. That's compared to an average harvest of 22.8 million bushels.