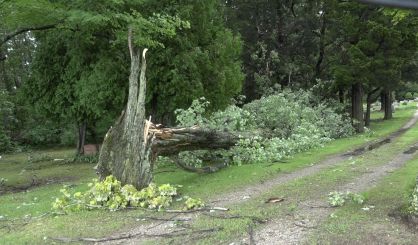 With multiple tornadoes touching down this month in west Michigan, residents are being reminded of ways they can help keep themselves prepared. Berrien County Emergency Preparedness Coordinator Rocky Adams says each family should talk about where they'll go if a tornado strikes.
"If you don't have a basement, you're going to want to find an interior hallway away from windows, doors, outside walls, and things like that," Adams told WSJM News. "You're going to want to find something sturdy, like a workbench or a stairwell, to get under while you're taking shelter."
Adams says the most important thing is to have a weather radio so you can stay on top of all National Weather Service bulletins. He also reminds everyone to have an emergency kit with 72 hours of supplies, and to avoid all downed power lines and flood waters once the storm has passed through. You can find out more at Ready.gov/tornadoes.