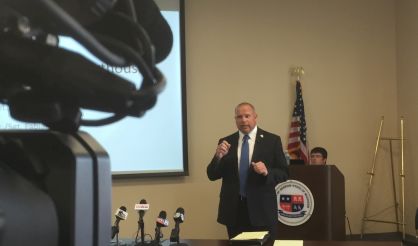 Larry Gordon planned his attempted escape from the Berrien County Jail and courthouse last Monday in an incident that ended with his death and the deaths of courthouse security director Joe Zangaro and bailiff Ron Kienzle. Sheriff's Department Detective Greg Sanders says officers found a letter Gordon had written to his ex-wife in his cell.
"He apologizes over and over for what he's about to do," explained Sanders. "He says he's going on the run, or he's going to die trying. He says going to prison isn't living."
Sanders and Sheriff Paul Bailey briefed reporters on Friday on the investigation, which they add is still active. Both say the only person responsible for the tragic events at the courthouse is Gordon. "He's the sole actor," said Sanders. "The investigation has not led us to anyone else who participated in his actions."
Sanders showed video from inside the courtroom where you see Kienzle run out after Gordon attacked a deputy and took his gun, and hear him tell the suspect not to shoot before he's killed. Video also shows Gordon take eight hostages before they're able to run away. One of those, Kenya Ellis of Benton Harbor, was shot when officers opened fire on Gordon. The entire press conference video will be available this afternoon on WSJM.com. Viewer discretion is advised.