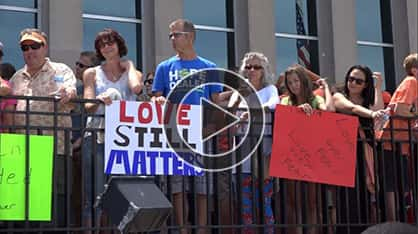 A call for unity and love is being heeded in Berrien County. Cafe Mosiac's Andrew Collins and several others got together to call for a march from the Benton Harbor business to the Berrien County Courthouse in St. Joseph yesterday following weeks of violence across the country, capped off by the shooting deaths of two court officers at the courthouse last Monday.
"There's a lot of frustration, there's a lot of hurt, there's a lot of anguish in our world, but hate's not going to solve it," Collins told WSJM News."
Collins says police and communities are too much on edge, and something needs to be done to calm everyone down.
"With everybody on edge, the only thing that's going to come out of that is fear," Collins said. "There's a verse that says perfect love casts out all fear, and that's our hope right now, that this love will help cast that fear out."
More than 300 marched, including Gretta Volkenstein of St. Joseph, who last week created the Berrien County Strong – Community in Action Facebook page. She says action is needed to stem violence between police and citizens nationwide.
"Keep doing events like this, like they said," Volkenstein said. "Let's have community barbecues, basketball games, churches from Benton Harbor and St. Joe coming together, doing events and volunteering."
She wants this area to be an example to the rest of the world.