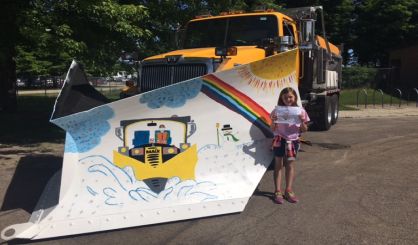 Some Van Buren County school children have helped out with painting one of the road commission's plows. Van Buren County Road Commission Engineer-Manager Larry Hummel says the agency held a contest, asking kids from all over the county how a plow should be decorated. With 93 submissions, the winner was Lawrence Elementary's Hailey Camp, a third grader. They painted the plow to her specifications.
"We did actually have some of our summer folks finished painting and did a real nice job of putting that on the plow, and the young lady was able to come in and be part of that."
Hummel says the contest was started to engage the kids as the road commission tries to educate them about safety. The plow will now be used at public events, like parades and festivals. It's on display this week at the Van Buren Youth Fair.