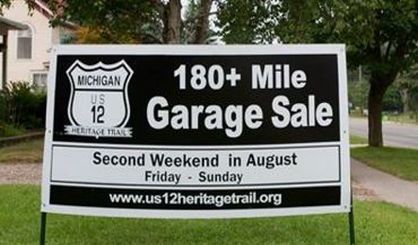 Preparations are now underway for what's called "Michigan's Longest Garage Sale." Kris Martin, with the Southwest Michigan Planning Commission, says the event is set for August 12 through 14 along US-12. All the way from New Buffalo to Detroit, vendors will be selling things on the side of the US-12 Heritage Trail.
"In the past we've had hundreds of sales listed on our website and lots of other events and community things that take place," Martin told WSJM.
Martin says you can drive the whole length of the state, taking in the small town culture and snagging some bargains.
"There's a lot of history here," Martin said. "Historical places to visit, beautiful scenery, and a lot of the small town charm that you don't get when you take I-94 sometimes."
This is the 13th year for the sale, and organizers are signing up vendors right now. You can find out more at US12HeritageTrail.org . Martin says some folks make a whole weekend out of the sale, going from one side of the state to the other on the nation's second oldest highway.