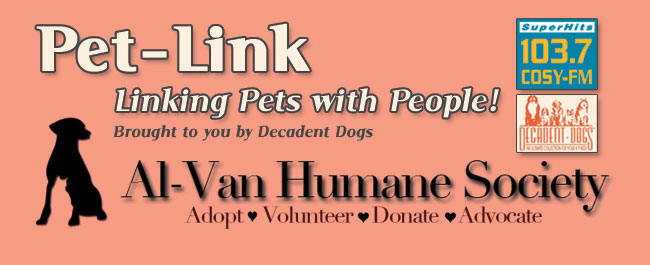 Brought to you by Decadent Dogs on Phoenix Street in Downtown South Haven. The Ultimate Collection for your Canine Kid!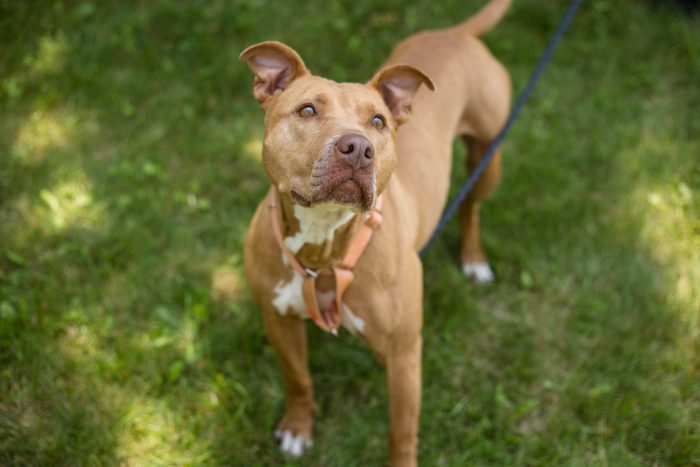 Opal is Al-Van's rockstar Pet of the Week!
This beautiful girl is only about three years old, but she's already had a rough start in life and deserves a loving home where she can blossom. Opal got her shelter start in Detroit, where she came in as a stray in rough condition. Through lots of love and foster care, she recovered her health, and was brought to Al-Van to find her family.
Opal does not thrive in the shelter environment or seem to catch anyone's eye in her kennel, but the staff knows that Opal is a loving, goofy girl, that would be that "once in a lifetime" pet for the right person. Opal should be the only animal in a home, and children make her nervous, so older kids or adults is best. She loves to go for walks and is one of the first dogs new volunteers are allowed to work with because of her good manners. Once her walk is done, Opal loves nothing more than to curl up in a big bed or on a couch and keep her person company. She's perfectly content to chew on a bone and just be near people.
Miss Opal's calm demeanor and loving attitude have stolen all of our hearts. We know that one day a person won't just walk by her kennel with barely a glance; they'll be able to see what an incredible pet she will make. She's been waiting patiently for her forever home, but we know she deserves her happy ending sooner rather than later. Let's get her where she belongs. If you are interested in Opal, please fill out an application online at www.al-van.org, or in person at the shelter.
Events & Specials
– It's almost Fur Ball time! February 24th, 7-11pm at The Moose Lodge in South Haven. Tickets are on sale now, & the event is quickly approaching! Tickets are $100 each, available at the shelter, Decadent Dogs, Rescued Treasures or by calling the shelter at 269-637-5062. Get ready for a night of TOP CHEF great food and drinks, fun, and tight competition. Flyer attached with more details.
 – Last day of our Valentine's "Half off your Better Half" promotion is Saturday, 2/17! All animals who have been in shelter for 3+months are half off, while all other shelter animals are 25% off. See all available pets at www.al-van.org.
– On 2/27, we are offering our World Spay Day low-cost spay/neuter for community cats. Females are $20, males $10. Space is limited, so call to reserve your space today! 269-637-5062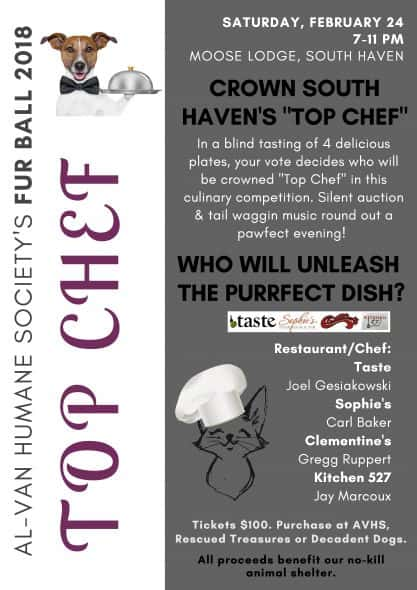 AL-VAN HUMANE SOCIETY
73303 8th Avenue
South Haven, MI 49090
269-637-5062
HOURS:
Monday and Tuesday 11am-5:30pm
Thursday and Friday 11am-5:30pm
Saturday 11am-3pm
Closed on Wednesdays & Sundays
www.al-van.org
Jennifer Nuernberg, jnuernberg@al-van.org
Log-in to http://www.fundinco.org/orghome.php?orgid=326 to make your AMAZON.COM purchases and Al-Van Humane Society will receive 3% cash back from your purchase! It costs you nothing!