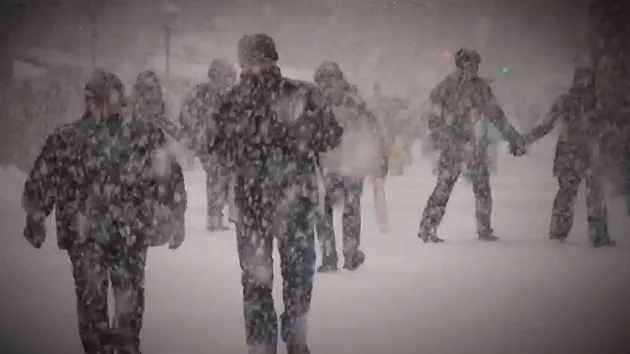 Americans are bracing for inclement weather during one of the busiest holiday travel weeks of the year.
A potent storm will be making its way across the country as travelers make their way to their Thanksgiving destinations.
Heavy snow will begin to fall in the Rocky Mountains on Sunday, leading to a foot or more in some of the highest elevations, forecasts show. Winter alerts have been posted for much of Utah, as well as parts of Colorado and Arizona.
Gusty winds could also pose potential problems for a large swath of the West, forecasts show. Wind alerts are in effect for nearly 16 million Americans on Sunday, with gusts approaching 50 mph this afternoon in some regions.
Severe weather threats are possible elsewhere in the country over the next several days. Oklahoma may be seeing a few strong thunderstorms on Sunday, but the bulk of the threats will begin on Monday.
A severe weather outbreak is likely across parts of the South on Monday, with powerful storms expected from eastern Texas through Louisiana and Arkansas and eventually into Mississippi. Damaging winds, large hail and scattered tornadoes are the main concerns.
As this large storm system moves eastward, it'll bring cool and wet weather to much of the East.
Travel will likely be disrupted for millions of people as moderate to heavy rain falls on Tuesday and Wednesday.
Snow could lead to a white Thanksgiving from the Adirondacks in New York to the White Mountains of New Hampshire and Maine.
Colder air will move in once the storm subsides.
Temperatures will be into the 20s and 30s by Thanksgiving morning for much of the northern half of the country. There will be enough of a gusty breeze to knock those wind chills into the teens in a few locations.
Copyright © 2023, ABC Audio. All rights reserved.