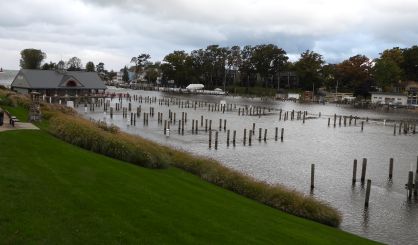 Strong wind gusts of up to 50 miles an hour and waves up to 15 feet Wednesday caused some issues along the Lake Michigan shoreline all up the coast. South Haven Harbormaster and Assistant City Manager Kate Hosier says they have no reports of property damage, but there's a lot of water.
"We're seeing flooding in areas that we have not seen it all this summer," Hosier tells our newsroom. "There has been extensive flooding of lowland and lakeshore areas."
The docks at South Haven's marinas are underwater.
"The marinas are closed as of October 15th, but we do have a few boats waiting to be taken out," adds Hosier. "We've communicated with the boaters that the power has been shut off at all of the marinas due to the dangerous conditions, and if their boat is still in the water, they should be checking on their vessels."
Hosier says with Lake Michigan's water levels expected to remain at near-record levels through next year, flooding will continue to be an issue.