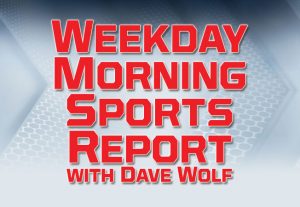 MLB – Major League Baseball
Yesterday
Cleveland Indians 7, Detroit Tigers 0
St. Louis Cardinals 5, Chicago Cubs 4 – 10 Innings
White Sox were off
Indians 7, Tigers 0 – Indians move into a tie for wild card spot, beat Tigers 7-0
Mike Clevinger pitched six shutdown innings, Franmil Reyes homered in his return to the lineup and the Cleveland Indians moved into a tie for the second AL wild card with a 7-0 win over the Detroit Tigers on Thursday night.  Francisco Lindor added three hits, and Cleveland matched Tampa Bay at 90-63 with the Rays idle. Both teams trail Oakland by two games for the top spot. The Indians trailed Minnesota by four games in the AL Central going into the game.  The Indians defeated the Tigers for the 17th straight time this season to match a franchise record set against Baltimore in 1954. Cleveland won 18 of 19 in the season series and outscored Detroit 116-38.  Clevinger (12-3) needed 33 pitches to get through a messy first inning. Harold Castro and Miguel Cabrera singled with one out and Jeimer Candelario drew a two-out walk, but Jordy Mercer flied out on a 3-2 pitch.  The right-hander allowed seven hits and struck out six. He is 11-1 with a 1.89 ERA over his last 15 starts.
Cardinals 5, Cubs 4 – 10 Innings – Carpenter HRs vs Kimbrel, Cards bump Cubs from WC spot
Matt Carpenter homered in the 10th inning against Craig Kimbrel in the All-Star closer's return, and the St. Louis Cardinals regrouped after blowing a late lead to beat the Chicago Cubs 5-4 Thursday night. Emerging ace Jack Flaherty shut down Chicago over eight innings, and despite a tying three-run rally in the ninth, the Cubs dropped a game behind Milwaukee for the second NL wild card and four games behind St. Louis for first place in the NL Central. Cubs slugger Anthony Rizzo provided a jolt in his unexpected return from a sprained right ankle, homering in the third inning to tie the game at 1. But Flaherty was spectacular otherwise, pitching three-hit ball while allowing just the one run and striking out eight. Carpenter homered to deep center field off Kimbrel (0-3), who was activated from the injured list prior to the game after dealing with right elbow inflammation. Carpenter, diminished to a smaller role during a frustrating season, hadn't homered since Aug. 25. Giovanny Gallegos pitched a perfect 10th for his first save in two chances. Andrew Miller (5-5) recorded the final two outs in the ninth for the victory.
Today
St. Louis (Wacha 6-7) at Chicago Cubs (Quintana 13-8), 2:20 p.m.
Chicago White Sox (Cease 3-7) at Detroit (Zimmermann 1-11), 7:10 p.m. 98.3 The Coast 6:45
NFL – National Football League – Week 3
Tonight
Jacksonville Jaguars 20, Tennessee Titans 7
Jaguars 20, Titans 7 – Jags, Minshew get first win
The Jacksonville Jaguars have their first win of the NFL season after knocking off the Tennessee Titans. Gardner Minshew completed 20 of 30 passes for 204 yards and two touchdowns in the Jaguars' 20-7 victory against the Titans. Minshew found James O'Shaughnessy wide open for a 7-yard TD, one play after Adoree' Jackson's muffed punt. Minshew was more precise with a 22-yard touchdown pass to DJ Chark, who was blanketed by Malcolm Butler. The sixth-round draft pick starting his second consecutive game in place of injured quarterback Nick Foles. Jacksonville sacked Marcus Mariota nine times, including three by Calais Campbell. Derrick Henry scored the Tennessee's lone touchdown early in the fourth quarter, but he finished with just 44 yards on 17 carries. Both teams are 1-2.
Sunday
Detroit Lions at Philadelphia Eagles, 1:00 p.m.                  WSJM Sports/Cosy-FM 11:00
Atlanta Falcons at Indianapolis Colts, 1:00 p.m.
Monday
Chicago Bears at Washington Redskins, 8:15 p.m.              106.1 & 1400 WSJM Sports 7:30
NCAAFB – College Football – Week 4
Saturday
(11) Michigan at (13) Wisconsin, 12:00 p.m.                      News/Talk 94.9 WSJM 11:00
Michigan State at Northwestern, 12:00 p.m.                      Superhits 103.7 Cosy-FM 10:30
Western Michigan at Syracuse, 12:00 p.m.
Central Connecticut at Eastern Michigan, 3:00 p.m.
Central Michigan at Miami (FL), 4:00 p.m.
(7) Notre Dame at (3) Georgia, 8:00 p.m.
NHL – National Hockey League Preseason
Tonight
New York Islanders at Detroit Red Wings, 7:30 p.m.
NBA – Pistons sign 17-year NBA veteran with Joe Johnson
The Detroit Pistons have signed 38-year-old swingman Joe Johnson. Detroit announced the move Thursday. The 17-year NBA veteran did not play in the league last season. He was recently named MVP of the BIG3 3-on-3 basketball league. Johnson averaged 6.8 points in 55 games for Houston and Utah during two seasons ago. The seven-time All-Star has also played for Boston, Phoenix, Atlanta, Brooklyn and Miami, averaging 16 points over his career with 15 double-digit scoring seasons. The Pistons previously signed 30-year-old guard Derrick Rose, a former NBA MVP, and 30-year-old forward Markieff Morris this offseason. They are shooting to make the playoffs in consecutive years for the first time since earning a spot in eight straight postseasons from 2002 to 2009.
FIBA – US keeps top spot in FIBA men's world rankings; Spain No. 2
USA Basketball has kept its No. 1 spot in the FIBA world men's rankings, even after a disappointing seventh-place showing in the World Cup that ended earlier this week. It's now nine-years-and-counting in the top spot for the U.S., which has held the No. 1 ranking since winning the 2010 world championship. World Cup champion Spain stayed No. 2, Australia leaped eight spots to No. 3, World Cup finalist Argentina rose one spot to No. 4 and World Cup bronze-medalist France fell two slots to No. 5. FIBA'S rankings take results from the most recent eight years into account, which means the U.S. is still reaping point benefits from the 2012 and 2016 Olympic gold medals and the 2014 World Cup title. It's now expected that the U.S. will retain the No. 1 ranking going into the 2020 Tokyo Olympics. Several top NBA players, including Stephen Curry, Draymond Green and Damian Lillard have said in recent days that they intend to play for the U.S. in Tokyo, where the Americans will try to win a fourth consecutive gold medal.
Plans call for Amazon operations at Pontiac Silverdome site
Online retail giant Amazon has proposed using the site of the former home of the Detroit Lions as a distribution center in a $250 million project that could bring 1,500 jobs. Details of plans for the Pontiac Silverdome site in suburban Detroit were made public Wednesday night. The city says its planning commission approved a permit for the site to be used as a warehouse, distribution and fulfillment campus. Pontiac says Seattle-based Amazon would lease buildings from a developer. Plans call for Amazon to start operating at the site as soon as next year. The Lions played at the Silverdome from 1975-2001. It also was the home of the NBA's Detroit Pistons and hosted the Super Bowl in 1982. The Silverdome was taken down with a partial implosion in 2017.
MCCAA – Junior College Sports
Last Night
Women's Volleyball
Kalamazoo Valley Community College 3, Lake Michigan College 0
Today
Women's Soccer
Lake Michigan College at Schoolcraft College, 1:00 p.m.
Men's Soccer
Lake Michigan College at Schoolcraft College, 3:00 p.m.
MHSAA – High School Sports
Last Night
Boys Soccer
St.  Joseph 8, Niles 0
Portage Central 1, Lakeshore 1 – TIE
Gull Lake 0, Mattawan 0 – TIE
Kal. Loy Norrix 9, Battle Creek Central 1
Battle Creek Lakeview 4, Kalamazoo Central 2
Fennville 7, Three Rivers 1
Howardsville Christian 6, Bridgman 0
Brandywine 4, Constantine 2
Schoolcraft 4, Comstock 0
Hartford 4, Kalamazoo Christian 0
Holland Black River 6, Saugatuck 0
Kalamazoo Hackett 2, Delton-Kellogg 0
Girls Volleyball
Dowagiac 3, Paw Paw 2
Plainwell 3, South Haven 0
Otsego 3, Allegan 1
Three Rivers 3, Sturgis 0
Vicksburg 3, Edwardsburg 2
New Buffalo 3, Howardsville Christian 0
Centreville 3, Harford 0
Boys Tennis
Edwardsburg 5, Niles 3
Brandywine 7, Three Rivers 0
Tonight
Football
SMAC
Lakeshore (2-1) at St. Joseph (3-0), 7:00 p.m.       106.1 & 1400 WSJM Sports & 97.5 Y-Country
Mattawan (1-2) at Niles (0-3), 5:30 p.m.
Kalamazoo Central (1-2) at Kalamazoo Loy Norrix (0-3), 5:00 p.m.
Battle Creek Central (1-2) at Portage Central (1-2), 5:30 p.m.
Gull Lake (1-2) at Battle Creek Lakeview (3-0), 7:00 p.m.
Wolverine
Plainwell (1-2) at South Haven (0-3), 5:30 p.m.     Superhits 103.7 Cosy-FM
Paw Paw (3-0) at Dowagiac (2-1), 5:15 p.m.
Allegan (0-3) at Otsego (2-1), 7:00 p.m.
Three Rivers (0-3) at Sturgis (1-2), 5:00 p.m.
Edwardsburg (3-0) at Vicksburg (3-0), 5:00 p.m.
Southwest 10
Hartford (1-2) at Eau Claire (0-3), 5:00 p.m.
Mendon (2-1) at Bloomingdale (0-3), 5:00 p.m.
Marcellus (2-1) at Decatur (1-2), 5:00 p.m.
Cassopolis (3-0) at Bangor (0-2), 4:00 p.m.
Centreville (2-1) at White Pigeon (3-0), 5:00 p.m.
SAC
Fennville (1-2) at Watervliet (1-2), 7:00 P.M.
Schoolcraft (3-0) at Saugatuck (1-2), 7:00 P.M.
Lawton (3-0) at Delton-Kellogg (3-0), 5:30 p.m.
Non-Conference
Benton Harbor (1-2) at Wyoming-Kelloggsville (0-3), 7:00 p.m.  News/Talk 94.9 WSJM
Berrien Springs (3-0) at Coloma (1-2), 7:00 p.m.
Buchanan (0-3) at Constantine (2-1), 5:00 p.m.
Gobles (3-1) 1, River Valley (0-4) 0 – Gobles wins by forfeit
Wyoming-Lee (1-2) at Brandywine (3-0), 5:30 p.m.
Parchment (1-2) at Kalamazoo United (0-3), 7:00 P.M.                at Portage Northern
Comstock (0-3) at Galesburg-Augusta (1-2), 7:00 P.M.
8-Man Football
Lake Michigan Catholic (1-2) at Wyoming Tri-Unity (1-2), 7:00 p.m.
Bridgman (3-0) at Michigan Lutheran (1-2), 7:00 p.m.
New Buffalo (0-2) at Vermontville Maple Valley (0-2), 7:00 p.m.
Lawrence (0-3) at Martin (3-0), 7:00 p.m.
Battle Creek St. Philip (1-2) at Bellevue (1-2), 7:00 p.m.
Colon (3-0) at Burr Oak (2-1), 5:30 p.m.
Saturday
Boys Soccer
South Haven at St. Joseph, 11:30 a.m.
Marshall at Lakeshore, 11:30 a.m.
Vicksburg at Coloma, 11:00 a.m.
Bridgman at Lake Michigan Catholic, 10:00 a.m.