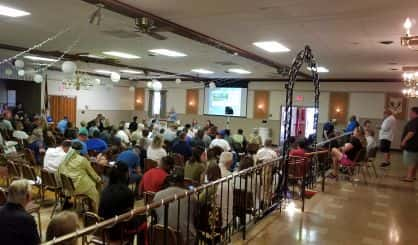 The book for the Berrien County fall land auction is now available. County Treasurer Bret Witkowski tells WSJM News up for grabs at the auction this month will be around 150 properties.
"These are ones that did not sell in the first auction back in July, and a couple of them they didn't pay for so they're back in the auction," Witkowski said. "So there's some valuable property out in Coloma Township that people might be wanting to consider, and I think there's 12 homes throughout the county."
Witkowski says the fall auction is when people can scoop up the really cheap deals.
"All of these start at $50. They're as is. We're not guaranteeing anything, and it's a great opportunity to get a good deal on property if you're looking for one right now."
The fall land auction will be at the DANK in Sodus Township starting at 9:30 a.m. on September 17. Witkowski says one thing you won't see available are the condos on Riverview Drive in Benton Harbor his office foreclosed on this year. Of the 90 units in the New Harbor Condominiums, Berrien County now owns 43. Witkowski says the fact that there are multiple owners associated with New Harbor Condominiums makes the situation complicated, but he doesn't believe the county should sell its units to just any bidder. He wants to see a credible developer come forward with the ability to fix up the blighted property. The land auction book can be found right here.