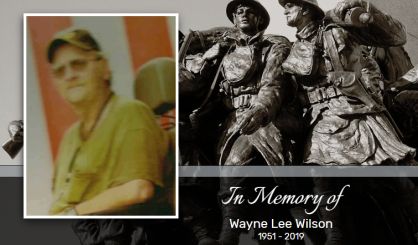 A Vietnam veteran from Niles will be laid to rest next Wednesday at Silverbrook Cemetery at 2 p.m., and Brown Funeral Home and Cremation Services is putting out a request for people to attend. Wayne Wilson had no living relatives when he died at the age of 67 on May 29. Drew Mikel is with Brown Funeral Home and says a group of Wilson's friends asked for their help getting the word out to invite people to give Wilson a proper memorial.
"We've had a call from a family in Iowa that has no idea who (Wilson) is, but they want to come and pay their respects, so they're coming all the way from Iowa just to pay this American hero his respect," Mikel tells WSJM News.
Wilson was always the the first one at Silverbrook Cemetery every year for the Memorial Day parade, and Mikel says everyone he's talked to over the past several weeks has had great things to say.
"I haven't been able to find anyone who had a bad word to say about him," Mikel says. "Everyone who knew him absolutely loved him and said he was just an amazing guy."
Once again, the service at Silverbrook Cemetery will be at 2 p.m. on Wednesday, July 17, and Brown Funeral Home is inviting as many people as possible to be there. Anyone locally needing transportation to and from is asked to call the funeral home at (269) 683-1155
Wilson will be buried with Full Military Honors from the U.S. Army and the American Legion Post 51.