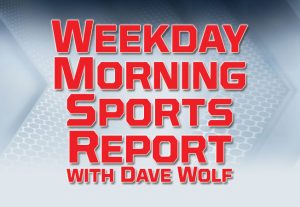 MLB – Major League Baseball
Yesterday
Kansas City Royals 7, Detroit Tigers 3
Chicago White Sox 5, New York Yankees 4
Los Angeles Dodgers 7, Chicago Cubs 3
Royals 7, Tigers 3 – Lopez HR helps KC beat Tigers 7-3 in 1st MLB game in Omaha
Nicky Lopez hit his first major league homer in the stadium where he played college ball, Homer Bailey allowed two hits in six shutout innings and the Kansas City Royals beat the Detroit Tigers 7-3 Thursday night in the first big league regular season game played in Nebraska.  The Royals won two of three over the Tigers for their first series win since April 12-14 against Cleveland.  The game at TD Ameritrade Park coincided with the buildup to the College World Series, which begins Saturday. All eight CWS teams were among the sellout crowd of 25,454 and participated in a pregame ceremony with the major league teams.
White Sox 5, Yankees 4 – García's homer lifts White Sox over Yankees 5-4
Leury García hit a tiebreaking solo homer off Adam Ottavino in the seventh inning, and the Chicago White Sox rallied to beat the New York Yankees 5-4 on Thursday night.  García looked at two called strikes from Ottavino (2-2) before battling back and sending the 11th pitch of the at-bat over the wall in right-center for his fourth homer.  Tim Anderson also connected in Chicago's fourth win in five games, and four relievers combined for 3 1/3 innings of three-hit ball. Batting in the top two slots in the lineup, García and Anderson combined for four hits and five RBIs.  Evan Marshall (2-0) got three outs for the win, and Aaron Bummer worked the ninth for his first career save after regular closer Alex Colomé threw a season-high 39 pitches during Tuesday's 7-5 victory over Washington. Marshall hasn't allowed an earned run in 16 appearances this year.
Dodgers 7, Cubs 3 – Dodgers outslug Cubs with 4 homers to win 7-3
Cody Bellinger, Max Muncy and David Freese hit two-run homers to back Clayton Kershaw as the Los Angeles Dodgers beat the Chicago Cubs 7-3 Thursday night in the opener of a four-game series. The NL West-leading Dodgers rallied from a 3-0 deficit after Kyle Schwarber and Kris Bryant hit leadoff homers for the Cubs in the early innings.  Bellinger added a solo shot in the seventh, his 22nd of the season, and drew chants of "MVP! MVP!"   Jon Lester, a three-time World Series champion, gave up three homers. Kershaw, a three-time NL Cy Young Award winner, allowed two.  Kershaw (6-1) yielded three runs and seven hits in six innings. He struck out eight and walked two.
Tonight
Cleveland (Plutko 2-1) at Detroit (Carpenter 1-3), 7:10 p.m.       WSJM Sports/Cosy-FM 6:45
N.Y. Yankees (Sabathia 3-3) at Chicago White Sox (Giolito 9-1), 8:10 p.m.
Chicago Cubs (Hendricks 7-4) at L.A. Dodgers (Hill 3-1), 10:10 p.m.
NBA – 2019 NBA Finals (best of 7)
Last Night
Toronto Raptors 114, Golden State Warriors 110                                 (TOR win 4-2)
Raptors 114, Warriors 110 – Raptors capture first NBA title, beat Warriors in Game 6
Kawhi Leonard and the Toronto Raptors captured Canada's first NBA championship with their most remarkable road win yet in the franchise's NBA Finals debut, outlasting the battered and depleted two-time defending champion Golden State Warriors 114-110 on Thursday night in a Game 6 for the ages that spoiled a sensational send-off at Oracle Arena.  Stephen Curry missed a contested 3-pointer in the waning moments before Golden State called a timeout it didn't have, giving Leonard a technical free throw with 0.9 seconds left to seal it. Leonard then got behind Andre Iguodala for a layup as the buzzer sounded, but it went to review and the basket was called off before Leonard's two free throws. That only delayed the celebration for a moment. Curry walked away slowly, hands on his head on a night Splash Brother Klay Thompson suffered a left knee injury and departed with 30 points. Leonard scored 22 and Kyle Lowry had 26 points, 10 assists and seven rebounds.  Hours after the game the announcement was made that Thompson tore the ACL in his left knee.

NHL – Parade, rally to honor Stanley Cup champion Blues Saturday
A parade 52 years in the making will finally happen Saturday in St. Louis, when the city celebrates the Blues' first Stanley Cup championship. After the parade, a rally will be held beneath the Gateway Arch. Last night, the state Capitol dome will be lit up with blue lights to celebrate the Blues' Game 7 victory over the Bruins Wednesday in Boston.
Golf – PGA – US Open – Rose surges ahead with 65
Justin Rose closed with three straight birdies to take the lead at 6 under through one round of the U.S. Open at Pebble Beach. Rose was two off the pace until his birdie run moved him one shot ahead of Rickie Fowler, Xander Schauffele, Aaron Wise and Louis Oosthuizen. Rose also eagled the par-5 sixth hole to make up for his lone bogey.
Golf – LPGA – Meijer LPGA Classic – Perry and Shin leads in Grand Rapids
Katherine Perry and Jenny Shin shared the lead at 6-under 66 when first-round play in the rain-delayed Meijer LPGA Classic was suspended because of darkness. Mariajo Uribe had a hole-in-one on the 15th , her sixth hole, in a 67.
NFL – Lions trade Roberts to Patriots
The Detroit Lions traded tight end Michael Roberts to the New England Patriots for a conditional draft pick. ESPN reported the Lions may get a seventh-round selection for Roberts in 2020. The Lions drafted Iowa tight end T.J. Hockenson early in the first round of the NFL draft in April after signing veterans Jesse James and Logan Thomas. The Patriots added depth at tight end by acquiring Roberts, giving them another option following the retirement of Rob Gronkowski.
NCAABSB – NCAA Baseball – College World Series
Saturday
Michigan vs. Texas Tech, 2 p.m.
FIFA – 2019 Women's World Cup – France
Yesterday
Australia 3, Brazil 2
China 1, South Africa 0
Today
Japan vs. Scotland, 9:00 a.m.
Jamaica vs. Italy, 12:00 p.m.
England vs. Argentina, 3:00 p.m.
USA plays against Chile Sunday at 12:00 p.m.
MWL – Midwest League Baseball
Yesterday
Lake County 4, Great Lakes 2
West Michigan 10, Dayton 3
South Bend 5, Lansing 1
Tonight
Bowling Green at Lansing, 7:05 p.m.
South Bend at West Michigan, 7:05 p.m.
Dayton at Great Lakes, 7:05 p.m.
MHSAA – High School Sports
Yesterday
Baseball – Semifinals
Division 1 at Michigan State University
Portage Northern 2, Brother Rice 0
Softball – Semifinals
Division 2 at Michigan State University
Lakeshore 8, Eaton Rapids 1
Today
Baseball – Semifinals
Division 4 at Michigan State University
Decatur vs. Saginaw Nouvell, 5:00 p.m.
Softball – Semifinals
Division 3 at Michigan State University
Schoolcraft vs. Dundee, 3:00 p.m.
Division 4 at Michigan State University
Kalamazoo Christian vs. Coleman, 10:00 a.m.
Saturday
Baseball – State Championship
At Michigan State University
D1: Portage Northern vs. Rockford, 9:00 a.m.
D2: Orch. Lake St. Mary vs. GR Cath. Cent., 11:30 a.m.
D3: TBA, 2:30 p.m.
D4: TBA, 5:00 p.m.
Softball – State Championship
At Michigan State University
D1: Warren Regina vs. Howell, 12:30 p.m.
D2: Lakeshore vs. Escanaba, 10:00 a.m. Live on 106.1 & 1400 WSJM Sports
D3: TBA, 5:30 p.m.
D4: TBA, 3:00 p.m.
Girls Soccer – State Championship
At Michigan State University
D4: Kal. Christian vs. Royal Oak Shrine, 1:00 p.m.