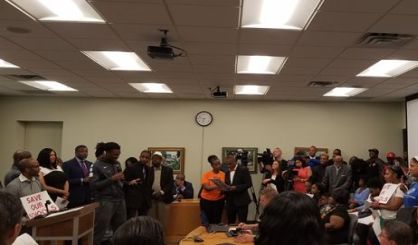 A crowd gathered at Benton Harbor City Hall Thursday night for a press conference to demand Benton Harbor High School be allowed to stay open. Governor Gretchen Whitmer was taken to task for leading an administration that is proposing the closure of the school when it's a major part of the community. Mayor Marcus Muhammad said he got word last week something was in the works.
"I got a letter from the Treasury saying that Benton Harbor High School was at a crossroads, but I'm saying respectfully to Governor Whitmer your administration is at a crossroads," Muhammad said.
Speakers asked why Whitmer has abandoned the platform and the constituencies that got her elected, while the Reverend David Bullock with the Change Agent Coalition told the community to make its voice heard.
"Don't let the governor steal your schools and destroy your community without showing her that there are consequences," Bullock said.
An ally of Benton Harbor Area Schools is State Board of Education member Tiffany Tilley, who was there Thursday night and said the state's offer to eliminate most of the debt comes at too high of a price. She added that for too long, the state has taken part in the "dismantling and destruction of education in poor minority communities." Mayor Muhammad said the pressure on Governor Whitmer must be kept up. She's been invited to next Tuesday's school board meeting at the high school.