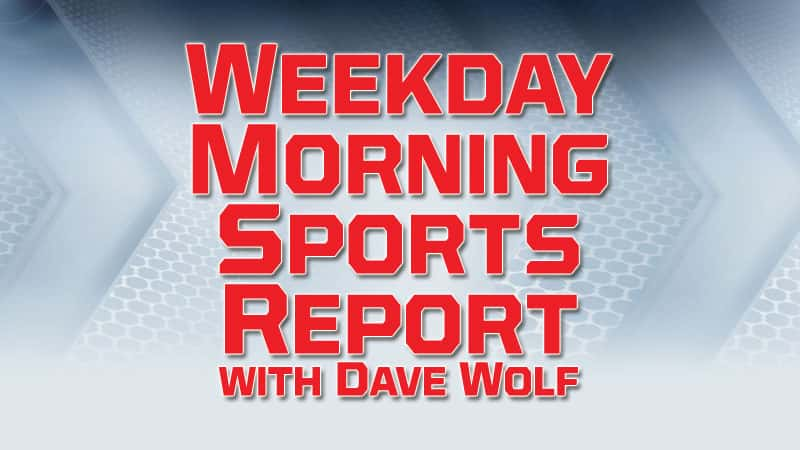 NCAAMBB – Men's College Basketball
Last Night
(9) Michigan State 91, Nebraska 76
Toledo 76, Western Michigan 57
Northern Illinois 89, Central Michigan 86
Eastern Michigan 68, Ball State 61
Minnesota 73, (11) Purdue 69
(9) Michigan State 91, Nebraska 76 – Goins scores 24 as No. 9 Michigan State tops Nebraska 91-76
Kenny Goins scored 21 of his career-high 24 points in the first half and Matt McQuaid finished with a career-best 22, leading Michigan State to a 91-76 win over Nebraska on Tuesday.  Goins and McQuaid, along with freshman Aaron Henry, who scored a season-high 15 points, made up for Cassius Winston matching his season low with eight points.  Winston was slowed by knee tendinitis.  The Spartans (24-6, 15-4 Big Ten) close the regular season against No. 7 Michigan (26-4, 15-4) at home Saturday night with at least a share of the conference championship at stake. No. 11 Purdue lost at Minnesota, dropping the Boilermakers into a three-way tie with Michigan State and the Wolverines.
Toledo 76, WMU 57 – Navigato, Darrington carry Toledo over W. Michigan 76-57
Nate Navigato had 17 points to lead five Toledo players in double figures as the Rockets got past Western Michigan 76-57 on Tuesday night to clinch its second-straight Mid-American Conference West Division title.  Chris Darrington added 12 points for the Rockets. Spencer Littleson chipped in 11, Marreon Jackson scored 10 and Willie Jackson had 10. Michael Flowers had 21 points for the Broncos (8-22, 2-15), who have now lost four games in a row. Josh Davis added 12 points. Seth Dugan had 12 points and nine rebounds.
Northern Illinois 89, CMU 86 – Bradley lifts N. Illinois past Cent. Michigan 89-86
Levi Bradley had 26 points as Northern Illinois narrowly beat Central Michigan 89-86 on Tuesday night.  Bradley shot 13 for 14 from the foul line. Eugene German had 19 points and seven rebounds for Northern Illinois (14-16, 7-10 Mid-American Conference), which ended its five-game road losing streak. Shawn Roundtree had 23 points for the Chippewas (20-10, 9-8). Larry Austin Jr. added 19 points, 12 rebounds and eight assists. David DiLeo had 17 points.
EMU 68, Ball State 61 – Thompson IV carries E. Michigan over Ball St. 68-61
James Thompson IV had 20 points and 23 rebounds as Eastern Michigan beat Ball St. 68-61 on Tuesday night.  Thompson, who had eight offensive and 15 defensive boards, set a program record for rebounds in a career with 1,432, breaking Kennedy McIntosh's record, which stood for 47 years.  Paul Jackson had 17 points for Eastern Michigan (15-15, 9-8 Mid-American Conference). Elijah Minnie added 13 points and three blocks. 
Minnesota 73, (11) Purdue 69 – Coffey's 32 points help Minnesota down No. 11 Purdue 73-69
Amir Coffey matched his career high with 32 points, making two free throws with 2.5 seconds left on Tuesday night to seal Minnesota's 73-69 victory over No. 11 Purdue and give the Gophers a big boost for an NCAA Tournament berth.  Carsen Edwards scored 22 points for Purdue (22-8, 15-4), but he needed 31 shots to get there and finished just 3 for 15 from 3-point range. The Boilermakers, who had their five-game winning streak broken and lost for only the second time in their last 15 games, fell into a three-way tie for first place in the conference with Michigan and Michigan State.
Tonight
Clemson at Notre Dame, 9:00 p.m.
NCAAWBB – Women's College Basketball
Tonight
Western Michigan at Central Michigan, 7:00 p.m.
Toledo at Eastern Michigan, 7:00 p.m.
NBA – National Basketball Association
Last Night
Indiana Pacers 105, Chicago Bulls 96
Pacers 105, Bulls 96 – Bogdanovic leads late charge to help Pacers sweep past Bulls
Bojan Bogdanovic and Darren Collison rescued Indiana on Tuesday night.  Bogdanovic scored 27 points, Collison added 22 and the duo combined for eight points during the decisive run, leading Indiana to a 105-96 victory over the Chicago Bulls. Indiana took control in the first six minutes and never trailed until Zach LaVine's dunk capped a 7-2 fourth-quarter run that gave the Bulls their only lead, 86-85, with 7:08 to go.  Just 81 seconds later, the lead was gone — for good.  Chicago never got closer than five the rest of the way. LaVine finished with 27 points, and Robin Lopez added 20 points and nine rebounds.
Tonight
Minnesota Timberwolves at Detroit Pistons, 7:00 p.m.
Philadelphia 76ers at Chicago Bulls, 8:00 p.m.
NHL – National Hockey League
Last Night
Colorado Avalanche 4, Detroit Red Wings 3 – OT
Avalanche 4, Red Wings 3 – OT – MacKinnon's OT goal gives Avalanche 4-3 win over Red Wings
Nathan MacKinnon scored 2:29 into overtime and also had an assist to help the Colorado Avalanche rally past the skidding Detroit Red Wings 4-3 on Tuesday night.  Mikko Rantanen had a goal and two assists for Colorado, and Tyson Barrie tied it late in the third period. He also had an assist.  The Red Wings have lost eight straight, three in overtime, but appeared poised to win when Filip Zadina put them ahead again with his first NHL goal at 17:43 of the third. Barrie scored on a drive from the point 42 seconds later with goalie Semyon Varlamov off for an extra skater.  Niklas Kronwall and Danny DeKeyser also scored for Detroit, and Jonathan Bernier made 30 saves.
MLB – MLB Spring Training
Yesterday
Toronto Blue Jays 5, Detroit Tigers 2
Cleveland Indians 11, Chicago White Sox (ss) 0
San Diego Padres (ss) 7, Chicago White Sox (ss) 4
Los Angeles Angels 9, Chicago Cubs 2
Today
Detroit Tigers vs. Atlanta Braves (ss) at Kissimmee, Fla., 1:05 p.m.
Kansas City Royals vs. Chicago Cubs at Mesa, Ariz., 3:05 p.m.
MLB – Tigers send top draft pick Mize to minor league camp
Detroit Tigers manager Ron Gardenhire was impressed with Casey Mize's brief stint with the major leaguers. "The kid was awesome. He had a ball here," Gardenhire said. "Having him pitch yesterday and seeing him out there was impressive." Mize, the No. 1 selection in last year's draft, was assigned to minor league camp by the Tigers on Tuesday.  Last month, Mize pitched two innings for the Tigers in a game against Southeastern University, allowing three hits and a run and striking out two. He came in last week against the New York Yankees and allowed a hit before the game was called because of rain.  Gardenhire said he told Mize that he's on a great track.
NFL – Bears release veteran linebacker Sam Acho
The Chicago Bears have released linebacker Sam Acho. An eight-year veteran, Acho made 25 starts in four seasons with the Bears and had four sacks, three pass breakups and three forced fumbles. He missed the final 12 games last year because of a torn pectoral muscle. The Bears announced the move on Tuesday.
AHL – American Hockey League
Tonight
Texas Stars at Grand Rapids Griffins, 7:00 p.m.
MCCAA – Junior College Sports
Yesterday – Men's Baseball
Chattanooga State Community College 14, Lake Michigan College 4 – Game 1
Chattanooga State Community College 12, Lake Michigan College 3 – Game 2
Today – Men's Baseball
Lake Michigan College at Gordon State College, 1:00 p.m./4:00 p.m. (Doubleheader)
MHSAA – High School Sports
Last Night
Boys Basketball – Regional Semifinals
Division 2 at Wayland
Hudsonville Unity Christian 89, Three Rivers 51
Benton Harbor 63, Otsego 59
Benton Harbor escaped with a 63-59 win over undefeated Otsego Tuesday night in the Division 2 Regional Semifinals.  In a game that saw the lead exchange hands several time, the Tigers went 11 of 13 at the free throw line in the fourth quarter to pull it out.  Carlos Johnson turned in a game high 28 points in the win.  Benton Harbor advances to face Hudsonville Unity Christian for the Regional title Thursday night at 7:00 in Wayland live on 106.1 & 1400 WSJM Sports.
Division 1 at Holt
Okemos 44, Coldwater 33
DeWitt 51, Mattawan 38
Division 3 at Watervliet
Schoolcraft 42, Brandywine 33
Cassopolis 59, Union City 29
Division 4 at Mendon
Wyoming Tri-Unity Christian 68, Howardsville Christian 56
Muskegon Heights Academy 66, New Buffalo 56
Tonight
Girls Basketball – District Semifinals
Division 2 at South Haven
Benton Harbor vs. South Haven, 5:30 p.m.               106.1 & 1400 WSJM Sports
Coloma vs. Berrien Springs, 7:00 p.m.
Division 1 at Portage Central
Mattawan vs. Kalamazoo Central, 5:30 p.m.
St. Joseph vs. Portage Central, 7:00 p.m.                 106.1 & 1400 WSJM Sports
Division 4 at Michigan Lutheran
River Valley vs. Lake Michigan Catholic, 6:00 p.m.
Michigan Lutheran vs. New Buffalo, 7:45 p.m.
Division 1 at Sturgis
Gull Lake vs. Coldwater, 6:00 p.m.
Sturgis vs. Battle Creek Central, 7:30 p.m.
Division 2 at Three Rivers
Edwardsburg vs. Vicksburg, 5:00 p.m.
Paw Paw vs. Three Rivers, 7:00 p.m.
Division 2 at Otsego
Parchment vs. Plainwell, 5:30 p.m.
Comstock vs. Thornapple Kellogg, 7:00 p.m.
Division 2 at Hudsonville Unity Christian
Holland Chr. vs. Hudsonville Unity Chr., 5:30 p.m.
Allegan vs. Hamilton, 7:00 p.m.
Division 3 at Bridgman
Brandywine vs. Hartford, 6:00 p.m.
Watervliet vs. Bangor, 7:30 p.m.
Division 3 at Bloomingdale
Kalamazoo Christian vs. Kalamazoo Hackett, 6:00 p.m.
Gobles vs. Bloomingdale, 7:30 p.m.
Division 3 at Constantine
White Pigeon vs. Centreville, 6:00 p.m.
Cassopolis vs. Constantine, 7:30 p.m.
Division 3 at Saugatuck
Fennville vs. G.R. Covenant Christian, 5:30 p.m.
Saugatuck vs. Grandville Calvin Christian, 7:00 p.m.
Division 4 at Decatur
Mendon vs. Burr Oak, 5:30 p.m.
Decatur vs. Colon, 7:00 p.m.
Division 4 at Martin
Lawrence vs. Byron Center Zion Christian, 5:30 p.m.
Martin vs. Wyoming-West Michigan Lutheran, 7:00 p.m.