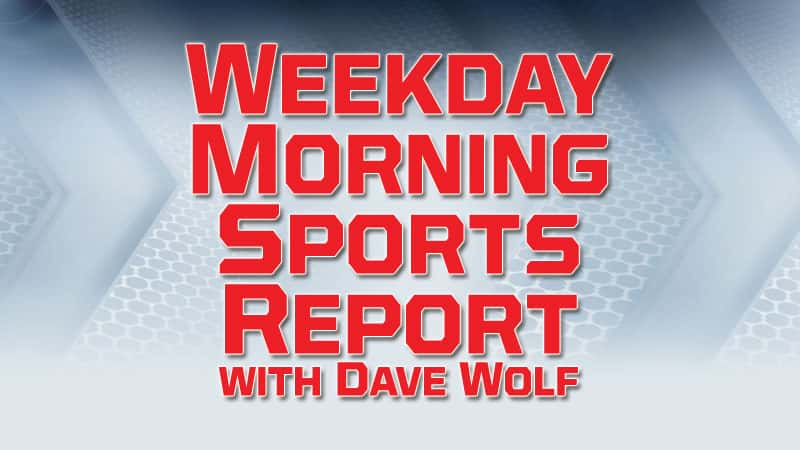 NCAAMBB – Men's College Basketball
Last Night
(6) Michigan State 69, (13) Maryland 55
(6) Michigan State 69, (13) Maryland 55 – No. 6 Michigan State beats No. 13 Maryland 69-55
Cassius Winston and Kenny Goins scored 14 points each to help No. 6 Michigan State beat No. 13 Maryland 69-55 Monday night with balanced offense and stifling defense. The Spartans (17-2, 8-0 Big Ten) have won 12 straight this season to take sole possession of first in the conference. They have won 20 consecutive Big Ten regular season games dating to last year. The Terrapins (16-4, 7-2) had a shot to move into first place in the conference, but couldn't extend their seven-game winning streak. Maryland's leading scorer, Anthony Cowan, was held to a season-low seven points.   Michigan State freshman Aaron Henry scored a season-high 12 points while Matt McQuaid and Xavier Tillman had 10 points apiece.  Bruno Fernando had 12 points and 13 rebounds, freshman Aaron Wiggins had a season-high 15 points and Darryl Morsell added 10 points.
Tonight
Minnesota at (5) Michigan, 7:00 p.m.                        106.1 & 1400 WSJM Sports 6:30
Notre Dame at Georgia Tech, 7:00 p.m.
Western Michigan at Ohio, 7:00 p.m.
Bowling Green at Eastern Michigan, 7:00 p.m.
Central Michigan at Akron, 7:00 p.m.
NBA – National Basketball Association
Yesterday
Chicago Bulls 104, Cleveland Cavaliers 88
Washington Wizards 101, Detroit Pistons 87
Bulls 104, Cavaliers 88 – Bulls snap 10-game losing streak, beat Cavaliers 104-88
Zach LaVine scored 25 points and the Chicago Bulls broke a 10-game losing streak, beating the Cleveland Cavaliers 104-88 Monday in a meeting of teams that began the day with the worst records in the NBA. Chicago (11-36) never trailed and has won all three games this season against Cleveland (9-39), which has lost 16 of 17 overall. The Bulls hit 15 of 29 3-pointers and built a 21-point lead in the fourth quarter. The won for the first time since Dec 28 against Washington. Bobby Portis had 15 points while Lauri Markkanen and Kris Dunn each added 13 for the Bulls. Rookie Collin Sexton scored 18 points to lead Cleveland
Wizards 101, Pistons 87 – Wizards' defense steps up in 101-87 victory over Pistons
Trevor Ariza scored 20 points, Otto Porter Jr. added 19 and the Washington Wizards turned in their best defensive performance this season in beating the Detroit Pistons 101-87 on Monday. The Wizards held the Pistons to 30 percent shooting from the floor in the first half and never let their lead dip below 10 points in the second. Detroit's 87 points were the fewest by a Washington opponent this season. Seven Wizards players scored in double figures, including Bradley Beal with 16, and Tomas Satoransky had a game-high eight assists, including a pass through Zaza Pachula's legs in the first quarter. After beating the New York Knicks in London, the Wizards now have won two in a row and are 7-3 in their past 10 games.  Blake Griffin led the Pistons with 29 points and nine rebounds. Detroit has lost back-to-back games and 10 of its last 14.
NBA – AP Source: Rockets trading Carmelo Anthony to Chicago
A person with knowledge of the situation says the Houston Rockets are trading Carmelo Anthony and an undisclosed amount of cash to the Chicago Bulls, in a deal that is expected to be completed Tuesday. Anthony will not wind up playing for the Bulls, said the person who spoke to The Associated Press on condition of anonymity because nothing can be finalized until the league office approves the deal. The league office was closed Monday to commemorate the Dr. Martin Luther King Jr. holiday. The trade ends a short-lived saga for Anthony, who averaged 13.4 points in 10 games with the Rockets. He has not played since Nov. 8, and will either be traded by the Feb. 7 deadline or ultimately waived by the Bulls.
NHL – National Hockey League
Tonight
New York Islanders at Chicago Blackhawks, 8:30 p.m.
Detroit Red Wings at Edmonton Oilers, 9:00 p.m.
NCAAMBB Poll – Tennessee tops poll
Tennessee is the new No. 1 in The Associated Press men's college basketball poll after three of the top five teams lost last week. The Vols received 48 of 64 first-place votes, well ahead of No. 2 Duke with 11. Third-ranked Virginia claimed three first-place votes and is followed in the poll by Gonzaga and Michigan. Michigan State, Nevada, Kentucky, Kansas and Virginia Tech round out the top 10. The Spartans picked up the remaining two first-place votes.
NFL – Saints owner calls for more "fairness and integrity"
Saints owner Gayle Benson says she pledges to aggressively pursue changes in NFL policies that will promote more "fairness and integrity." Benson says it's clear the Saints were "unfairly deprived" of a trip to the Super Bowl by the inaction of game officials "charged with creating a fair and equitable playing field."  The Saints had to settle for a tiebreaking field goal late in regulation after officials declined to call a penalty on Rams defensive back Nickell Robey-Coleman for his early and high hit on Saints receiver Tommylee Lewis. The Rams tied the game on the ensuing drive and won in overtime. Meanwhile, a sportsbook in New Jersey is refunding bets on the Saints due to the widespread belief that the team was victimized by the blown call. PointsBet said Monday it will refund spread and money-line bets on the Saints, who lost the game after officials failed to call a penalty on Robey-Coleman.
 
NFL – Pats, Rams wins pull in outstanding numbers for NFL
The New England Patriots' 37-31 overtime win over the Kansas City Chiefs was the second-most watched and rated AFC championship game in 42 years. The overtime thriller on CBS averaged more than 53.2 million viewers, just shy of the 54.850 million that viewed Pittsburgh's victory over the New York Jets in 2011. The game is also a 22 percent increase over last year's conference title clash between the Jacksonville Jaguars and Patriots, which averaged over 44 million. Fox's telecast of the NFC championship game between the Los Angeles Rams and New Orleans Saints had a 24.6 rating. The game averaged almost 49.3 million, which is up 14 percent over last year's game between the Eagles and Minnesota Vikings.
 
MLB – Gray heads to Reds after taking extension
A person familiar with the negotiations tells The Associated Press that pitcher Sonny Gray has agreed to a contract with Cincinnati, adding $30.5 million from 2020-22.  The Reds and New York Yankees had agreed on a deal that sent Gray to Cincinnati, pending a window for the right-hander to reach a long-term deal. It's part of a three-team swap with the Mariners. Gray and the Yanks had avoided salary arbitration by working out a $7.5 million contract for 2019.
Tennis – Tsitsipas reaches semifinals down under
Stefanos Tsitsipas is the youngest man to reach a Grand Slam semifinal since 2007 after beating Roberto Bautista Agut (ah-GOO') 7-5, 4-6, 6-4, 7-6 at the Australian Open.  At 20 years, 168 days, Tsitsipas is the youngest man to make the semifinals at a major since Novak Djokovic at the 2007 U.S. Open. He's the youngest man to do so in Australia since Andy Roddick in 2003.
MHSAA – High School Sports
Last Night
Boys Basketball
St. Joseph 50, Buchanan 43
Devon Frenchko poured in a game high 18 points to help lead St. Joe to a 50-43 non-conference win over Buchanan.  It looked like the Bears would pull away in the third quarter as they built a 12 point lead.  The Bucks battled back and pulled to within four in the 4th quarter, but that's as close as they got.  Chris Young finished with 14 points in the loss for Buchanan.  The win lifts St. Joe to 4-9 on the season.  With the loss, Buchanan falls to 5-7.
Gobles 65, Lawton 58
Girls Basketball
St. Joseph 46, Berrien Springs 41
St. Joseph put three players in double figures as the Lady Bears beat Berrien Springs 46-41. Alex Malone had a game high 14 points to lead St. Joe.  Symone King and Emma Inman each added 11 points.  Iliana Mun had 9 points to lead the Shamrocks.  St. Joe improves to 5-6, Berrien Springs falls to 3-7.
Kalamazoo Home School 49, Benton Harbor 33
Buchanan at Bronson, CCD
Tonight
Boys Basketball
SMAC
Battle Creek Lakeview at Lakeshore, 7:15 p.m.
Niles at Kalamazoo Central, 6:30 p.m.
Gull Lake at Portage Central, 7:15 p.m.
Portage Northern at Kal. Loy Norrix, 7:15 p.m.
Non-Conference/Independent
Harper Creek at Battle Creek Central, 7:15 p.m.
Wolverine
Plainwell at South Haven, 7:15 p.m.  Cosy-FM
Dowagiac at Paw Paw, 7:15 p.m.
Edwardsburg at Sturgis, 7:15 p.m.
Allegan at Otsego, 7:15 p.m.
Vicksburg at Three Rivers, 7:15 p.m.
BCS
Covert at Lake Michigan Catholic, 7:30 p.m.
Brandywine at New Buffalo, 7:30 p.m.
Galesburg-Augusta at Parchment, 7:00 p.m.
Countryside at Michigan Lutheran, 7:30 p.m.
Comstock at Lawrence, 7:15 p.m.
Southwest 10
Bangor at Cassopolis, 7:30 p.m.
Eau Claire at Hartford, 7:30 p.m.
Decatur at Marcellus, 7:30 p.m.
Bloomingdale at Mendon, 7:30 p.m.
White Pigeon at Centreville, 7:30 p.m.
Southwest
Coloma at Schoolcraft, 7:00 p.m.
Kalamazoo Hackett at Fennville, 7:00 p.m.
Constantine at Martin, 7:00 p.m.
Galesburg-Augusta at Parchment, 7:00 p.m.
Girls Basketball
SMAC
Lakeshore at Battle Creek Lakeview, 7:15 p.m.
Kalamazoo Central at Niles, 6:30 p.m.
Gull Lake at Portage Central, 7:15 p.m.
Kal. Loy Norrix at Portage Northern, 7:15 p.m.
Non-Conference/Independent
Harper Creek at Battle Creek Central, 5:45 p.m.
Wolverine
South Haven at Plainwell, 7:15 p.m.
Paw Paw at Dowagiac, 7:15 p.m.
Sturgis at Edwardsburg, 7:15 p.m.
Otsego at Allegan, 7:15 p.m.
Three Rivers at Vicksburg, 7:15 p.m.
BCS
Covert at Lake Michigan Catholic, 6:00 p.m.
Brandywine at New Buffalo, 6:00 p.m.
Parchment at Galesburg-Augusta, 7:00 p.m.
River Valley at Bridgman, 7:30 p.m.
Southwest 10
Bangor at Cassopolis, 6:00 p.m.
Hartford at Eau Claire, 6:00 p.m.
Marcellus at Decatur, 7:30 p.m.
Mendon at Bloomingdale, 7:30 p.m.
Centreville at White Pigeon, 7:30 p.m.
SAC
Schoolcraft at Coloma, 7:15 p.m.
Fennville at Kalamazoo Hackett, 7:00 p.m.
Constantine at Martin, 5:30 p.m.
Parchment at Galesburg-Augusta, 7:00 p.m.
Watervliet at Kalamazoo Christian, 7:00 p.m.
Saugatuck at Delton-Kellogg, 5:30 p.m.